Arabic Science Fiction at the Worldcon
On Sunday afternoon 17 August, Yasmin Khan's panel convened to discuss Arabic Science Fiction : the first time such a group has met in the seventy-five-year history of the convention.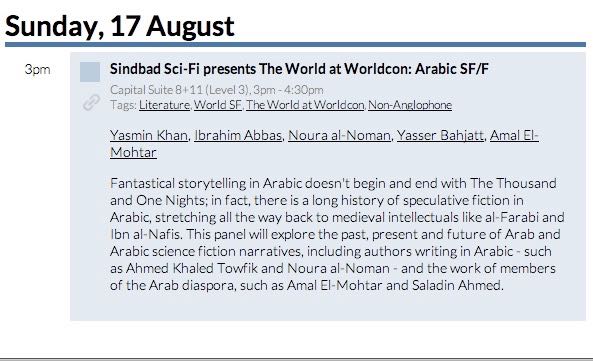 The panelists included London-based curator Yasmin Khan (organizer and moderator) ; Noura al-Nouman, Sharjah-based author of two novels in Arabic, Ajwan and Mandan (2014) ; Amal El-Mohtar, author of The Honey Month (2010) ; Ibrahim Abbas, author of two novels in Arabic, HWJN and Hunaak ; Yasser Bahjatt, Jedda-based publisher and author of the English edition of HWJN. The audience of slightly more than a hundred people included readers (of Arabic and English), scholars, librarians, and fans. The tradition of the fantastic in Arabic culture can be traced to Lucian of Samosata and the Arabian Nights, and much of the survival of Greek science is due to Damascus and Baghdad. It is far older than the English language or the modern field of science fiction but until now there have been many appropriations from Arabic literature and few dialogues between the traditions. This panel had the feel of opening doors.
Questions of the definition of Arabic science fiction arose immediately. Amal El-Mohtar spoke succinctly of the imperative for " the most inclusive definition possible ". Ibrahim Abbas argued that the chief criteria are that the works display " significant cultural or linguistic influence of Arabic ". And then the discussion moved on. Noura al-Noman, educated in both English and Arabic, said " there was a need for science fiction in Arabic, so I wrote it. " Amal El-Mohtar spoke of a wish, both as reader and as writer, to see Arab characters who were not mere caricatures of western stereotypes. Her story " To Follow the Waves " looks at Damascus within a steampunk world.
From a publishing perspective, there are complications arising from the geographical and political diversity of the Arabic speaking world (350 million people in more than 22 countries, plus a sgnificant mahjar or diaspora, with Egypt and Saudi Arabia the two most significant markets). It was exciting to learn that science fiction has already upended some of the received truths of Arabic publishing, defying sales expectations and overcoming issues of censorship. Now that is a tightrope to walk : and no net.
Your correspondent has a long-standing interest in this subject as a reader and also as translator of Gamal al-Ghitani's What Happened to the Lands of the Valley . It was a delight to see a large and varied audience joining this conversation, which will continue.
N.B.: The Encyclopedia of Science Fiction has a useful entry, here ; it can, however, only be considered preliminary, for there are no citations after 1988.