The writings of Dutch diplomat and author Robert Hans van Gulik (1910-1967) reveal his considerable talents as a storyteller as well as the conscientious scholarship and varied interests that characterized his life. His nonfiction works cover a broad range of subjects from Chinese culture, folklore, art, and music, such as Chinese Pictorial Art as Viewed by the Connoisseur, Erotic Colour Prints of the Ming Period, and The Gibbon in China. Van Gulik also translated works from Sanskrit and Chinese, was co-author of a vocabulary of the Siksika language of the Blackfoot Indians, and wrote a study on the horse-cult in China and Japan.
He is also widely known for his detective fiction, beginning with Dee Goong An : Three Murder Cases Solved by Judge Dee (a translation of a Chinese work), which led him to write a series of seventeen books featuring the Chinese magistrate Judge Dee, from The Chinese Maze Murders to Murder in Canton and the posthumously published Poets and Murder.
As a diplomat whose career spanned four decades, van Gulik served in posts around the world, and his publication history reflects this fact. He wrote in Chinese, Dutch, English, Italian, and Japanese. In addition to volumes issued by European commercial and scholarly publishers, his books appeared under the imprint of publishing houses in Japan, China, Malaysia, India, and Lebanon. Van Gulik also prepared several important works for private distribution in very limited editions.
Robert Hans van Gulik was born on August 9, 1910, in Zutphen in the Netherlands. His mother, Bertha, née de Ruiter, came from a family of musicians and piano manufacturers. His father Willem was a physician in the Medical Service of the Royal Netherlands East Indies Army recently returned from service in Java, where four older children had been born. Willem returned to the East Indies for a second term of service in 1914, again in Java, and the following year his wife and two youngest children joined him. Young Robert Hans attended elementary school at Surabaja and Batavia (now Djakarta, Indonesia) from 1916 until 1922.
In 1923, Willem retired to the Netherlands, and Robert Hans attended secondary school in Nijmegen. He published articles based on recollections of his early years in the East Indies, and it was at this period that his talents as a linguist were first recognized. He began to study Sanskrit and Chinese, and in 1928 published his first articles on Chinese subjects. His work with Amsterdam University linguist C.C. Uhlenbeck on the language of the Blackfoot Indians subsequently led to the publication of An English-Blackfoot Vocabulary : Based on Material from the Southern Peigans (1930) and A Blackfoot-English Vocabulary : Based on Material from the Southern Peigans (1934).
In 1929, van Gulik began his undergraduate studies at the State University at Leiden, studying law as well as Chinese and Japanese language and literatures. He continued his work in other languages, for his first published book was a translation from Sanskrit into Dutch of an ancient Indian drama by Kalidasa, Urvaçi, een Toneelstuck van Kalidasa (1932). He published a series of articles on the shadow plays of the Orient in Elseviers Geïllustreerd Maandschrift, and other pieces on topics relating to China in Dutch newspapers. A number of these works feature his own illustrations after the style of ancient Indian or Chinese images. Van Gulik pursued his studies at the State University at Utrecht during 1934 and 1935, and received his doctorate after defending his thesis, published as Hayagriva : The Mantrayanic Aspect of Horse-cult in China and Japan (Leiden : E. J. Brill, 1935).
That same year also saw van Gulik entering the diplomatic service. His first post was as second secretary at the Netherlands legation in Tokyo. He pursued his scholarly interests during this period, concentrating on the artistic and literary activities of traditional Chinese culture. He collected rare books, musical instruments, and art works. Having taken up Chinese calligraphy as early as 1930, van Gulik further refined his technique. He chose Kao Lo-Pe'i as his "regular" Chinese name, and also adopted the first of a series of literary names.
His master's thesis had been a translation of a Chinese text on ink stones, used by calligraphers to prepare their ink. In the Orient he was able to make use of additional material, and published the expanded version as Mi Fu on ink-stones (Peking : Henri Vetch, 1938). He also wrote two monographs on musical subjects, The Lore of the Chinese Lute : An Essay in Ch'in Ideology (Tokyo : Sophia University, 1940) and Hsi K'ang and His Poetical Essay on the Lute (Tokyo : Sophia University, 1941). Van Gulik also published a large number of articles in scholarly periodicals, and began work on a comprehensive study of pictorial scrolls in China and Japan. His work was well received by both European and Asian scholars.
The Second World War brought an end to this first Japanese period. Van Gulik was evacuated in 1942 along with other Allied diplomats, and soon learned that all of his collection of manuscripts and art had been lost. After a period on special war-duty in East Africa, Egypt, and New Delhi, he was assigned to the Netherlands embassy in Chungking, China, where he served from 1943 to 1946. In December 1943, he married Shih-Fang Shui, a native of Peking who had left North China during the Sino-Japanese war. The first of their four children was born in Chungking toward the end of 1944. Characteristically, van Gulik continued to publish scholarly work, preparing a one-volume edition of Ming-Mo I-Seng Tung-Kao-Chan-Shih Chi-K'an (Chungking : Commercial Press, 1944), the collected works of the Chan Buddhist master Tung-Kao, a monk who remained loyal to the Ming dynasty at the time of its collapse. The dislocations of the war years ultimately prevented van Gulik from continuing to pursue in-depth scholarly research, but happily he found a project that led him in due course to a whole new area of activity.
Dee Goong An
In 1940 van Gulik had come upon an anonymous 18th-century Chinese novel that fascinated him. Wu-tsé-t'ien-szû-ta-ch'i-an (Four great strange cases of Empress Wu's reign) was a fictional account of the deeds of Judge Dee, one of the heroes of traditional Chinese detective fiction. The historical Judge Dee was born in 630, rose to the rank of Minister of State in the early period of the Tang Dynasty, and died in 700. Dee was a well-known figure in Chinese history, which explains why the anonymous author adopted Dee's name for his detective character. During the war years, van Gulik read similar works of popular literature, and translated the first part of this detective novel into English, determining that the second part was a later pornographic addition. He also began investigating the traditional Chinese Penal Code and the legal literature. In 1946, van Gulik returned to the Netherlands, where he worked in the Ministry of Foreign Affairs in the Hague, until being posted to Washington in 1947 as a counsellor at the Dutch embassy. In 1948, he returned to Tokyo, attached to the Netherlands Military Mission, and remained there through 1951.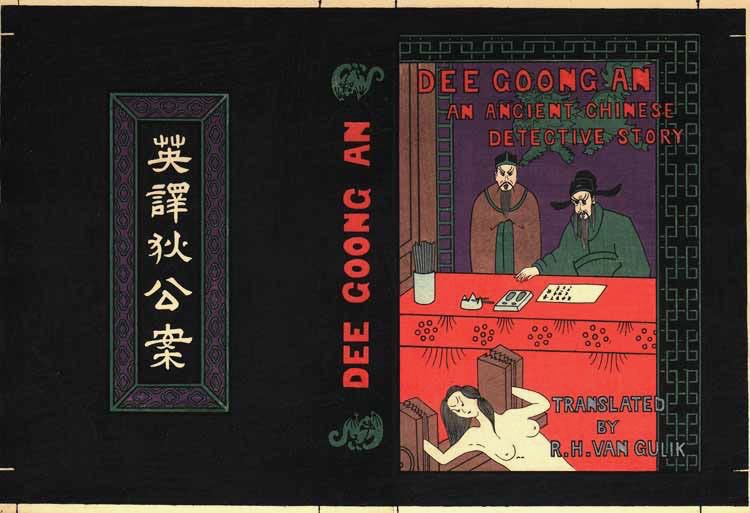 In 1949, van Gulik arranged for the printing of an edition of 1,200 (signed) copies of his English translation, Dee Goong An : Three Murder Cases Solved by Judge Dee. Van Gulik included several of his own illustrations in Chinese style, and designed the color woodcut boards. This was the first introduction of Judge Dee to English-speaking audiences and remains a significant volume in the history of detective fiction. With the assistance of a trusted adviser and the three lieutenants who comprise his personal staff, the magistrate solves three seemingly distinct crimes that turn out to be interconnected.
In his translator's postscript to Dee Goong An, van Gulik had written, "I think it might be an interesting experiment if one of our modern writers of detective stories would try his hand at composing an ancient Chinese detective story himself." No one rose to the challenge, and during 1949 van Gulik himself began to compose, in English, an original Chinese detective novel, "borrowing Judge Dee and his four lieutenants Hoong, Ma Joong, Chiao Tai, and Tao Gan, with their main characteristics. My English text," as he later wrote, "was meant only as a basis for a printed Chinese and/or Japanese version, my aim being to show modern Chinese and Japanese writers that their own ancient crime-literature has plenty of source material for detective and mystery stories."
In the series of novels and stories, written over a period of nearly 20 years, van Gulik traces the career of Judge Dee from his first post as a town magistrate through his appointment as Lord Chief Justice in the imperial capital. With the exception of Murder in Canton, the novels are all set in fictional towns, but van Gulik illustrated a variety of different regional characteristics in these locales. Judge Dee is an unrelenting investigator who manages to untangle the multiple crimes facing him. Dee is also a cultured gentleman who appreciates books, music, and art. The novels display both complex criminous plots and an impressive sense of the sights and sounds of daily life in the Chinese past. Although van Gulik took many of the incidents from ancient sources, the novels feature turns of plots and motive that are in fact quite modern.
The interplay of apparently unrelated events that forms part of Dee Goong An is a feature of the classical Chinese detective story, and also illuminates the way van Gulik's scholarly interests developed during this second Japanese period. His first detective novel, The Chinese Bell Murders, was not immediately published. In 1950 Van Gulik wrote a second novel, The Chinese Maze Murders, which was translated into Japanese by a sinologist friend, and accepted for publication by Kodansha. The Japanese publisher wanted to use a female nude in the cover.
I informed him that I could not do that, because I wanted to keep my illustrations in genuine old Chinese style, and that in China, owing to the prudish Confucianist tradition, there never developed an artistic school of drawing nude human bodies. The publisher, however, wanted me to make sure of this anyway so I wrote identical letters to a few dozen antiquarian booksellers in China and Japan of my acquaintance, asking whether they had Ming prints of nudes. [. . .] All answers were negative, except for two : a bookseller in Shanghai wrote me that one of their customers possessed a few erotic albums of the end of the Ming period and was willing to let me have tracings of these pictures ; and a curio-dealer in Kyoto informed me he had a set of actual Ming printing-blocks of an erotic album, containing large-size male and female nudes. I purchased these blocks, and had tracings made of the albums of the Shanghai collector. [. . .] This is one of the many cases where the writing of my detective novels had a direct bearing on my orientalistic research work.
This research led to the 1951 publication of Erotic Colour Prints of the Ming Period : With an Essay on Chinese Sex Life from the Han to the Ch'ing Dynasty, B.C. 206-A.D. 1644 in three volumes in a Chinese-style cover. Van Gulik's essay in English comprises volume one, with the original Chinese sources forming volume two, and volume three containing 24 original prints from the woodblocks. (The original edition was limited to 50 copies, most of them distributed to libraries significantly associated with oriental studies. More recently, a facsimile edition has been published.) In light of correspondence with scholars, van Gulik subsequently revised many points in this essay, and published Sexual Life in Ancient China : A Preliminary Survey of Chinese Sex and Society from ca. 1500 B.C. till 1644 A.D. (Leiden : E.J. Brill, 1961 ; reprinted 1974).
Also during his posting in Tokyo, van Gulik brought out Ch'un Meng So Yen : Trifling Tale of a Spring Dream (1950), a Ming erotic story prepared from a manuscript preserved in Japan. An English introduction by van Gulik accompanies the Chinese text and gives a brief history of the preservation of Chinese erotic literature in Japan. He notes that many works from the Ming dynasty were lost during the Ch'ing period (1644-1911) yet survived in Japan. The Japanese censors exercised strict control over political and military works or books on Christianity but "took a rather tolerant view with regard to erotic or even pornographic Chinese literature." The text is printed on one side only of doubled leaves, and the privately printed edition was limited to 200 copies.
From Tokyo, van Gulik was appointed counsellor at the Netherlands embassy in New Delhi, India, in 1952. The Japanese edition of The Chinese Maze Murders had been published in 1950, and while in New Delhi, van Gulik translated the book into Chinese. It was published in Singapore in 1953. He also wrote a a draft of a third Judge Dee novel, The Chinese Lake Murders, still intending to publish the book in Chinese, but set it aside. Also composed at this time was Siddham : An Essay on the History of Sanskrit Studies in China and Japan (Nagpur, India : International Academy of Indian Culture, 1956).
In 1953, he returned to the Netherlands as director of the Africa and Middle East section of the Ministry of Foreign Affairs, and wrote no new novels during the next three years. In the course of researching these novels, however, van Gulik had read numerous books on Chinese criminal cases, and identified one that proved of considerable interest to him from both a scholar's and a novelist's perspective. His extensively annotated translation of T'ang-yin-pi-shih : "Parallel Cases from under the Pear-tree" : A 13th Century Manual of Jurisprudence and Detection was published as volume 10 of the series Sinica Leidensia (Leiden : E.J. Brill, 1956). The T'ang-yin-pi-shih is a collection of 144 notable criminal and civil cases from a period spanning some 14 centuries, and was used not only in China but also in Japan and Korea. In his preface, van Gulik wrote, "The T'ang-yin-pi-shih contains a number of cases which throw revealing sidelights on legal problems ; several quite good 'detective tales,' and scores of neat solutions of difficult cases. [. . .] I thought that as a first introduction to this particular genre of Chinese legal literature a complete and unmodified translation of one entire case-book was indicated." He would himself mine this source for many of the criminal cases rendered in detective novels.
The Chinese Maze Murders (The Hague : W. van Hoeve Ltd., 1956) was the first of the Judge Dee novels to be published in English. Van Gulik also revised his first Dee novel for publication in a Dutch translation, and subsequently published a revised English version of The Chinese Bell Murders (London : Michael Joseph Ltd., 1958). Appointed envoy to Syria and Lebanon, van Gulik divided his time between Damascus and Beirut, and the next three years were remarkably productive ones for him. In 1956 he composed a fourth Judge Dee novel The Chinese Gold Murders (London : Michael Joseph Ltd., 1959), and in 1957, he completely revised The Chinese Lake Murders (London : Michael Joseph Ltd., 1960).
During this period, van Gulik published two scholarly works, Scrapbook for Chinese Collectors : A Chinese Treatise on Scrolls and Forgers : Shu-hua-shuo-ling (Beirut : Imprimerie Catholique, 1958), and Chinese Pictorial Art as Viewed by the Connoisseur (Rome : Instituto italiano per il Medio ed Estremo Oriente, 1958). The latter he considered his magnum opus on Chinese pictorial art, in preparation since 1940. He also prepared the typescript of Sexual Life in Ancient China, eventually published in 1961.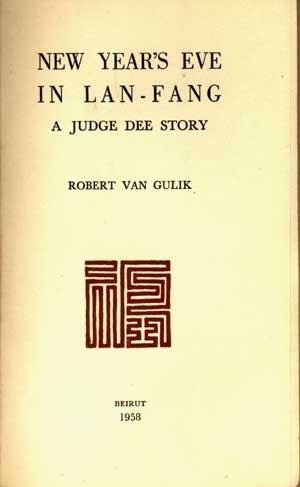 In the midst of the civil war in Beirut in the summer of 1958, van Gulik wrote The Chinese Nail Murders (London : Michael Joseph Ltd., 1961). He wrote a Judge Dee short story New Year's Eve in Lan-Fang (Beirut, privately printed, 1958), which appeared in an edition of 200 copies sent out as a New Year's greeting for 1959. During the latter months of 1958 and the beginning of 1959, he wrote three more novels.
In the summer of 1959, van Gulik was appointed ambassador to the federation of Malaya (now Malaysia). After arriving in Kuala Lumpur, van Gulik wrote another novel in early 1960. He found that his London publisher was unwilling to bring out more than one Judge Dee novel a year, and so determined to publish the books himself. The Red Pavilion and The Haunted Monastery were both published in 1961 by the Art Printing Works in Kuala Lumpur, and The Lacquer Screen appeared in 1962. These three were all published in paperback in editions of 2,000 copies (and were also were subsequently published in London by William Heinemann Ltd. in 1963 and 1964). In 1961 and 1962, van Gulik had written Murder in Canton, featuring Judge Dee on a special mission to investigate the possibility of revolt in Canton, which had a large Arab population because of its role as a seaport. He saw this as the concluding novel in the series, and the last he would write. But when Heinemann undertook to bring out The Emperor's Pearl in 1963, the publisher convinced van Gulik to write additional mysteries that would appear before Murder in Canton. Heinemann ultimately published eight books featuring Judge Dee (including the three reprints).
From 1963 to 1965, van Gulik was director of the Research and Documentation Bureau of the Ministry of Foreign Affairs. He wrote The Willow Pattern (1965), and two novella-length stories of Judge Dee written in 1963 were collected as The Monkey and the Tiger (1965). Van Gulik considered one of these two pieces, "The Night of the Tiger," as among his best efforts. Judge Dee, traveling alone on his way to the imperial capital, is forced by inclement weather to take shelter in an isolated country house. Dee solves a murder and thwarts an attack by bandits. A key episode turns upon the Judge playing the Chinese lute (again an instance of where van Gulik's scholarship is incorporated into his fiction).
In 1965, he was appointed ambassador extraordinary and plenipotentiary of the Netherlands to Japan, and returned to Tokyo, serving concurrently as ambassador to South Korea. He completed work on The Phantom of the Temple (London : Heinemann, 1966), which returned to the period of Judge Dee's duties in the western border district of Lan-fang. This novel includes several scenes within the magistrate's household and involving his wives, allowing van Gulik to discuss the traditional arrangement of the polygamous household. Landscape artists, Tatars, antiquities dealers, and the workings of the imperial bureaucracy also feature in the murder cases. Necklace and Calabash (1967), also written in Tokyo, features intrigue within the imperial household, eunuchs, Taoist mendicants, and Judge Dee in disguise as a Chinese medical doctor. Judge Dee at Work (1967) is a collection of short stories written from 1959 to 1961. Many of these pieces had also been adapted for syndication as a comic strip in the Netherlands and Scandinavia.
Scholar and Novelist
In A Bibliography of Dr. R.H. van Gulik, compiled by A.M. Evers (Boston : Department of Special Collections, Boston University Libraries, 1983), there is a lengthy sequence of notes written by van Gulik himself in Tokyo during December 1966 (in connection with the collection of his papers in the Mugar Memorial Library at Boston University). In a passage describing the composition of the later novels, van Gulik discussed his awareness of the role his detective fiction played in his intellectual life :
I am glad Heinemann suggested to me to go on writing these novels, for I have come to realize that in the course of the past 15 years this work has become an integral part of my life, as necessary to me as my scholarly research. Without scholarly work, I could not have continued my diplomatic career, where one deals exclusively with matters of temporary significance ; scholarly research offers a welcome refuge, for there everything one does has permanent value, even one's mistakes, for these will enable other workers to do better. However, if one takes scholarly work seriously, one has to be a slave of the facts, and strictly control one's imagination. While writing fiction, on the other hand, one is the undisputed master of the facts, and one may give the reins to one's imagination.
Therefore the writing of fiction has become an indispensable third facet of my work, a relaxation that keeps my interest in diplomatic and scholarly activities alive.
In 1967, van Gulik returned to the Netherlands. He died in the Hague on September 24, 1967, after a protracted stay in the hospital, during which he completed Poets and Murder (1968) and prepared the text of The Gibbon in China which was also published posthumously using van Gulik's own Chinese calligraphy. Most of his Judge Dee novels remain in print from the University of Chicago Press. Although the old Chinese way of life has changed forever in the turmoil of the 20th century, through a combination of both scholarship and imaginative powers, van Gulik has created a composite fictional biography of Judge Dee that brings this period to life.