recent reading
— [J.J. Abrams & Doug Dorst. S.] [wrapper title]. Ship of Theseus by V.M. Straka. Winged Shoes, 1949 [i.e. : Little, Brown, 2013]. A playful, tricky simulation of an old book with a cover design after Lustig and layers of annotation.
— — — —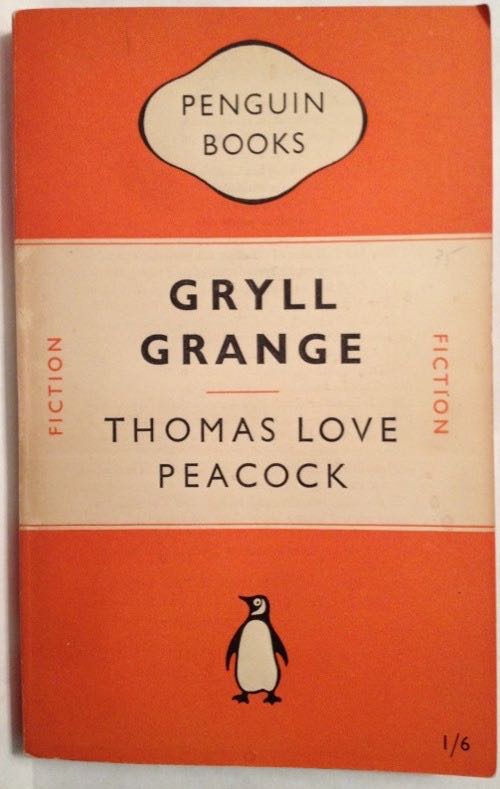 that hue : the average orange book
' I shall be glad to be cured of my unbecoming propensity to laugh whenever I hear of a lecturing lord '
— Thomas Love Peacock. Gryll Grange (1861), in an orange Penguin paperback, 1949. Peacock is pretty thoroughly grumpy about modernity, nonetheless his satire explodes the Whig fallacy of history and his female characters have great self-possession and good lines : " You travel round the world by a hand-book, as you do round an exhibition-room by a catalogue. "
— — — —
— James Bieri. Percy Bysshe Shelley. A Biography. Youth's Unextinguished Fire, 1792-1816 [and:] Exile of Unfilfilled Renown, 1816-1822. University of Delaware Press, [2004]. Tracked to the source : clarification of Shelley's vegetarianism and his relations with John Newton, author of The Return to Nature, 1811.
— — — —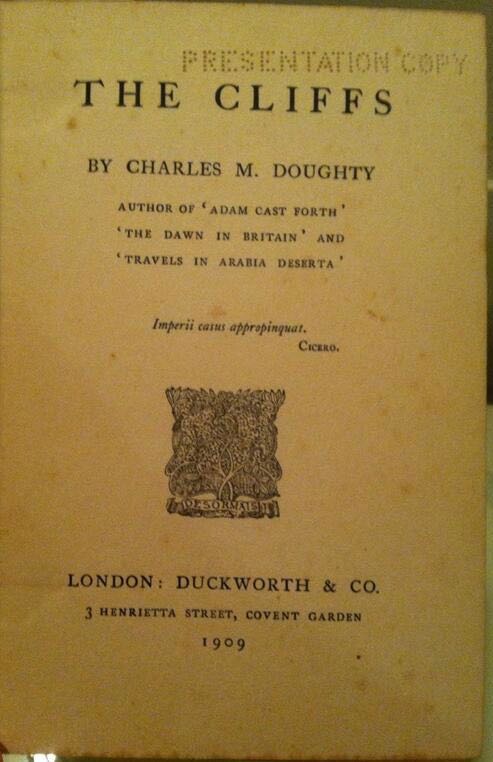 Language and more language, as without words we cannot think, without a knowledge of words we cannot, save confusedly, express our hearts.
— C.M. Doughty, cited by Herbert Davis in his Bergen Lecture, 1943
— C. M. Doughty. The Cliffs. Duckworth, 1909. Aerial invasion and elf-drama : conscription in the village, Oberon and a faery wedding, an English ghost army (with divine bowman !), and infant sacrifice ; the vicar militant, and war ! The richest, weirdest, crunchiest word-hoard your correspondent has seen in many years.
Hearken, whilst I call over our elf-mote.
Young Gam and Wern and Olp and Dru and Knop ;
Trippe, Ban and Bolt, and Clum and Pust and Tarpe
— Barker Fairley. Charles M. Doughty. A Critical Study. Jonathan Cape, [1927]. On Doughty's profound study of languages, his long-term poetic aims, and " the wealth of fuller knowledge not given ". Doughty's elf-lore was so thoroughly rooted in scholarship of Norse literature that " even his airiest inventions are as true to tradition as if they were the tradition itself. "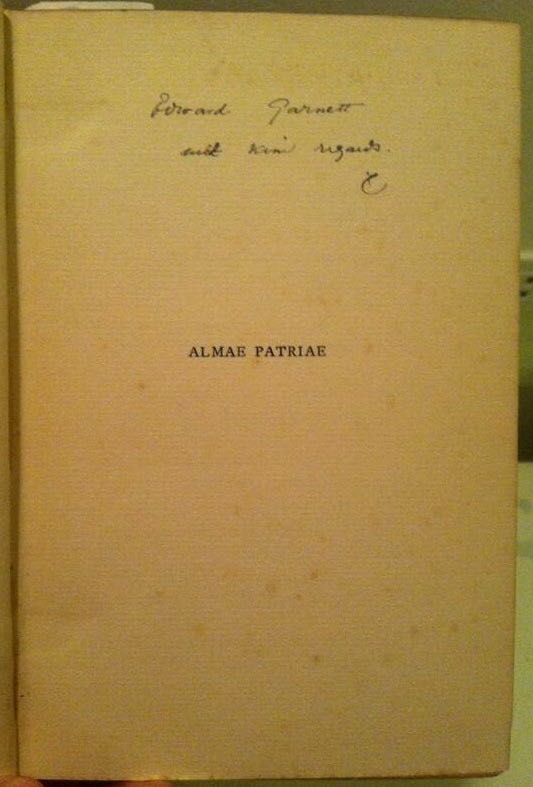 Dedication page of The Cliffs, inscribed to his editor, Edward Garnett. Photos courtesy of Dan Visel.
— — — —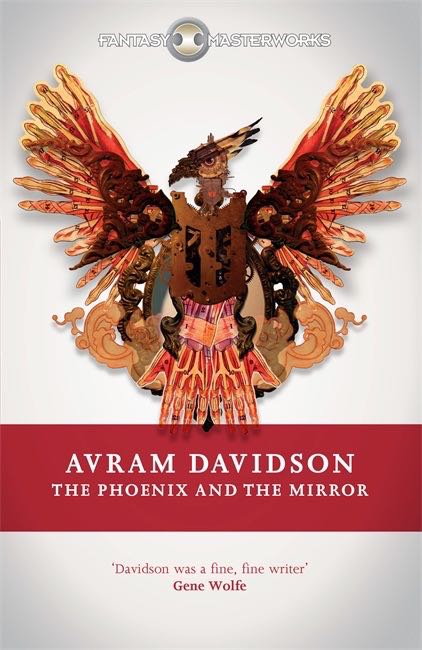 — Avram Davidson. The Phoenix and the Mirror [; or, The Enigmatic Speculum (1969)]. [Introduction by Adam Roberts]. [Gollancz, 2013]. Fantasy Masterworks series.
Go read it : Joanna Russ did, http://avramdavidson.org/russ.html.
Read The Phoenix and the Mirror for the sentences, the wild imagery, the episodic plot, the walk-on parts, the blossoming apple tree, its color and erudition and its geography, and all the intricacies of the world of Davidson's Vergil. Adam Roberts read the book closely and the introduction is the fruit of his reading, with some notable insights into the cadences of Davidson's prose. When Vergil visits the eunuch Sylvian, Chief Priest of Cyprus, he employs " the device called a pembert, of which only Vergil himself and one other had the art ". Davidson's pembert, its tiny lens-lamp and tinier mirror and distortion of shadow fully as remarkable as the speculum major or Big Mirror that is the principal matter of the novel, is summoned for use and then dismissed, all in the space of a couple of pages. A lesser writer might have written a ten-page infodump on " the device ". It was also a delight to see Vergil wield his letters of state, a precursor of the Provót entrusted to Doctor EstzerhazyÊin " The Crown Jewels of Jerusalem, or The Tell-Tale Head ". Re-reading the book, its flaws (noted by Russ) are there, but they are the visible knots in a handmade tapestry : to re-read The Phoenix and the Mirror (for the first time in nearly a decade) was sheer delight. (See below for the perils of re-reading Chesterton.)
One brief aside : what is it with publishers and subtitles ? Doubleday, publishers of the original edition, had a policy against subtitles in fiction and the Ace paperback restored it, sort of : under the author's name. Davidson had a couple of subtitles for Vergil in Averno ; Doubleday printed neither. And yet how many publishers slap the helpful subtitle A Novel onto a title page ?
— George Pelecanos. The Double. A Novel. Little, Brown, [2013].
— Peter Crowther. Jewels in the Dust. Subterranean Press, 2013. Stories old and new : " The Fairy Trap ", etc.
— Steve Katz. Florry of Washington Heights. A Novel. Sun & Moon, [1987]. [re-reading].
— John Buchan. Castle Gay (1930) [re-reading : back in the land of Dickson McCunn and the Gorbals Die-hards].
— — — —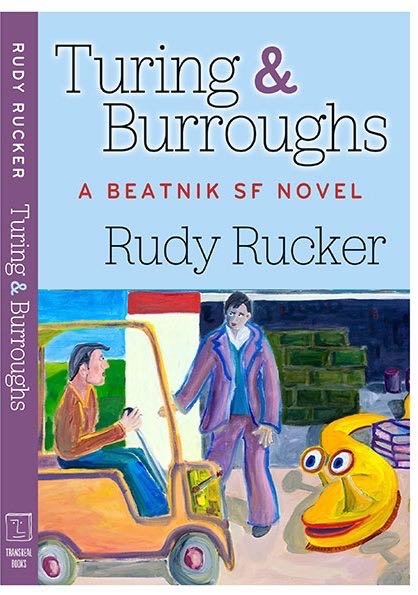 " . . . that the world is both deterministic and overflowing with endless surprise "
— Rudy Rucker. Turing & Burroughs. A Beatnik SF Novel. Transreal Books, [2012]. History unwound : Alan Turing in Tangier and America . . .
— — — —
— Craig Graham. Phantom Pain. Poems. Vagabond Books, [2014]
[. . .]
each summer again
another spell
of invention
on the ragged edge
of nothing
— — — —

— Jules Verne. Around the World in Eighty Days. Translated by Geo. M. Towle. Phila. : Porter & Coates, [n.d.]. " I will jump — mathematically ".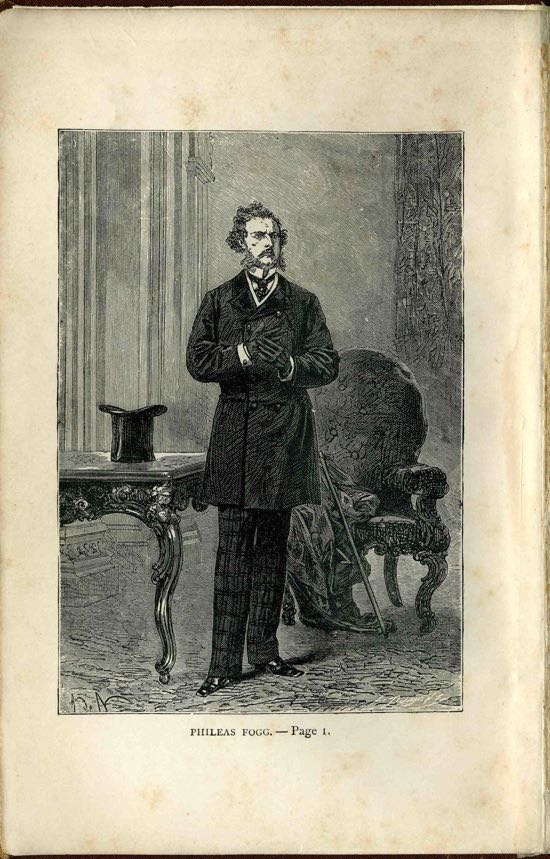 — — — —
— L. Sprague de Camp and Fletcher Pratt. Tales from Gavagan's Bar (Expanded Edition). Owlswick, 1978. [re-reading]
— John Buchan. The Three Hostages, 1924 [re-read after an interval of perhaps 30 years, noting technique, conservatism of the narrative tone, observations of chaos].
— James Meek. The People's Act of Love (2005). " ' . . . a revolution happens when it happens in here. ' [Samarin] tapped his head. "
— Ian Donaldson. Ben Jonson. A Life. Oxford University Press, [2011.]
— Joseph Conrad. The Shadow-Line. A Confession [and:] Within the Tides. Tales [Works, vol. 16]. " . . . the intimate delicacies of our relation to the dead and to the living, in their countless multitudes "