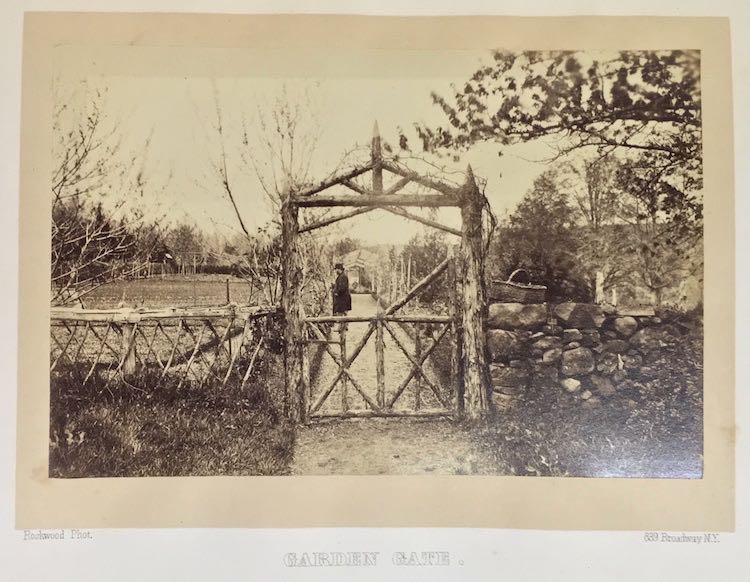 — [Don G. Mitchell]. Pictures of Edgewood in a series of photographs, by Rockwood, and Illustrative Text, by the Author of "My Farm of Edgewood." Charles Scribner's Sons, 1869.

— — — —

— Maria Dahvana Headley. The Mere Wife. MCD Farrar, Straus & Giroux, [forthcoming 17 July 2018].
Make it new: this is a re-invention of an old story and an assault on literary tradition.
I was very happy to have had an early look at this transgressive book: the prose sings itself to the reader and Headley's mastery of the collective voice is nothing less than spectacular.
And then I went and read Heaney, in a parallel text edition (see below), which increased my appreciation for the way The Mere Wife reworks story while remaining rooted in the language.

— Seamus Heaney. Beowulf. A New Verse Translation [2000]. Norton paperback.
"away into some unpartitioned linguistic country": to read Beowulf makes plain that Tolkien's vast endeavor was to create mythology and pre-history that would have been dimly remembered by the Beowulf poet's ancestral culture; even Bilbo Baggins' visit to Smaug is contained therein. This statement is not reductionist or dismissive: Tolkien derived entire lost civilization(s) on linguistic principles.

— — — —

— Julia Briggs. A Woman of Passion. The Life of E. Nesbit (1858-1924) [1987]. Penguin Books paperback, [after 1989]. With a gift inscription, For Virginia, from Julia, 1993 on inside cover.

— A. S. Byatt. The Children's Book. A Novel [2009]. Vintage paperback.

— S. T. Joshi. What Is Anything? Memoirs of a Life in Lovecraft. Hippocampus, 2018.

— Michael Swanwick. Report of the American Martini Institute. The Evolution of the Martini. Dragonstairs, [21 May] 2018. Edition of 60 copies.

— Peter Lovesey. The False Inspector Dew. Pantheon Books paperback, [3/83 : March 1983]

— Robert Sheckley. Is THAT What People Do? Short Stories. Holt, Rinehart and Winston, [1984]. This copy inscribed to agent Kirby McCauley. [Gift of DS] [Re-read]

— Peter Lovesey. The House Sitter. Soho paperback, [2003]

— Tom Disch. Endzone. Letzte Gedichte Zweisprachige Ausgabe übersetzt von Christopher Ecker [Vorwort John Crowley]. Mitteldeutscher Verlag, 2018

— A.J.A. Symons. The Quest for Corvo. An Experiment in Biography [1934]. [Introduction by Mark Valentine]. Tartarus Press, 2018.

— Mark Valentine. The Uncertainty of All Earthly Things. Zagava, 2018. Hand bound issue, marbled boards, edges black. Fabulous!

We don't live a story, any of us, only a sentence. — Mark Valentine, "Vain Shadows Flee"

— Darach Ó Séaghdha. Motherfoclóir. Dispatches from a not so dead language. Head of Zeus, [2017]

— Jacqueline de Romilly. Le Trésor des savoirs oubliés [1998]. Éditions de Fallois, [2017]

— Hunter S. Thompson, The Last Interview and Other Conversations. Edited and with an introduction by David Streitfeld. Melville House, [2018].

— John Crowley. "Spring Break", in: New Haven Noir. Edited by Amy Bloom. Akashic Books, [2017]. Crowley's story won the Edgar award.

— The Scarlet Soul. Stories for Dorian Gray. Edited by Mark Valentine. Swan River Press, 2018

— Michael Swanwick. Blue Moon. [Dragonstairs, 31 March 2018]. Edition of 69 copies. 5 moon stories

— Holstein & Marais. Biliografia da ficção científica e fantasia portuguesa. Portuguese Science Fiction and Fantasy Bibliography. Second edition, 1993

— M. John Harrison. You Should Come with Me Now. Stories of Ghosts. [Comma, 2017.]

— Mark Valentine & Brian Lavelle. Psammomancy. [Photographs by Jo Valentine]. Seacliff Press, 2018.

— James Joyce. The Holy Office. [Pola, 1904].

Bringing to tavern & to brothel,
The mind of witty Aristotle

— Megan Abbott. You Will Know Me. A Novel [2016]. Back Bay pbk., 2017

— Rachel Ingalls. Mrs. Caliban [1983]. With an introduction by Rivka Galchen. New Directions, [2017].