— R. Inwards. Weather Lore. A Collection of Proverbs, Sayings, and Rules concerning the Weather. London : W. Tweedie, 1869.
"If the twenty-fourth of August be fair and clear,
Then hope for a prosperous autumn that year. "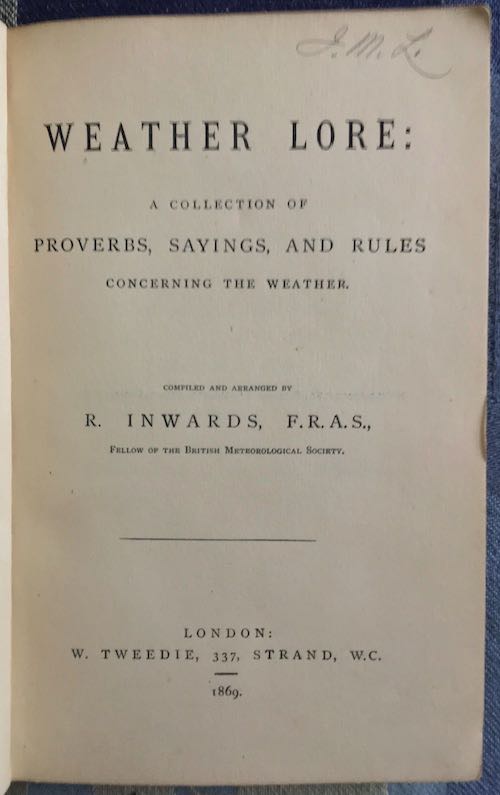 — Sylvia Townsend Warner. Kingdoms of Elfin. Viking Press, [1977].
— Peter Straub. The Skylark. Subterranean Press, 2010
— Algernon Blackwood. John Silence Physician Extraordinary. Eveleigh Nash, 1908.
— Lucius Shepard. Cantata of Death, Weakmind & Generation. Lillabulero Press, [1967].
— Algernon Blackwood. Strange Stories. Heinemann, [1929].
— Peter Straub. The General's Wife. Donald M. Grant, 1982
— Kit Reed. Deaths of the Poets. Designed and Illustrated by Joe Reed. [5], 27, 1 pp. [Middletown:] At the sign of the Piratical Primrose, 1991. Second, revised edition, one of 150 copies. Gold wrappers, printed paper label.
An abecedarium of poets, including Aeschylus, Byron, Crane, Donne, Euripides, Fuller, Goethe, Homer, Akhenaton, Johnson, Keats, Lovelace, Molière, Nerval, Ovid, Pope, Quasimodo, Rilke, Sand, Tennyson, Urban, Villon, Wilde, Xenophon, Yeats, and Zoroaster. Originally published in an edition of ten copies in 1978.
This copy inscribed from Joe and Kit Reed to Brian and Margaret Aldiss.
— Alex Pheby. Mordew. Galley Beggar Press, [2020].
— (WOLFE, GENE) Michael Swanwick. Swan/Wolfe . . . lightly edited from a podcast interview on ReReading Wolfe. Cover illustration by Susan McAninley. Dragonstairs Press, 2020. Edition of 100 copies. Wrappers, hand sewn. This is an important book : Swanwick's insights on Wolfe, and the discussion of Wolfe's place in the field and in his heart.
— Kim Stanley Robinson. Three Californias. Tor Essentials, [2020]. Collects The Wild Shore (1984), The Gold Coast (1988), and Pacific Edge (1990).
— [R. S. Surtees]. Mr. Sponge's Sporting Tour. With illustrations by John Leech. Bradbury, Agnew, [n.d.]. Re-reading this hilarious classic of social climbing and foxhunting in early Victorian times ; the Leech illustrations are essential.
— Charles Lamb. The Essays of Elia [and:] Last Essays of Elia. With introductions by Augustine Birrell, illustrations by Charles E. Brock. Dent/Scribners, 1910, 1912
— Gene Wolfe. Soldier of Arete. Tor, [1989]. Inscribed by the author, "for Avram Davidson, who has taught me so much. Gene Wolfe 10/28/89". Also signed by Davidson (and heavily coffee-stained). [Gift of DS].
— Gene Wolfe. Soldier of the Mist. Tor, [1986].
— Adam Roberts. H G Wells. A Literary Life. Palgrave Macmillan [2019, i.e., Milton Keynes, Lightning Source, June 2020].
— Peter Dickinson. A Summer in the Twenties. Pantheon, [1981]. (Re-reading).
— Bradley Denton. Buddy Holly Is Alive and Well on Ganymede. Morrow, [1991]. AvoNova, [1992]. A great novel and a hopeful look at the possibilities of the world. (Re-reading).
— Anna Kavan. Machines in the Head. Selected Short Writing. [With 12 color plates of Kavan 's paintings]. Selected and with a foreword by Victoria Walker. Peter Owen, [2019]. This is a glimpse of a very intense writer at work (I opened to "A Visit " and "Julia and the Bazooka ").
— (LAMB, CHARLES) The Charles Lamb Day Book. Compiled by E. V. Lucas. Methuen, [1925].
— James McBryde. The Story of a Troll-Hunt. [Preface by M. R. James]. Cambridge: Printed at the University Press, 1904. Illustrated account of a trip to Denmark in 1899, published by James as a memorial to his friend James McBryde, who illustrated several of the tales in Ghost Stories of an Antiquary. [Gift of JC].
— A. J. Liebling. The Telephone Booth Indian. Doubleday, Doran, 1942.
— — — —
commonplace book

'Lawyers, I suppose, were children once.' — Charles Lamb, The Essays of Elia

'Always check the pamphlets'
Mark Valentine dives into 1965 in 'The Terrific-Strange': some student poets of 1965.

Wodehouse on Mint Juleps, from Summer Lightning (via Levi Stahl)

— — — —

other news

Lion City by Ng Yi-Sheng, Endless Bookshelf book of the year in 2018, was just awarded the Singapore Literature Prize in English fiction. Article in the Straits Times here.

'simply messing about in books'
Twenty years ago (in July 2000), I began working at James Cummins Bookseller : I have often been thinking of all the great books I have seen (bought, sold, touched, underbid) ; and the many friends I have made.

— — — —

electronym : wessells at aol dot com

Copyright © 2007-2020 Henry Wessells and individual contributors.

Produced by Temporary Culture, P.O.B. 43072, Upper Montclair, NJ 07043 USA.