recent reading
— C.R.Maturin. Melmoth the Wanderer (1820). [Penguin paperback, re-reading : into the labyrinth of narrative].
— David Foenkinos. Le mystère Henri Pick. Roman. NRF Gallimard, [2016].
— Wormwood 26. Edited by Mark Valentine. Tartarus Press, Spring 2016.
— Apollinaire. Le regard du poète. Musées de l'Orsay et de l'Orangerie. Gallimard, [2016]. Catalogue of the exhibition at the Orangerie, 6 April - 18 July 2016.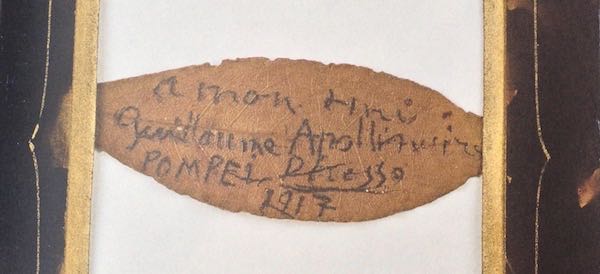 the bay leaf : à mon ami Guillaume Apollinaire Pompei 1917 Picasso [detail from catalogue].
— — — —
— Laffcon 1. The World's First and Only R.A. Lafferty Conference. June 4, 2016. Guests of Honor Michael Swanwick Lissanne Lake. [Lawrenceville, N.J. : Ktistec Press, 2016] at the Mercer Co. Library in Lawrenceville, N.J.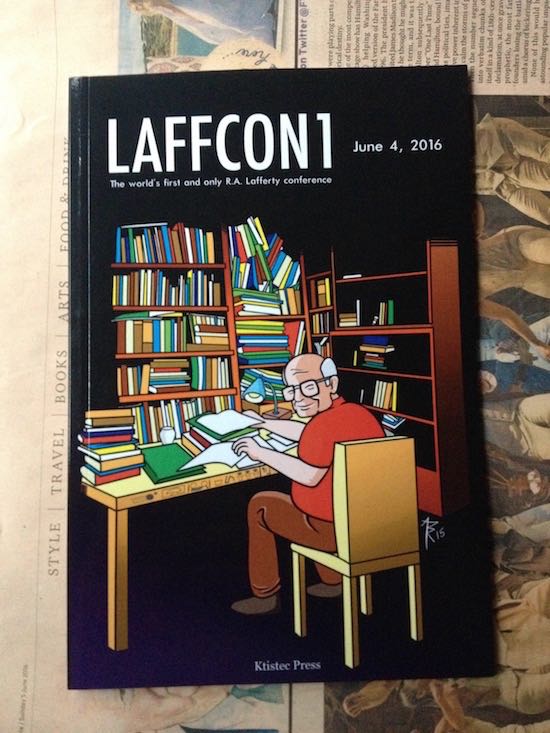 — — — —
— Bookspace. Collected Essays on Libraries. Edited by Maria Inês Cruz and Lozana Rosenova. [London : Inland editions, 2015].
— [Sara Coleridge]. Phantasmion. London : William Pickering, 1837. The first fantasy novel in English, a tale of Fairyland, set entirely in the secondary world. By the daughter of poet Samuel Taylor Coleridge.
— Bob Rosenthal. Cleaning Up New York. The Little Book Room, [2016]. New edition, forty years after the original.
— Michel Faber. Under the Skin. A Harvest Book. Harcourt, [2000 ; paperback, 9th ptg, n.d.].
— Dorothy L. Sayers. Gaudy Night. Victor Gollancz Ltd, 1935.
— Eric Stotik. Fugue. Hoffman Gallery of Contemporary Art, Lewis & Clark College, 2015. Exhibition catalogue, https://www.lclark.edu/live/news/30666-eric-stotik-fugue.
— Dark Mountain 9. Eds. Paul Kingsnorth & Dougald Hine. Dark Mountain Project, Spring 2016. Includes the first print publication of ' a Stone and a Cloud ' by Brendan C. Byrne.
— Tom La Farge. Maznoona. [Book two of The Enchantments]. Spuyten Duyvil, [2016].
— Quack This Way. David Foster Wallace & Bryan A. Garner Talk Language and Writing. February 3, 2006. [Penrose, 2013].
— Neal Stephenson. The Diamond Age. Bantam Spectra pbk. (Bought in Austin, from the Fifth Dimension Books book-bus).
— Youme Landowne & Anthony Horton. Pitch Black. Don't Be Skerd. Cinco Puntos Press, [2006].
— Joshua Edwards. Photographs Taken at One-Hour Intervals during a Walk from Galveston Island to the West Texas Town of Marfa. [Stuttgart :] Edition Solitude. Reihe Projektiv, [printed by McNaughton & Gunn, 2014].
— Darcie Dennigan. Palace of Subatomic Bliss. Canarium Books, [2016].
— A Little Ramble: In the Spirit of Robert Walser. Christine Burgin. Donald Young Gallery, New Directions, [2012].
— Jacques Réda. Europes. Translated and with an introduction by Aaron Prevots. Austin, TX : Host, [2009].
— Elizabeth Hand. Hard Light. A Cass Neary Crime Novel. Minotaur Books, 2016.
— [Ben Kinmont]. Open by Chance & Appointment. Sebastopol : [Antinomian Press], 2015.
— Anthony Powell. The Military Philosophers (1968). " Powell is the best critical study of Proust " — Guy Davenport. (Now I see).
— Guillermo Martínez. The Oxford Murders. Translated by Sonia Soto (2005). Penguin, [2006].
— Richard Jefferies. After London ; Or, Wild England : In Two Parts : Part 1 — The Relapse into Barbarism; Part II — Wild England. London : Cassell and Company, 1885.
— Brendan C. Byrne. ' a Stone and a Cloud ' http://flapperhouse.com/2016/03/10/a-stone-and-a-cloud-fiction-by-brendan-byrne/.
— — — —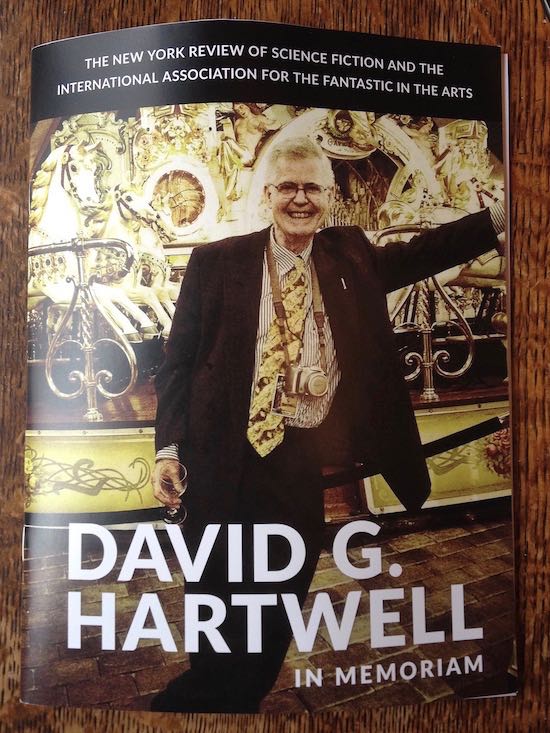 — The New York Review of Science Fiction. David G, Hartwell memorial issue, no. 330. Burrowing Wombat Press, February 2016.
— The Green Book 7. Easter Rising centennial issue. Swan River Press, Bealtaine, 2016. Memoirs of 1916 by Irish writers of the fantastic.
— Michael Swanwick & Marianne Porter. Fallen Leaves. With 15 plates from photographs. Edition of 20, signed. Dragonstairs, 2016. Out of print upon publication.
— H.G. Wells. The Island of Doctor Moreau. 1896.
— — — —
e-booke re-issue of Hope-in-the Mist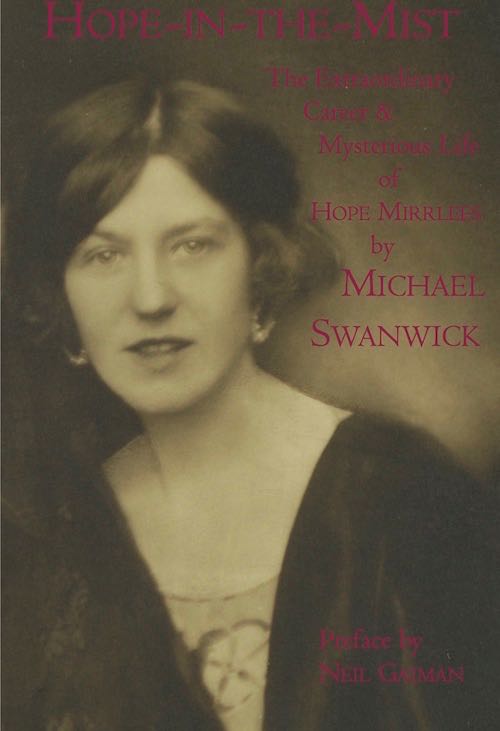 A new edition of Michael Swanwick's Hope-in-the Mist. The Extraordinary Career & Mysterious Life of Hope Mirrlees (2009) is in preparation, for release in all the usual e-booke formats through Weightless Books in early August, in time for MidAmericon II (Worldcon), where Mr. Swanwick will be guest of honor. Further details will be made available as soon as your correspondent can update the information page, here.