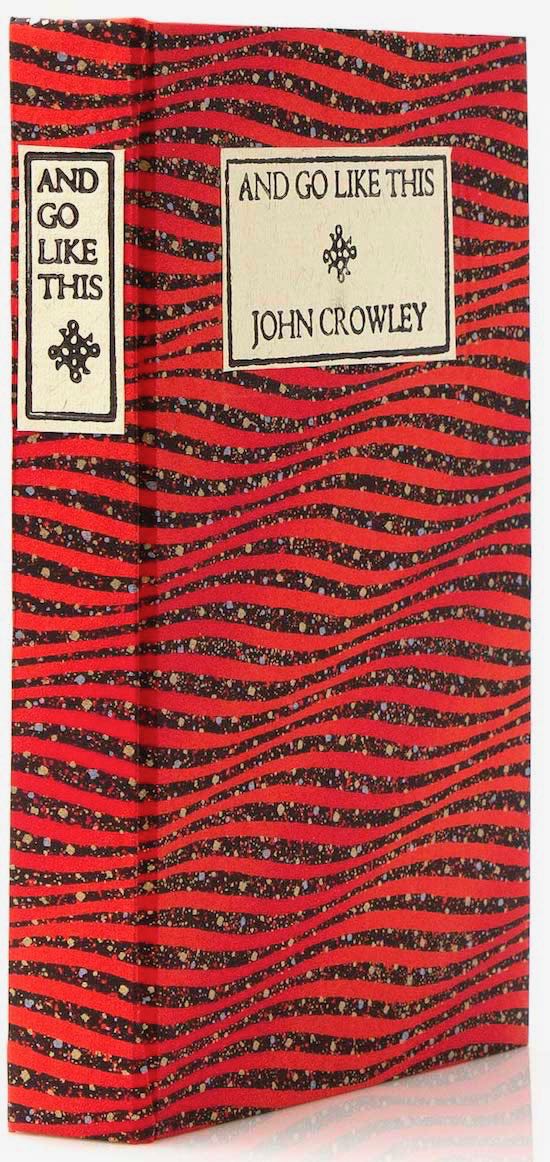 — John Crowley. And Go Like This. Stories. Small Beer Press, [2019].
I am rather pleased to have had a part in producing the deluxe edition for Small Beer Press. As Gavin Grant wrote when he first saw the bindings, the waves in the world are the waves in the words. "Anosognosia" is the funniest, most thoroughly John Crowley story ever, a perfect evocation of a lost past, rich in ambiguity : an American garden of forking paths.
— — — —
current reading:
'I came to be familiar with this terrain because I spent weeks getting lost in it'
— Gregory Gibson. Journey to Dogtown. A Few Chapters from the Walk that is My Life. Ten Pound Island Book Co., Christmas, 2019. Nathaniel Shaler, Charles Olson, and the postmodern landscape of Cape Ann, Massachusetts.
— Michael Swanwick. Reindeer Season. [Dragonstairs Press, 2019]. Cultural collisions of mythologies and lore and advertising.
— — — —
— Gwyneth Jones. Joanna Russ. University of Illinois Press, [2019]. Modern Masters of Science Fiction, paperback.
Gwyneth Jones has written an essential guide to the fiction and essays of Joanna Russ, with acute readings of individual texts and a clear exposition of the context in which Russ emerged and evolved as a writer. Especially interesting are the substantial discussion of the 1974 symposium on Women in Science Fiction conducted by Jeff Smith (published in his fanzine Khatru in 1975), and the interview with Kathryn Cramer on Russ as teacher and mentor in Seattle in the 1980s. Every one should read this book!
The index is imperfectly selective at best, alas, and there are other traces of sloppiness that should have been caught.
I am, not surprisingly, torn between the knowledge that it is the book (or the work) that one reads and a curiosity about whether the facts of an author's life will illuminate that work. It is a case of both, both: to learn about an author is not to excuse or explain anything about the work, but sometimes one gains a sudden vertiginous perspective. To know that Tolkien and Mervyn Peake were born outside the central English speaking lands informs how one reads their hierarchies and nostalgias.
Chip Delany, in his essay "Joanna Russ and D. W. Griffith", published in Farah Mendlesohn's On Joanna Russ (2009), cites Jane Gallop's portrait of Joanna Russ at a 1971 women's dance, a few paragraphs which illuminate the restrictions within which she lived, and her presence, more clearly than anything else I have read. There is no mention of Gallop in the present book. Nothing we read of an author's life alters the words upon the page. And yet. Another a book to be read by every one is The Country You Have Never Seen (2007), an omnibus of reviews, critical essays, and selected letters from Russ, which I reviewed in The New York Review of Science Fiction, and available here.
— — — —
recent reading:
— Mark Valentine, ed. The Far Tower. Stories for W. B. Yeats. Swan River Press, 2019.
"And that ambiguity is itself a fertile borderland" (from the introduction).
— J. Kevin Graffagnino et al, eds. Americana Is a Creed. Notable Twentieth-Century Collectors, Dealers, and Curators. Clements Library, University of Michigan, 2019.
Collection of biographical essays on Americanists from E. E. Ayer and Wilberforce Eames to Johnny Jenkins, Charles Blockson, Michael Zinman, and William S. Reese.
— Elizabeth Hand. Curious Toys. A Novel. Mulholland Books Little Brown, [2019].
The young Henry Darger in Chicago, summer, 1915. Hand's protagonist Pin navigates horrors and uncertainties to become her own person, while the Darger elements illuminate the biographical record without attempting explanation. The "misty, dreamy" fetish photographs are classic Hand inventions of literary objects. A dark, beautiful book.
— Caroline F. Schimmel. OK, I'll Do It Myself. Narratives of Intrepid Women in the American Wilderness. Selections from the Caroline F. Schimmel Collection. Caroline F. Schimmel, 2017.
Abundantly illustrated, fun, and boldly idiosyncratic catalogue of a travelling exhibition from Schimmel's collections of American women and the frontier in fact and fiction, now at the Kislak Center, University of Pennsylvania.
— Lee Child. Blue Moon. A Jack Reacher novel. Delacorte Press, [2019]. I read a few of the sequence earlier this year and so I came to this with some curiosity; it was not rewarded. This felt like a generic outline for a film treatment or a graphic novel: the town where the events unfolded was lacking in specificity, and the violence soon unfolded into absurd, monstrous farce.
— John D. MacDonald. The Quick Red Fox [1964]. A Travis McGee Novel. Random House pbk., [2013].
— Jim Cirni. The Kiss Off. A Novel of Suspense [1987]. Soho pbk., n.d.
A gormless bartender is witness to a hit at a mob bar in Queens and all goes haywire from there : well-paced, good dialogue; and the New York of the novel reads like another city, now.
— Jean-Patrick Manchette. Morgue pleine. Une enquête d'Eugène Tarpon [1973]. Gallimard [Folio policier], [2012].
— John Crowley. Reading Backwards. Subterranean Press, 2019. Edition of 750.
Collection of recent nonfiction, essays by an acute reader, sheer delight. And the concluding essay, on the arts of peace, is essential reading.
— Margery Allingham. The Tiger in the Smoke [1952]. Penguin Books, [pbk. 19th ptg, n.d.].
— Jean Rhys. The Letters of Jean Rhys. Selected and edited by Francis Wyndham and Diana Melly. Viking, [1984].
The long road to Wide Sargasso Sea.
— Janwillem van de Wetering. The Amsterdam Cops. Collected Stories. Soho, 1999.
— — The Japanese Corpse [1977]. Soho pbk.
— — Judge Dee Plays His Lute. Wonderly Press, 1997.

— Reggie Oliver. The Ballet of Dr Caligari and Madder Mysteries. Tartarus Press, [2018].
Includes "The Game of Bear", a remarkable tale (completed by Oliver from an M. R. James fragment).
— — — —
commonplace book
A wheezy and largely anosmic year, with a few bursts of olfactory delight at unexpected moments — a cup of coffee, the grapefruit twist in a Plymouth martini, quince jelly on the stove — and the occasional goaty urban whiffs. I have a good imagination.
I got a few pieces of writing done, and others are still in progress (see below). And the new year will see the announcement of a new book from Temporary Culture.
— It was a delight to find Jonathan Lethem citing Robert Sheckley's 1978 short story "Is That What People Do?" to open his review of Edward Snowden in the New York Review of Books: https://www.nybooks.com/articles/2019/10/24/edward-snowden-labyrinth/.
Ingrid Burrington and Brendan Byrne. The Training Commission. http://trainingcommission.com, 2019. An intense chronicle of a future America, published as a serial newsletter, formally innovative and emotionally harrowing, from the first visit behind the scenes at the Reconciliation Wing of the Smithsonian.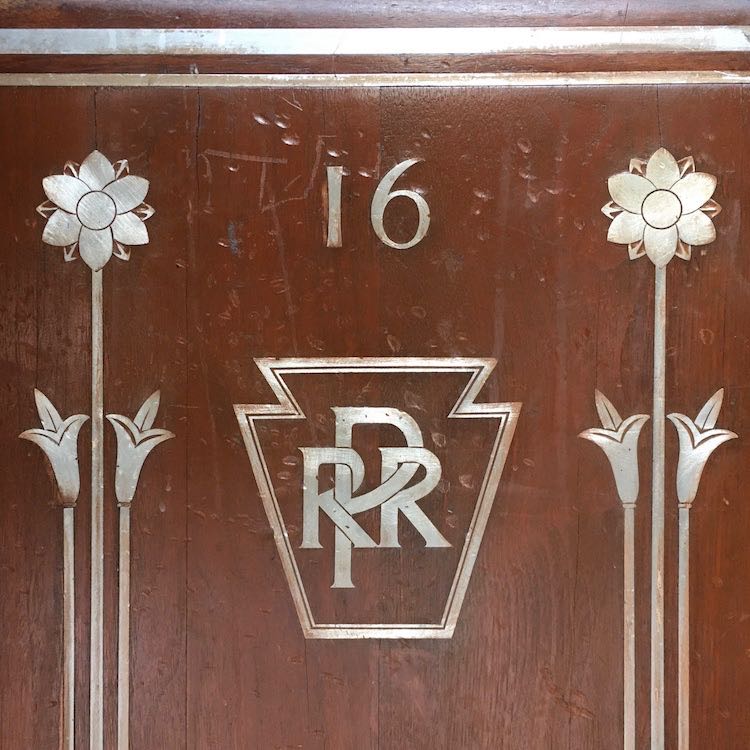 The most evocative picture I took on my travels in the autumn was a glimpse of marquetry on the benches in the Newark train station, a visual relic of the Pennsylvania Rail Road : and the reason why they are called Penn Station.
This is the railroad of my childhood — remembering : the brocade caps and uniforms of the conductors, the dusty woolly horse-hair stuffed train seats . . . .

— — — —

'being fully human'
— Sontag to Borges
A choice paragraph from the nimble review by Justin Croft of The Booksellers documentary in the latest issue of the Book Collector [note also the parenthetical job description of the antiquarian bookseller]

Books, people, ideas, tweed and not-tweed, hip-hop, wit, softball, champagne, Fran Leibowitz (and a walk in the woods): The Booksellers has everything of life.

The Booksellers, a documentary about the New York rare book world directed by D. W. Young, had its premiere at the New York Film Festival on 7 October, at Francesca Beale Theater, Lincoln Center.
Your correspondent has a small speaking role, and the title poem of The Private Life of Books makes an appearance. There will be a theatrical release in the U.S. and Canada in March 2020.
https://booksellersdocumentary.com/aboutthefilm

— — — —

How I Spent My Summer Vacation

— Writings

— The Barmaid from Elfland
by Henry Wessells
read at Readercon, July 2019; a companion piece to Cleaning up Elfland, read at Readercon, July 2017.

— Strange Enough to Be Remembered Forever: John Crowley's Little, Big
by Henry Wessells
published in Wormwood 33, autumn 2019.

— Performance

KID LIT REVEALS SEWER TRUTHS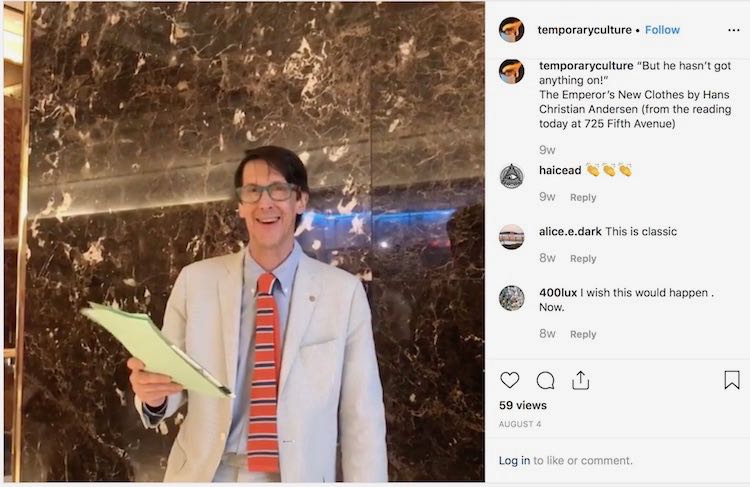 "But he hasn't got anything on!" The Emperor's New Clothes by Hans Christian Andersen
Click on the image or link to see a short recording.

The Emperor's New Clothes, a very public reading on 4 August at 725 Fifth Avenue (aka Trump Tower) in observance of the anniversary of the death of Hans Christian Andersen (1805-1875), father of the modern fairy tale.
The Jean Hersholt translation, from the Hans Christian Andersen Center: http://andersen.sdu.dk/vaerk/hersholt/TheEmperorsNewClothes_e.html.
That evergreen headline courtesy of my friend [TY].

— In the Financial Times
It's time to initiate a new Nansen passport for all
(letter to the editor, 5 September)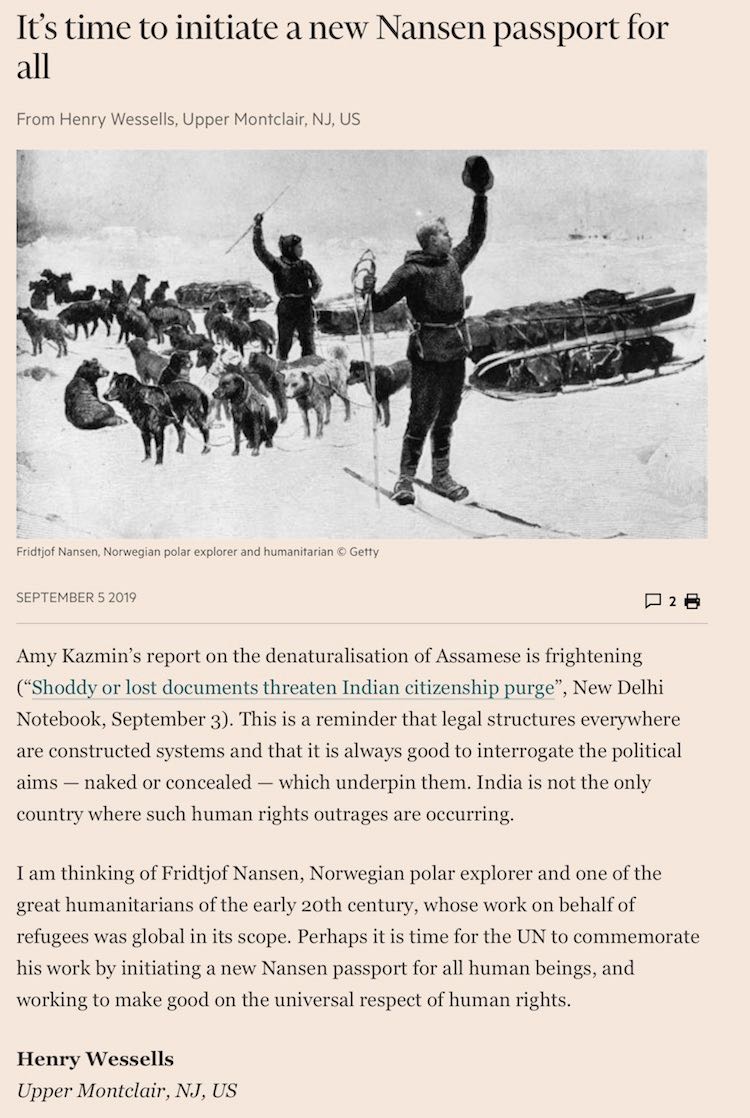 — — — —