We each of us experience the universe on our own, but only a fool or a nihilist or a solipsist misinterprets this seeming paradox: we live within the universe through communication and connections. It has been a strange couple of months, a sudden transition from bustle to seclusion, directly from the crowded and successful New York Book Fair right into local sequestration.
This snapshot of your correspondent, holding an Yves Klein Bleu postcard, in the booth of Jean Baptiste de Proyart (C22) at the New York Antiquarian Book Fair, 7 March 2020, already feels like it came from a different world. [Photo by Laure de Proyart (who summoned me into the booth].
I am fortunate to be able to work from home, and am at work on the biggest project of my professional career with Cummins, the library and collections of scholar, performer, and author Ricky Jay.
For a time, we were even able to walk in the woods in the mornings. I appreciate this good fortune. [Photo by M.J. Duffy.]
Unsurprisingly, these altered circumstances have prompted more reading. I had previously resolved to read a few more titles from Bill Reese's Narratives of Personal Experience (Overland Press, 2016), and had read H. L. Mencken's Happy Days (1940) in The Days Trilogy (Expanded Edition) from the Library of America. I had also intended to read A. J. Liebling, whom my friend MZ had long been quoting at me. I do not know why I hadn't listened to him. I picked up Between Meals. An Appetite for Paris (1962), and was immediately seized by the nimble prose and the opportunity to visit an unattainable Paris of the past. I grew up in one (in the middle 1970s), but Leibling writes of the 1920s and 1950s. His world was not that of Hemingway's A Moveable Feast, nor the Paris of Elliot Paul's madcap detective novels featuring another American expatriate, Homer Evans. Liebling writes of eating as an extreme sport, with the plain speech and scattered diamonds found in his writing about other extreme sports, boxing (which does not seize me) and American politics. The Earl of Louisiana (1961), the book which Bill Reese praised (understandably), is a master class in political chicanery narrated by a writer who "covered the fall of France, the London blitz, American infantry advances across Africa, the Normandy invasion, and the liberation of Paris" (ANB), and who can equate the Louisiana patronage machine with the sectarian accommodations of Lebanese politics without missing a beat. Back where I came from (1938) and The Telephone Booth Indian (1942) are two delightful anthologies of pieces about New York City.
'These dreams were not confined to sleep only, and a deplorable side effect was the way I had come to enjoy them.'
— Anna Kavan. Ice [1967]. With a foreword by Christopher Priest. Peter Owen, [2017]. Cased classics no. 4.
I finally read this novel after multiple, frequent, and persistent recommendations. it is, quite simply, remarkable. It is a novel of the end of the world, not in drought, wind, or flood, but in ice and totalitarianism; and in the mind of a master addict of a novel drug. What struck me as a reader was the experience of a frequently shifting point of view, without transition or explanation of these dislocations from one paragraph to the next. The most striking examples are at pp. 24-5, 50-1, and 84-5 of this edition, with occasional flashes to the end of the book.
Despite the apparent first person narration, the "I" seems to recount third person activities at an objective remove, while sudden passages describing "her" in fact recount a subjective primary experience of "the girl". The question of the existence of the girl is of course a valid one. Is she the literalization of the drug to which the narrator is addicted? I would be delighted to discuss this with other readers of the novel.
— Christopher Brown. Failed State. A Novel. Harper Voyager, [forthcoming, August 2020].
I read the final copyedited text, courtesy of the author. It is a beautiful, moving book, with fine homegrown American villains (a billionaire dentist and an evil lumberman); a monstrous invention; a bunch of great characters, and well-placed reflections upon the meanings and misuses of past, present, future; and an indictment of the misdeeds of capitalism. Donny Kimoe (whom we met in Rule of Capture) becomes someone deeply interesting as he lawyers a path to redemption in a messed-up world. We could all live here together.
the world was different once
My friend CW suggested I might enjoy reading the works of nineteenth century New Jersey nature writer and archaeologist Charles Conrad Abbott (1843-1919), a medical graduate who never practiced medicine but instead wrote about the world around his family estate, Three Beeches (south of Trenton). He published The Stone Age in New Jersey in the Annual Report of the Board of Regents of the Smithsonian Institution . . . for the Year 1875 (Government Printing Office, 1876). Abbott was a witness to the disappearance of the nation's rural character, "but the popularity of his works did not extend far beyond his lifetime"(ANB). In Waste-Land Wanderings (1887), Abbott describes a migration of "milk-weed butterflies", which we know as the Monarch :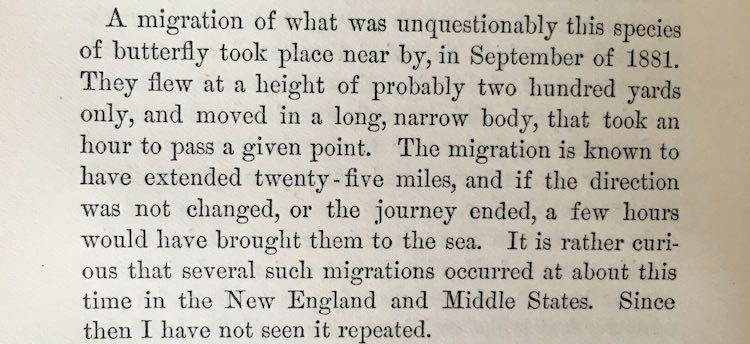 Other works by Abbott which I will read at include : Upland and Meadow. A Poaetquissings Chronicle (1886); Days out of Doors, A Naturalist's Rambles about Home (1884); and Travels in a Treetop (1894).
Sometimes it is very pleasant to take a walk in the New Jersey woods of the 1880s.
— — — —
published this day in Montclair & Philadelphia :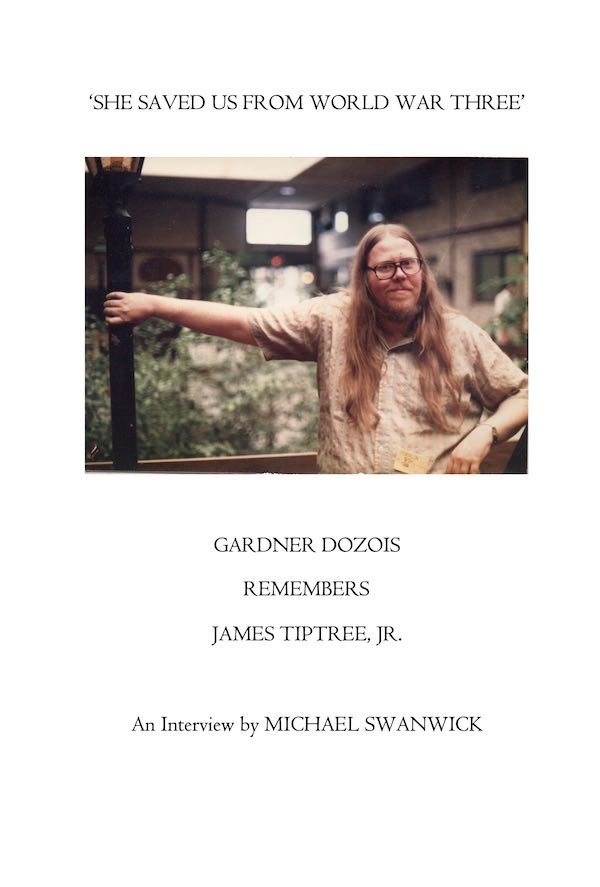 Michael Swanwick. 'She Saved Us from World War Three'. Gardner Dozois Remembers James Tiptree, Jr. An Interview. Illustrated with two folding facsimile plates. [20] pp. Temporary Culture, [1 May] 2020.
This is the third nonfiction work by Michael Swanwick published by Temporary Culture: legendary science fiction editor Gardner Dozois interviewed by his friend Michael Swanwick on the topic of James Tiptree, Jr. Dozois was an early and astute critic of Tiptree's fiction, and a regular correspondent of Tiptree. Alice Sheldon (1915-1987) wrote him in advance of revelations of her identity as Tiptree, and their correspondence continued until her death. Dozois was one of very few from the science fiction community who met Sheldon. Two of her letters are reproduced here in facsimile from the originals preserved as part of the Gardner Dozois Papers [MS097], in the Eaton Collection, Department of Special Collections, Tomás Rivera Library, University of California Riverside.
A handsome little book, more information here :
http://www.avramdavidson.org/Swanwick-Dozois-Tiptree.html
— — — —
seen in the wild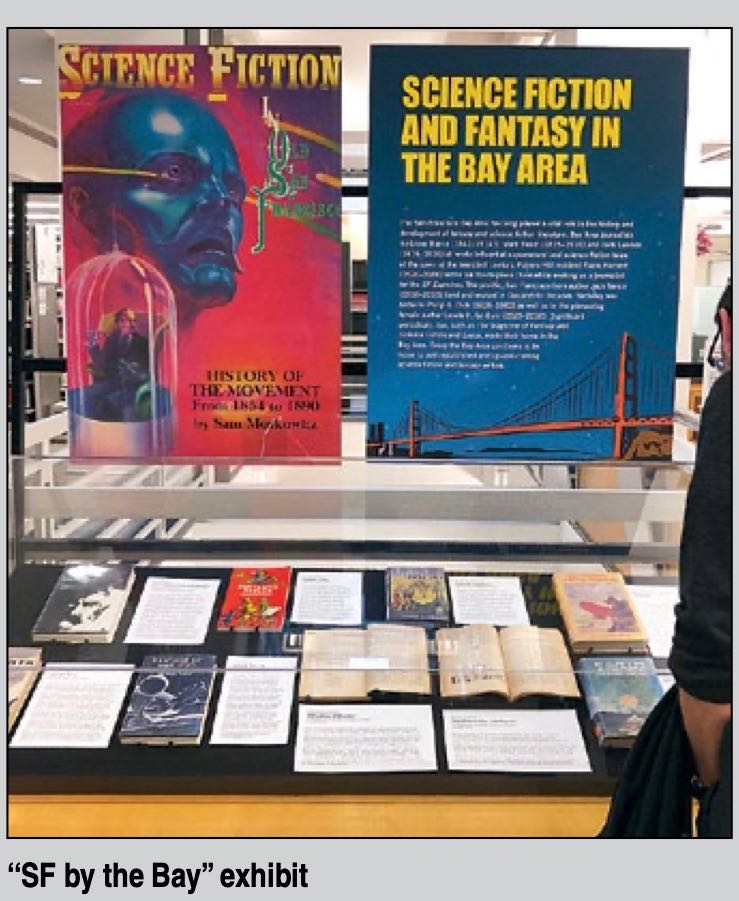 Avram Davidson, The Adventures of Doctor Eszterhazy (Owlswick, 1990), in the SF by the Bay exhibit at San Francisco Public Library. [Photo from Locus magazine, March 2020.]
— — — —
links :
The Booksellers documentary opened in New York City in March, and is now available virtually
https://www.booksellersmovie.com/watch-at-home
Your correspondent appears throughout the film as a minor jazz soloist. Fran Lebowitz and the late Bill Reese are great. The trailer is here :
https://booksellersdocumentary.com/trailer
My friend Gil Roth interviewed me for his Virtual Memories podcast in his COVID-19 Sessions series
http://chimeraobscura.com/vm/the-covid-19-sessions
(be sure to follow the links for Richard Kadrey, Ellen Datlow, and Chip Delany)
a remarkable essay on unknown modernist poets by Mark Valentine, Devilled Almonds and Doomed Boys
https://wildcourt.co.uk/features/devilled-almonds-and-doomed-boys-some-avant-garde-poetry-of-1920/
Chris Brown's Field Notes is an excellent series of adventures and reflections on life in Austin, Texas, and the world around us
https://edgelands.substack.com
If you did not read Our daily lives have to be a satisfaction in themselves: 40 years of Bloodroot when it was first published in 2017, this beautiful little book is now available in a trade edition from Emily Larned : https://emilylarned.square.site/product/bloodroot/1
I buy my most of new books from Watchung Booksellers — they are my local. I am sure you can find your own local alternative to the ubiquitous and relentless Am*z*n. If you live up in central Massachusetts, my friend Gavin Grant, publisher of Small Beer Press, runs Book Moon in Easthampton.
— — — —
commonplace book
"Countries, he told me, mean nothing. They are just masks."
—Olen Steinhauer. The Last Tourist
". . . he'd fix it for them, but they wouldn't like his method."
—A. J. Liebling. The Earl of Louisiana
"See what's inside the atom"
— Ernest Rutherford at the Cavendish physics lab, Cambridge
(A mid-level abstraction cited by David Bodanis in the FT, who notes
"in time, though, even the best MLAs go out of date.")
— — — —
recent reading :
— Olen Steinhauer. The Last Tourist. Minotaur Books, [March 2020].
— A. J. Liebling. Back where I came from. Sheridan House, [1938].
— A. J. Liebling. The Earl of Louisiana [1961]. Foreword by T. Harry Williams. With a new introduction by Jonathan Yardley. Updated Edition. Louisiana State Univ. Pr., [n.d., 2018]. Everything [everything!] you might need to know about U.S. politics, deftly writ.
—— Between Meals. An Appetite for Paris [1962]. Introduction by James Salter. North Point Press; Farrar, Straus and Giroux, [n.d., 27th ptg].
— Richard Kadrey. The Grand Dark. Harper, [2019]
— Michael Swanwick. The Devil's Bestiary. Dragonstairs, 2020.
— The Unspeakable Picture Gallery. Works of Art in Supernatural Fiction. Selected by Anthony Discenza and Peter Straub. [San Francisco : Colpa Press for the Contemporary Jewish Museum, 2015].
— Thomas Jefferson, as Secretary of State. An ACT to continue in force for a limited time, an Act, Intituled "An Act for the temporary Establishment of the Post-Office". Philadelphia, 1791.
— Das Oxforder Buch Deutscher Dichtung von 12ten bis zum 20sten Jahrhundert herausgegeben von H. G. Fiedler. Oxford Universitäts-Verlag, 1911. [My grandmother's copy.]
— James Beard. Beard on Bread. Knopf, [7th printing, 1975].
— Ben Katchor. The Dairy Restaurant. Illustrated by the author. Nextbook Schocken, [12 March 2020]. Signed with a vignette of a blintz. Katchor has written a history of the the world, and of certain traditions of eating, in order to recount the history of a mostly vanished restaurant world : 'I miss the ones I never went to'. Interviewed by Gil Roth here.
— Robert Sheckley. The Same to You Doubled and Other Stories. Pan Books, [1974]. (Previously published as Can You Feel Anything When I Do This ? [1971]). [gift of DS]
— Joan Aiken. Shadows & Moonshine. Stories. Illustrations by Pamela Johnson. David R. Godine, [2001].
— Peter Straub and Anthony Discenza. Beyond the Veil of Vision : Reinhold von Kreitz and the Das Beben Movement [in] Conjunctions 65. Sleights of Hand : The Deception Issue [2015]. A link to the Straub Discenza exhibition at the Contemporary Jewish Museum, San Francisco (2015), here : https://www.thecjm.org/exhibitions/54
— Joanna Russ. The Female Man [1975]. Introduction by Marilyn Hacker. Gregg Press, 1977. And a link to an essay on Russ, here : http://endlessbookshelf.net/russ.html
— Michael Z. Lewin. The Way We Die Now [1973]. Harper Perennial, [1994]. Adventures of a hapless detective in Indianapolis : remember how shoddy and threadbare was the America of the Seventies ?
— Michael Swanwick and Sean Swanwick. In Memoriam Gardner Dozois 1947-2018 [Cover title]. Dragonstairs, 2020.
— Elizabeth Hand. Wylding Hall. PS, 2015.
— Gene Wolfe. Home Fires. Introduction by Alastair Reynolds. PS, 2011.
— Peter Straub. Sides. Cemetery Dance, 2007. [collected nonfiction, 1985-2006]
— William Carlos Williams. Paterson. Revised edition prepared by Christopher MacGowan. New Directions, [1995 ; 12th ptg., 2014]. 'A man like a city and a woman like a flower — who are in love.'
— Michael Swanwick. Valentine Moon. Dragonstairs, 2020.
— — — —
This update of the Endless Bookshelf takes the form of a newsletter written during the last week of April 2020 and sent out on the evening of Thursday 30 April (it will also be posted on the website on 1 May). The form is dictated by those most imperative of reasons: how to write it, and how to make it new. Last fall and into the winter, I noticed that the updating of the website, already irregular, dwindled with the press of time and work and occasional minor illness. One of the functions of the Endless Bookshelf is as a commonplace book of my readings, and that has persisted; but I had noticed the attrition of longer, more discursive essays. I write this as the winds whistle and gust outside the yellow house near the rhododendrons. I don't know whether I have succeeded, but only by writing to my readers, known and imaginary, could I form something of interest to me and, possibly, to you.
Peace,
Henry Wessells
— — — —
stock list of the books of Temporary Culture in stock for immediate delivery:
CHANCE MEETING. Avram Davidson & Philip K. Dick. The Nutmeg Point District Mail, 2018.
Publications of the Avram Davidson Society, number five. [16] pp.
Stitched in Hahnemühle wrappers, printed paper label. Price: $20.00
How Philip K. Dick won the Hugo Award for The Man in the High Castle, and other matters.
Davidson, Avram. THE WAILING OF THE GAULISH DEAD. The Nutmeg Point District Mail, 2013.
Publications of the Avram Davidson Society, number four. 6 x 9 inches, viii + 40 pp., inserted errata leaf. Perfect bound in heavy card covers, french flaps.
Price: $25.00
An original, previously unpublished, Adventure in Unhistory by Avram Davidson.
Walker, Wendy. MY MAN AND OTHER CRITICAL FICTIONS. Temporary Culture, 2011.
Original frontispiece illustration by Joanna Ebenstein and G. F. Newland. Oblong, 6-1/2 x 9-1/2 inches, 138 pp. Hand bound issue, 22 numbered copies, full evergreen Asahi cloth, printed paper labels, signed by the author and illustrators. Price: $200.00
Collection of 8 critical fictions on Joseph Conrad's Nostromo, King Lear, Olaudah Equiano, Harry Mathews, and other writers and texts. The critical fiction is a literary mode that takes as its subject another literary work and treats of that work's construction, obsessions, and sources in narrative and poetic, rather than expository/critical terms.
Walker, Wendy. MY MAN AND OTHER CRITICAL FICTIONS. Temporary Culture, 2011.
Original frontispiece illustration by Joanna Ebenstein and G. F. Newland. Oblong, 6-1/2 x 9-1/2 inches, 138 pp. Trade issue in full dark green brillianta cloth binding with printed dust jacket. Price: $22.50
ISBN 978-0-9764660-7-9
Webb, Don. WHEN THEY CAME.
23 stories by Don Webb, including the Yellow Flower series.
5-3/8 x 7-1/2 inches, viii+224 pp., smythe sewn in pictorial paper wrappers. Price $20.00
"The miracle of When They Came is its exuberance" — John Clute, in Interzone
"This concise, sharp volume is a great introduction to Webb's fiction" — Jeff VanderMeer
— — — —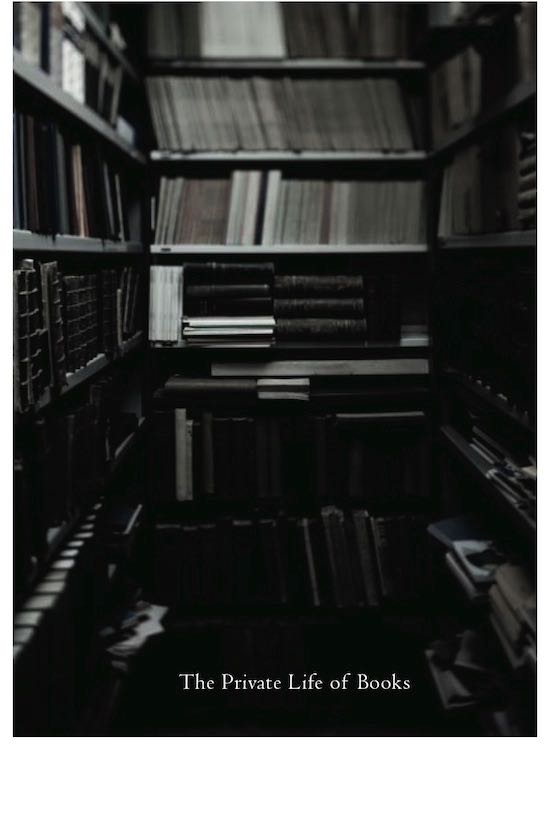 Wessells, Henry. THE PRIVATE LIFE OF BOOKS. Temporary Culture, 2014.
Six poems on reading, memory, books, and the second law of thermodynamics, with eight duotone photographs by Paul Schütze. [24] pp. Hand sewn in heavy card covers, pictorial dust jacket with duotone photos. Edition of 200 copies. Price: $150.00
"marvellously sombre, both in presentation and content. [ . . . ] This fine, odd, even moving book" — The Book Collector
The title poem, read by the author, provides the concluding voiceover in the widely acclaimed new documentary, The Booksellers.
— — — —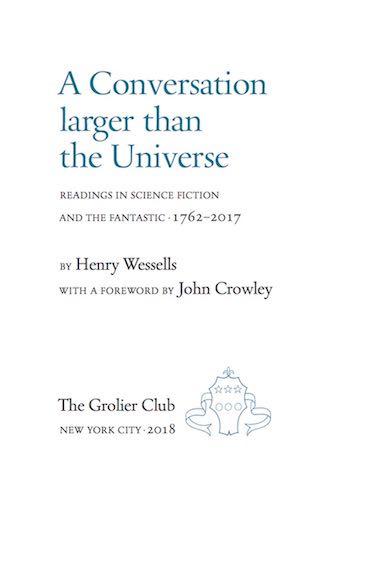 Wessells, Henry. A CONVERSATION LARGER THAN THE UNIVERSE. READINGS IN SCIENCE FICTION AND THE FANTASTIC 1762-2017. Foreword by John Crowley. Temporary Culture, 2018.
6-1/8 x 9-1/2 inches, 288 pp. With more than 100 illustrations; index. Hand bound in sand cloth with letterpress label. Edition of 75 copies, signed by John Crowley and Henry Wessells, issued with : Reading in Public (stitched in blue Hahnemühle wrappers with printed label, signed by Michael Swanwick). Price: $300.00
ISBN 978-0-9961359-4-8
Hand bound issue of the book published in conjunction with the Grolier Club science fiction exhibition.
"essential reading" — Publishers Weekly
"an extremely valuable book about what we think of the fantastic and why . . . Wessells knows and loves books, and he knows how to write about them. This is an important book." — Andy Sawyer, in Foundation: the international review of science fiction.
— — — —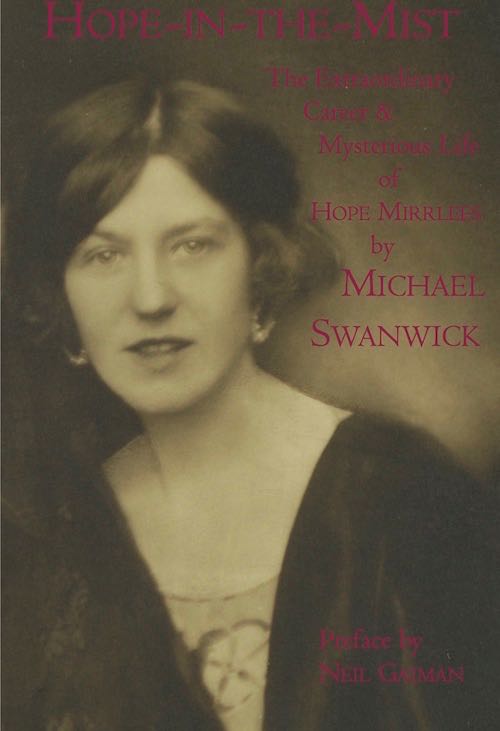 Hope & Wreckage
New editions of Michael Swanwick's legendary monographs Hope-in-the Mist. The Extraordinary Career & Mysterious Life of Hope Mirrlees (2009) and What Can Be Saved From the Wreckage (2007) are available in all the usual e-booke formats through Weightless Books.