Your correspondent is pleased to report that the collection of essays and catalogue to accompany ' A Conversation larger than the Universe ', an exhibition scheduled to open on 25 January 2018 at the Grolier Club in New York, is in production.
A Conversation larger than the Universe. Readings in Science Fiction and the Fantastic 1762-2017 will be published by the Grolier Club in January 2018. The fully illustrated book includes an original foreword, " A Hatful of Adjectives " by John Crowley, and is designed by Jerry Kelly. A small edition with additional material and signed by the contributors will be published by Temporary Culture. A few notes here.
Updated information concerning the exhibition and book will be available later in November.
— Wendy Walker. The Camperdown Elm. Drawings and text. Spuyten Duivil, 2017.
My copy came as a presentation from the author and artist, with a brouillon of that excellent passage on the backing of a sketch pad. Wendy Walker is also author of The Secret Service (1992) and My Man and other Critical Fictions (2011).
— John Crowley. Ka. Dar Oakley in the Ruin of Ymr. [Illustrated by Melody Newcomb.] Saga Press, 2017.
What a book, what a voice, this story-telling Crow — and the funny old man who listens to him.
' He was forbidden to play by the well. It was his favourite place to play. '
— Edward St. Aubyn. The Patrick Melrose Novels. Never Mind [1992]. Bad News [1992]. Some Hope [1994] and Mothers Milk [2006]. Picador [paperback] Farrar, Straus and Giroux, [2012].
' It's the hardest addiction of all. Forget heroin. Just try giving up irony, that deep-down need to mean two things at once, to be in two places at once, not to be here for the catastrophe of a fixed meaning. '
— Edward St. Aubyn. At Last. Farrar, Straus and Giroux, [2011].

Hilarious, harrowing, the Melrose novels are a swift and nimble cognate of Anthony Powell's Dance to the Music of Time, only not so polite. Bad News is a three-day drug binge in New York circa 1982, privilege diving from the Concorde to the Pierre and down into the gutter. The prose redeems all excesses, and the medley of voices in Patrick's head in chapter seven is something to be experienced. Some Hope charts the convergence of incompatibles at an English country house party, looking into the self-deceptions of each character with a flair for language. At Last is a funeral you will not forget. Don't know why I had not read these before now.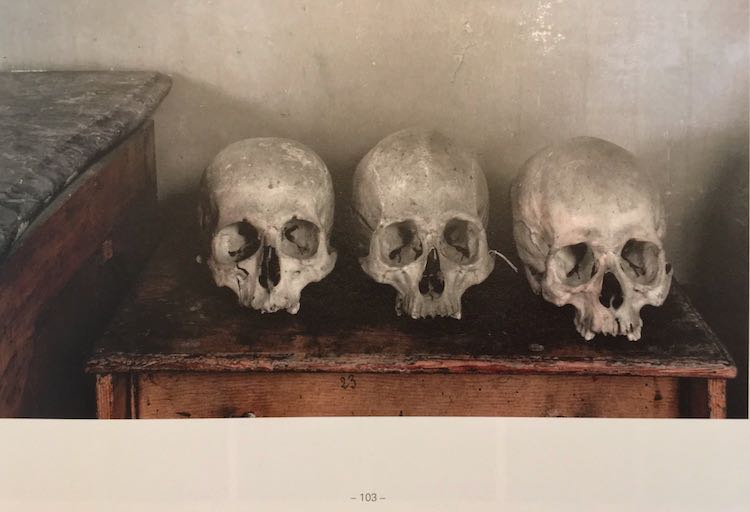 — Joel Meyerowitz. Cézanne's Objects. Illustrations from color photographs. 111 pp. Damiani, [2017]. Superb photographs of the objects in Cézanne's atélier, photographed 2011 to 2015 against the grey wall of the studio. Detail of page 103, three skulls.
— — — —
— Michael Swanwick. Touchstones. [Three Stories]. Dragonstairs Press, 2017. Edition of 50 copies.
" . . . to test the purity of gold "
— James Crumley. The Mexican Tree Duck. With an appreciation by Maxim Jakubowski. Scorpion Press, 1993.
— Franz Bartelt. Hôtel du Grand Cerf. Roman. Seuil, 2017.
— [John Crowley]. Totalitopia plus " This Is Our Town " and " Everything That Rises " and " Paul Park's Hidden Worlds " and " I Did Crash a Few Parties " Outspoken Interview and much more. PM Press, 2017.
" . . . about as close to a practical utopia as it's possible to get and still live in the ordinary. "
— — — —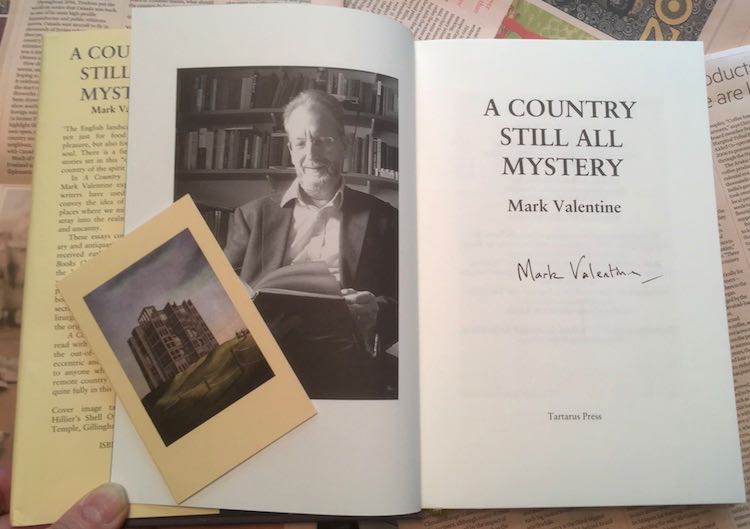 — Mark Valentine. A Country Still All Mystery. Tartarus Press, [2017].
— — — —
— Brigitte Aubert. Mémoires secrets d'un valet de cœur. Seuil, 2017.
— — — —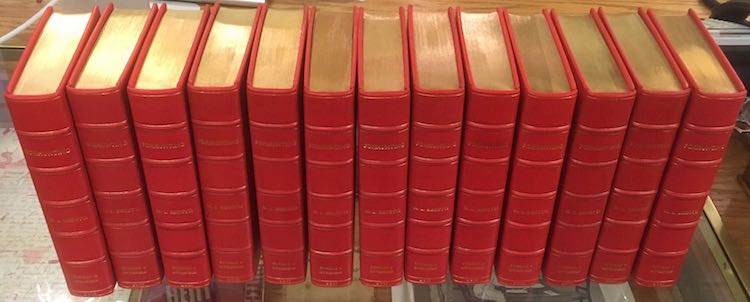 — M.L. Biscotti. Six Centuries of Foxhunting, An Annotated Bibliography. Foreword by Norman Fine. Rowman & Littlefield. James Cummins Bookseller, [2017]. Edition of ten deluxe copies. Now mostly dispersed.
— — — —
— Edogawa Ranpo. Le démon de l'île solitaire [1930]. Traduit du japonais par Miyako Slocombe. 10 18 Grands détectives, [2017].
— — — —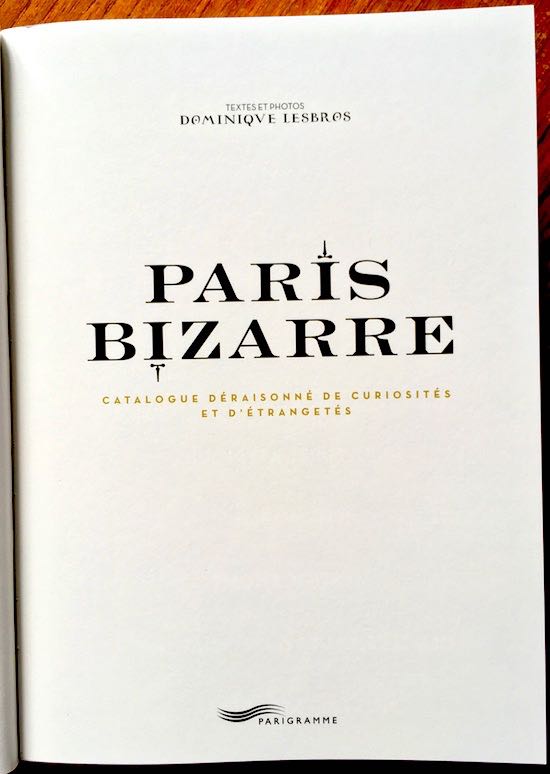 — Dominique Lesbros. Paris Bizarre. Catalogue déraissonné de curiosités et d'étrangetés. Parigramme, [2017].
— — — —
— Gabino Iglesias. Zero Saints. A barrio noir. Broken River, 2015. This is an astonishing crime novel. Fernando is a minor criminal in Austin and a man between worlds and the narrative mix of Spanish and English is dislocating but compelling and immediate.
What happens when you cross la frontera is that you want to clean up, find a good job somewhere, meet a beautiful, sweet girl. You want the American Dream. But fuck all that. The American Dream is as false as the meat in your one-dollar burger and the canned laughter you hear on television. And It's even worse for you. You have no skills and no diploma and no friends and no nada. You're a problem. Un ilegal más. A television joke. A wetback. You're nothing but an issue brainless white politicians discuss from the safety of their offices. That's when any offer becomes salvation, any desperate move a solution, every bad idea something that gives you a bit of hope. That's when you realize that you will always live in a silent war and that anyone who's not from your patria can be your enemy at any moment.
— — — —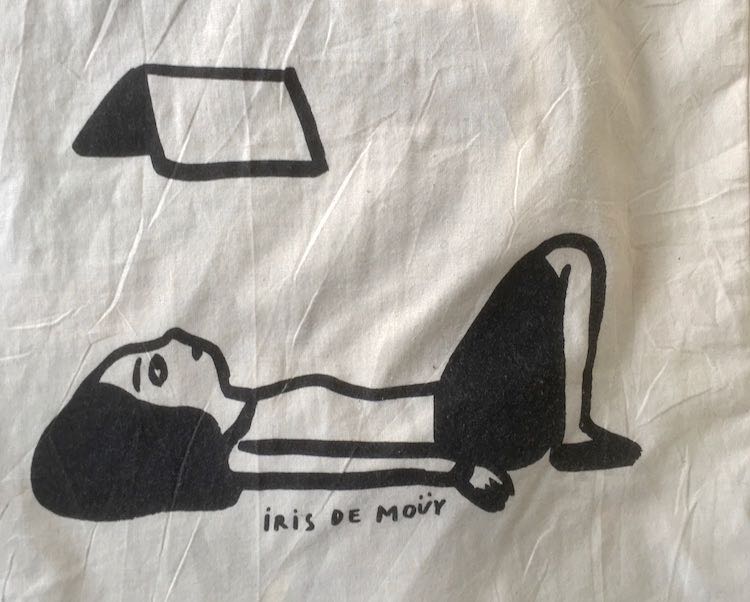 Image by Iris de Moüy (from the book bag of Ofr. Paris, rue du Petit-Thouart, Paris 3e).
— — — —
— Under the Radar. Underground Zines and Self-Publications 1965-1975. Edited by Jan-Frederik Bandel, Annette Gilert, Tania Prill. Spector Books, 2017.
Large format illustrated catalogue produced from an exhibition of 'zines in the collection of Jan-Frederik Bandel, at the Center for Artists' Publications / Weserburg Bremen 10 October 2015 to 14 February 2016.
— — — —
Summer of Love at the de Young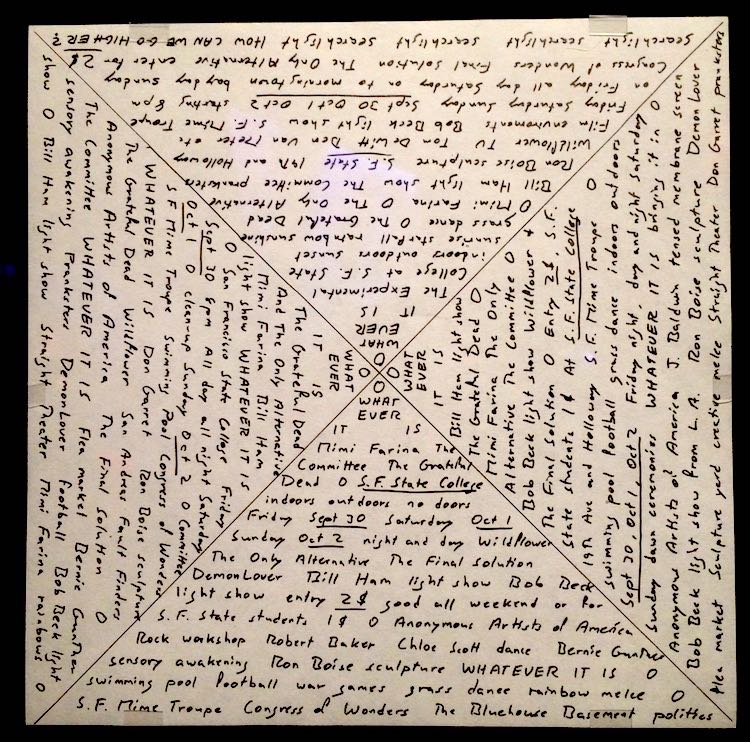 Stewart Brand. Whatever It Is. 1966. From the Summer of Love exhibition at the De Young Museum, San Francisco. Not illustrated in catalogue.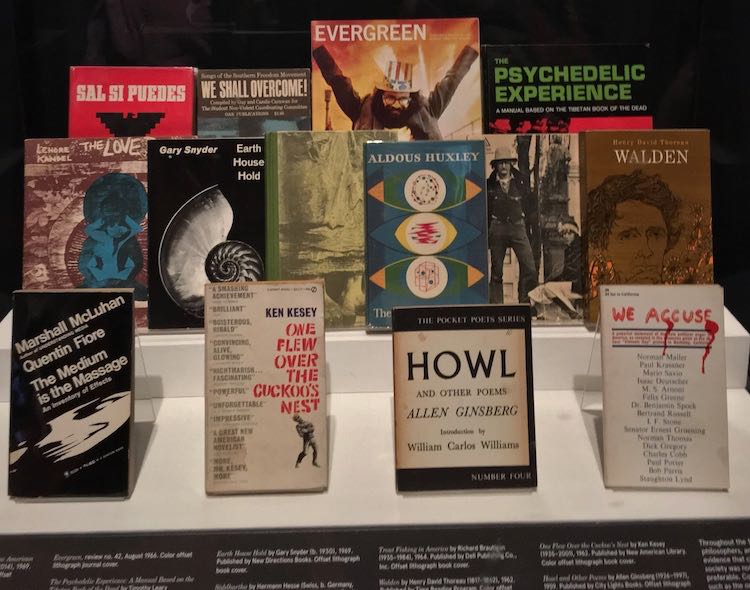 A wonderful immersive exhibition, especially to see so many posters of the different styles all together. One small case of books, and lots of interesting handbills. Jim Marshall's portrait of Grace and Janis; the anti-draft message from Joan Baez and the poster, Girls Say Yes to boys who say NO; and Wavy Gravy's rainbow jumpsuit. There were two rooms with music playing very loud, and even a space for dancing.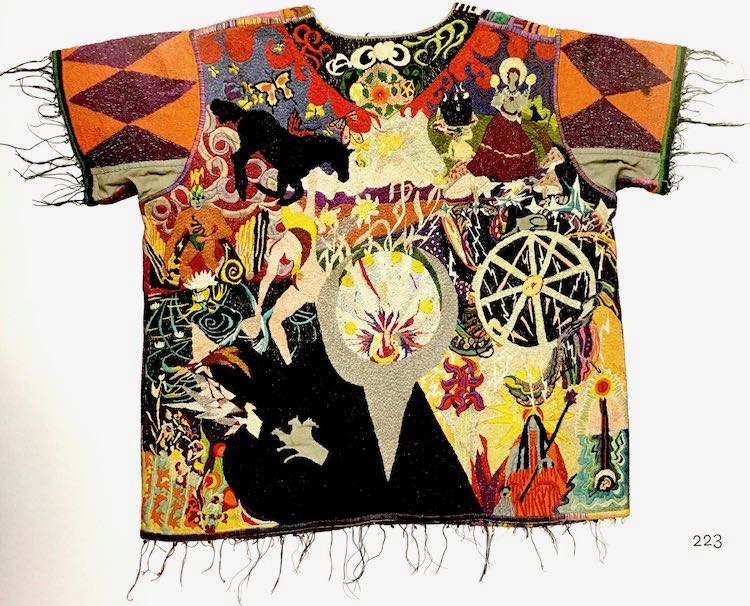 — Jill D'Alessandro and Colleen Terry. Summer of Love. Art Fashion an Rock and Roll. Fine Arts Museums of San Francisco. De Young. University of California Press, 2017.

— — — —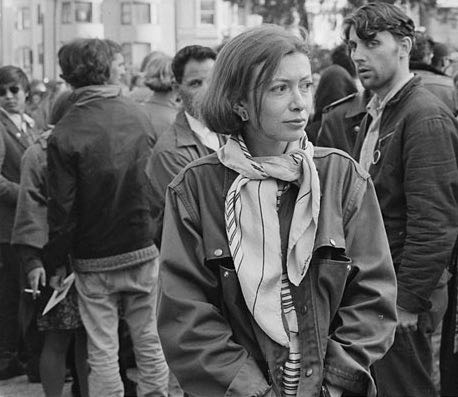 Steven Black at the Bancroft Library wrote a fine short essay on " two representative figures who, in 1967, circled each other warily, but never met "&nbsp: Joan Didion and Chester Anderson.
Collections as Connectors, Holding from Off-Center
http://news.lib.berkeley.edu/2017/09/15/collections-as-connectors-holdings-from-off-center/

In " Slouching Towards Bethlehem " Didion chronicled her search for the Connection: Anderson was the figure of mystery Didion sought but never found. Black writes, " Despite this missed connection with Chester Anderson, by detailing her forays into the Haight-Ashbury and other hippie enclaves around San Francisco, Didion captured in prose a time in violent flux. " Chester Anderson's name does not appear in the index for Summer of Love, though several of the publications of the communications company were on view in the exhibition. Chester Anderson had used the advance from his science fiction novel The Butterfly Kid to buy a Gestetner printing machine and set himself up as printer to the Diggers and the Summer of Love.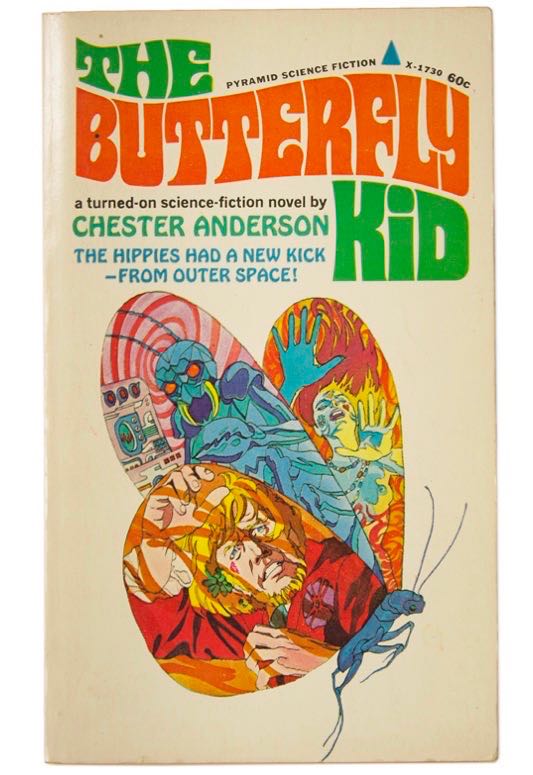 — — — —
You correspondent will be at the Boston International Antiquarian Book Fair next weekend, 10-12 November in the Hynes Convention Center, 900 Boylston Street. Come say hello (booth 120, James Cummins Bookseller). Copies of The Private Life of Books and Donald Trump The Magazine of Poetry will be available. Let me know if you would like a ticket.
— — — —