30 September - 1 October 2012
" Some of them are working very hard indeed. [. . .] They are reading ! "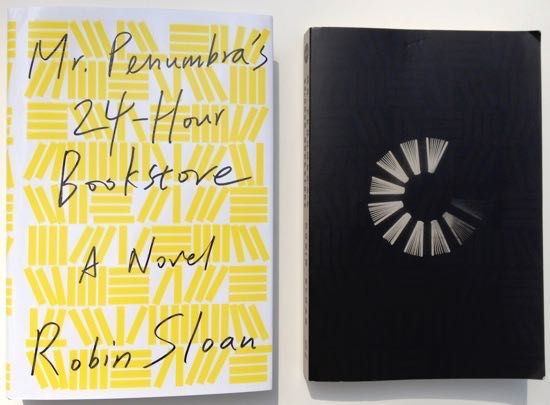 — Robin Sloan. Mr. Penumbra's 24-Hour Bookstore. Farrar, Straus and Giroux [October 2012].
This funny and utterly up-to-date novel has everything you could ask from a book : graceful turns of phrase, secret vaults, dialogue as spoken by living beings, data old and new, a plot that integrates all of the numberless threads and allusions from first page to last, and an intelligent women who says, " Can I see the source code ? "
In a great opening paragraph that is a nod to the essence of science fiction adventure, Clay Jannon appears Up on Cliff — high atop a ladder in a very eccentric bookstore, and that launches this tale of a guileless, tech-savvy young man whose job as designer for a bagel start-up has evaporated. After seeing a sign in the window of Mr. Penumbra's 24-Hour Bookstore, Clay lands a job because he is able to articulate his sincere love for a series of books he read in the sixth grade. The bookstore is larger inside than it would seem to the casual visitor, and Clay has enough sense to disregard one of the rules about the books in the back room, " No Reading ".
Find Girl is another standard plot element that Sloan tweaks. When Clay creates a " hyper-targeted local campaign " to draw people into the store, he promptly forgets it until a girl wearing a red t-shirt with a big yellow BAM ! printed on it walks in. When Kat Potente sees a model of the bookstore on Clay's laptop, she asks the question. Kat works for a hi-tech company and takes an interest in Clay as well as in his source code : it takes a couple of hours of lignin inhalation for Clay's pulse to calm down after she leaves. A thoroughly post-modern young woman, when Clay is unable to come to a party with her because of his work, Kat takes him along on her device, playing the imitation game with her colleagues. Before long, they find ways to spend time together, and he brings one of the bookstore's logbooks to the crystal castle to be scanned, with surprising results.
Sloan choses names well : Tyndall, Corvina, Edgar Deckle ; and Clay's sly asides are witty on the surface — on updating a wiki-page as a cognate of fidgeting, for example — but they are of one essence with the narrative. The minor characters have their uses, but the reader learns their skills as part of their nature. After Penumbra disappears, Clay's friend Neel from the sixth grade, who read The Dragon Song Chronicles and played Rockets & Wizards with him, funds a trip to the secret library in New York. Kat and Clay, wizard and rogue, need a warrior for their adventure. Neel comes along and is rewarded with the opportunity of a lifetime, " to walk through a secret passage built into a bookshelf ". Neel has an interest in fabric and anatomy that will also prove relevant.
The secret library of the Unbroken Spine, " hiding in plain sight " on Fifth Avenue, is the central headquarters of a network of bookstores scattered across the globe, and funds itself through licensing a font omnipresent and intrinsicate with life, the internet, and everything. And so the next Complication is very real : " We break letters but can't make new ones ". It is not sufficient to design type ; real letters are cast in matrices formed by punches — and it is these that have vanished. We are in the presence of very old data. Clay smuggles a cardboard scanner into the vault and spends the night acquiring the codex vitae of Aldus Manutius. And here is where the novel demonstrates that Sloan is working in the science fiction mode or genre. Kat Potente directs the entire worldwide resources of the hi-tech company — " the whole system " — to solving the code :
And then, on a sunny Friday morning, for three seconds, you can't search for anything. You can't check your e-mail. You can't watch any videos. You can't get directions. For just three seconds, nothing works, because every single one of Google's computers around the world is dedicated to this task. [. . .] Every question you can ask a sequence of letters is being asked.
Three seconds later, the interrogation is complete.
And yet this new examination of the old knowledge is, in the end, insufficient. As Neel observed earlier in the novel, " The suburban mind cannot comprehend the emergent complexity of a New York sidewalk. " So the expected revelation is a disappointment, merely another loop of Complication. But just when you think it is safe to cross the street, Sloan comes out with a dazzling curatorial sequence, beginning with an utterly imaginary museum — reader, I goo-gulled it :

Clay Jannon has a talent for friendship — the real engine of this novel — and it leads him to the right places. Once he is able to use Cal Knit's Accession Table, a global database of objects and provenances, Clay finds the present custodians of the missing punches. Consolidated Universal Long-Term Storage is a vast facility in the Nevada desert, the ultimate repository of stuff. The choreography of moving storage shelves as Clay walks into the unmoving center of the warehouse is dizzying fun. That he finds the punches (stolen a century before) is of course necessary to the novel's plot, but it also suggests an underlying fundamental optimism. That Cal Knit exists only within the pages of this novel is recognition that we dwell in an imperfect world of fleeting phenomena.
In this review I have intentionally omitted any mention of the name of the font that drives the universe of this novel. I do not think that you will find it in any standard history of printing, and yet this is a trifle, for the name is utterly true to the intellectual ferment of the times Sloan evokes. After a week of not thinking about it, the connection fell into place :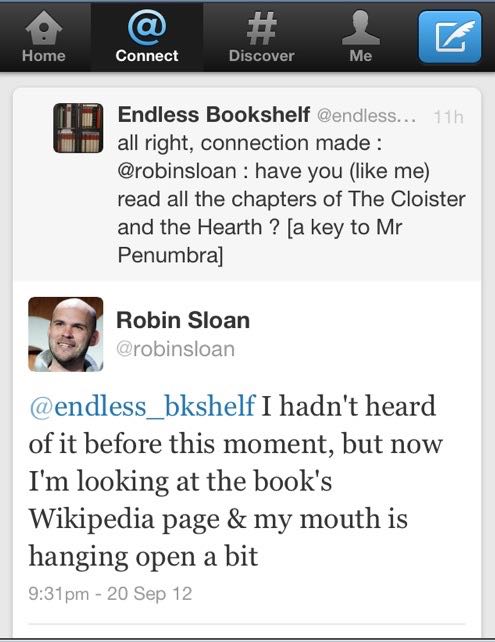 A hint of the process of indirection can be seen here.
Oh, and another thing : it is hard, in fact, impossible, to resist an imaginary book. At first encounter, The Dragon Song Chronicles by Clark Moffat seems merely to be one of those series books read and loved in childhood, but an alert reader will soon grasp Sloan's clues that something more complex is at work here: hiding in plain sight. The mountains are a message from Aldrag the Wyrm-Father. At every stage of the plot, Clay's connection with the Moffat book helps him find his way. This novel has a very satisfying level of internal coherence.
I first read this book in a proof (the dark cover at right above), in fact « TZADQIEL », one of the proofs designated by the author as a Prime :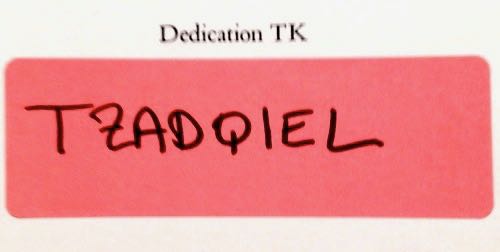 and which, as instructed, I sent along to another reader in a far-away land who will also, I trust, report in to supply location for the data visualization Sloan promises. So I can no longer compare the proof text to the finished book (cover at left above) ; but in addition to changing the code numbers for the bookstore customers, there is a small adjustment to a bit of historical data that gave me pause when I first read it ; in the finished book the passage reads fluidly. Clay describes one of his friend's plans to make a miniature model of the bookstore as " completely over the top, obsessive, and maybe impossible. Int other words : it's perfect for this place. " This is also a description of Sloan's book. There is a very small shelf of excellent novels in which conspiracy is indistinguishable from reality. Mr. Penumbra's 24-Hour Bookstore deserves a prominent place on it. Right next to The Crying of Lot 49. Sloan's short novel is richly imagined, playful, and functions like the bookstore: the contents are larger than the container.