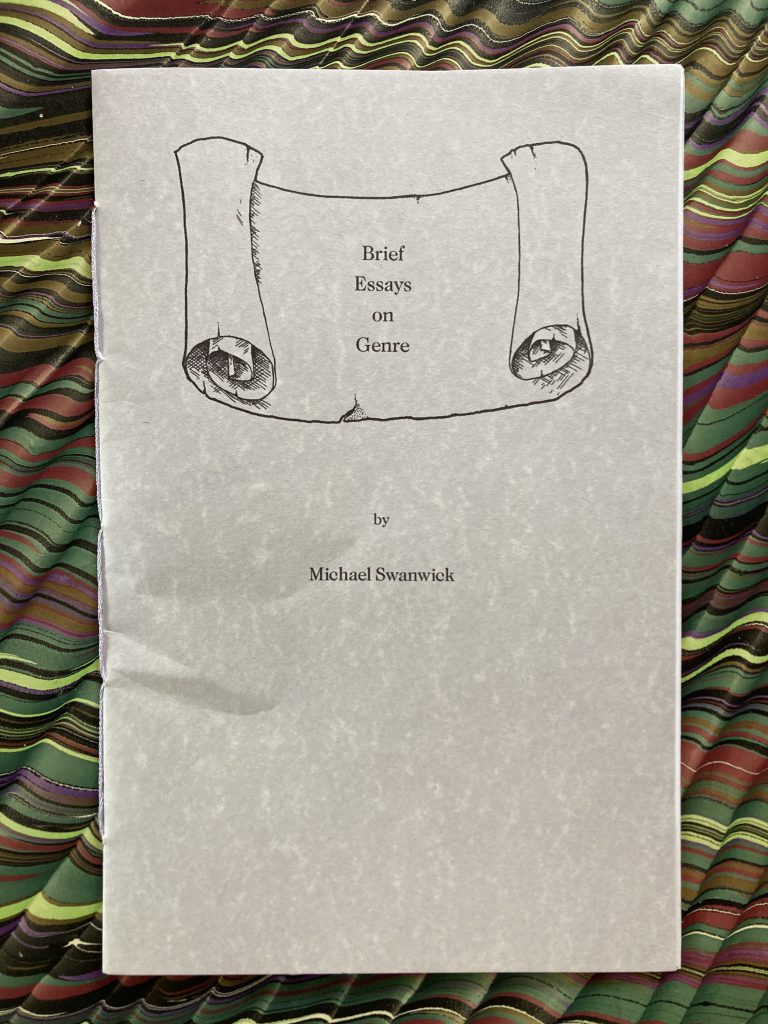 — Michael Swanwick. Brief Essays on Genre. [Dragonstairs Press, 2023]. [16] pp. Stitched in wrappers. Edition of 75 signed copies.
Michael Swanwick is a trickster and a master of concision. In "A User's Guide to the Postmoderns" (1986)*, he danced his way through a discussion of contemporary science fiction and the apparent divide between the cyberpunks and the humanists, exhibiting familiarity with the work and the writers, all without ever quite planting a foot on either side of the fence.  He was a skeptic of movements and manifestos back then; and when Farah Mendlesohn's Rhetorics of Fantasy (2008) seemed to chart a structure and laws, Swanwick set out to write a work that violated all of them and yet was unmistakably fantasy. So he has a playful side. He performed several rigorous, extended virtuoso sequences of short short stories, with Puck Aleshire's Abecedary for The New York Review of Science Fiction (2000), The Periodic Table of the Elements for Ellen Datlow's Sci Fiction (2000-2003, collected in 2005), and The Sleep of Reason, riffs on Goya's Los Caprichos for The Infinite Matrix (2002-2003). His Christmas cards are a blast, short shorts that sometimes wrench your heart.
And now Swanwick has returned to nonfiction, with Brief Essays on Genre, which collects 25 sharp observations on writing and the literature of the fantastic. He knows how to get right to the heart of the matter. There is not a word of excess. The conclusion of the Brief Essay upon literary movements reaffirms his earlier position. "By the time you've heard of somebody else's, it's over." If this approaches aphorism, nonetheless it rings true. Of course the difficulty in writing about these essays is that one find oneself in the situation of Avram Davidson writing his editor about  "The Last Wizard", in a letter of explanation as long as the story.  I can't, however, help citing this essay:
On Defining Genre
The problem with defining a genre — science fiction, for example, or fantasy — is that once you've declared what it is, you've also declared what it can't be. And if it can't be anything but what it has already been, it's of no interest to any serious artist.
This approaches, from a different angle, William S. Wilson's observation, "Writing within conventions of language, and of genre, is like swimming in society rather than in a pond under a waterfall." It is often at the edges or boundaries where interesting things happen.
Don't be fooled by the brevity or levity of Swanwick's essays, this is a notable book.
Brief Essays on Genre sold out upon publication but you may read the essays as they appeared serially on Flogging Babel, beginning here.
—
* collected, with "In The Tradition" (1994), a cruise through the disputed waters of Fantasy, in The Postmodern Archipelago (1997).