1 September 2020
Linkiness and Summer Reading
This instalment of the Endless Bookshelf, like many of its predecessors, is written later and later of an evening. There are three short essays or notes on books of interest, a long-ish list of other titles new and old, which I read recently, and then links to send you away from the Endless Bookshelf to other worlds and other books. But you will remember how you got there.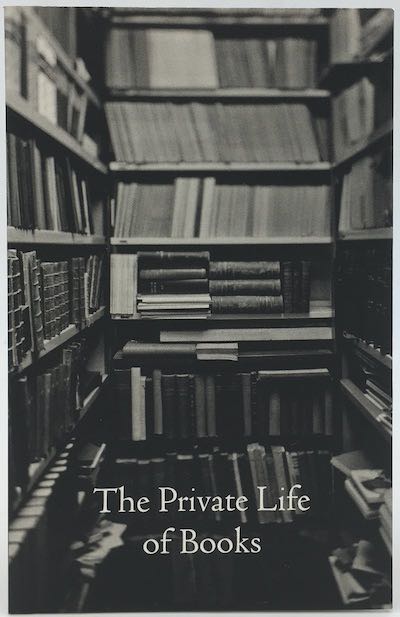 The first item of news is the announcement of a new edition of The Private Life of Books, in pocket format and containing all the photographs by Paul Schütze, and designed by Jerry Kelly. The original edition, published in 2014, was described by one reader as a Gesamtkunstwerk in book form. Of this new edition, Mark Valentine remarks, "suitable for a gentleman-scholar's waistcoat pocket, for consultation upon occasion, or for the reticules of learned ladies." You might wish to give copies to your friends, too : https://temporary-culture.com/
The Temporary Culture website also presents a visual record of the 2018 Grolier Club show, A Conversation larger than the Universe, science fiction and the literature of the fantastic. The website presents images and the exhibition labels from the first ever science fiction exhibition at the club : https://temporary-culture.com/exhibition/
The sumac and fingerprint logo of Temporary Culture was adapted from a blockprint by A. Wessells and first appeared on the cover of the seventh issue of the 'zine (1992).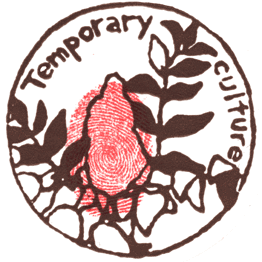 — — — —
three notes on books :
1. — Howard A. Rodman. The Great Eastern. A Novel. Melville House, [2019].
The chutzpah, to take on Melville, Verne, and Isambard Kingdom Brunel. A most remarkable critical fiction: writing Ahab after Moby-Dick, a scoundrel and worse (and still wrestling with the angel) ; Nemo brilliant, doomed ; and Brunel the great engineer now a co-equal. And the miracle of The Great Eastern is that Rodman pulls it off, and not in any way one expects, exploring Verne's anticolonialism (often overlooked), and the preoccupations of a great engineer against a backdrop of capitalist hucksterism. The book was resonant for me : as the child of an engineer, Brunel was a household word (there were family trips to sites of industrial archaeology) ; and as a teenager I read all the Verne I could find in the j'ai lu paperbacks ; and Melville looms large, at once triumph and failure, as author of a great American book.
2. — [Nicholas Currie]. Momus. Niche. A memoir in pastiche. Farrar, Straus and Giroux, [2020].
Nicholas Currie is a musician and author, Scottish by birth but an expatriate by temperament. Niche is dizzying and playful : "not Speak, Memory ! but Speak, Library !" and not anxiety of influences but the delight in the slipperiness of language. Currie has set himself an almost Oulipian constraint, to pastiche the tone and form of countless memoirists and authors : but only once. This limitation, and his truly wide-ranging choice of literary models, keeps the book exciting and the tone shifting, even as it always circles back to Currie and to Scotland. He is good at the gross out (as several of his fictions attest), and has a very good ear (no surprise there). Also unsurprisingly, the memoir closes with pastiches of David Bowie and Oscar Wilde. The glimpses of childhood are surprising and often touching despite the rigorous employment of apparent estrangement devices. Niche is also remarkable for its evasions.
3. — Christopher Brown. Failed State. Harper Voyager, [2020]. A beautiful, moving book about a very dark America, with fine villains (a billionaire dentist and an evil lumberman), and a great bunch of minor characters. Lawyer protagonist Donny Kimoe, especially, becomes someone interesting during the course of the book. In addition to the very gritty, fully grounded alternate America Brown has created, the book presents new variations on some science fiction tropes: Titan Jelly is truly a monstrous invention, and on the other hand, it is not hard to muse, if only our America had politicians with the integrity and intellect of novelist revolutionary Maxine Price. Excessive candor moment: I read the book in typescript and saw the chupacabra on a nighttime road trip to Marfa with the author. What struck me about this book (even more so with than its predecessors, Tropic of Kansas and Rule of Capture) is how it suggests quite clearly that we _can_ find our way to a world we might all live in. Read this book, and read Chris Brown's excellent Field Notes, his ongoing series of writings on the local ecology of an anthropocene landscape in Austin, Texas (with regular literary excursions on topics of global interest).
— — — —
current reading :
— Shubigi Rao. Pulp: A Short Biography of the Banished Book. Volume I of V. [and:] Pulp: A Visual Bibliography of the Banished Book. Volume II of V. Singapore: Rock Paper Fire, [2016, 2018].
Two richly illustrated collections of essays and reflections and drawings on the survival and disappearance of the book in the contemporary world; an ongoing project of artist Shubigi Rao. I bought these books in January, at the suggestion of Dan Visel, and will keep an eye out for further volumes. Rao was recently awarded the Singapore Literature Prize in creative non-fiction for volume II (see below).
— M. R. James. Collected Ghost Stories. Wordsworth Classics, [1994].
recent reading :
— R. Inwards. Weather Lore. A Collection of Proverbs, Sayings, and Rules concerning the Weather. London : W. Tweedie, 1869.
"If the twenty-fourth of August be fair and clear,
Then hope for a prosperous autumn that year. "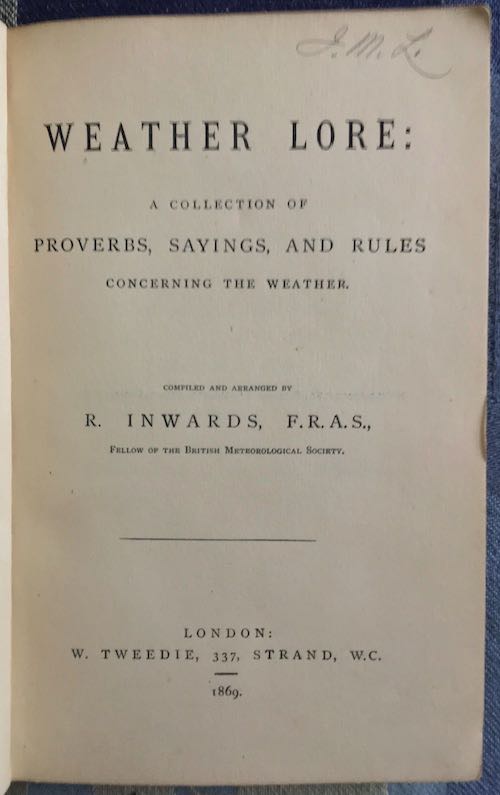 — Sylvia Townsend Warner. Kingdoms of Elfin. Viking Press, [1977].
— Peter Straub. The Skylark. Subterranean Press, 2010
— Algernon Blackwood. John Silence Physician Extraordinary. Eveleigh Nash, 1908.
— Lucius Shepard. Cantata of Death, Weakmind & Generation. Lillabulero Press, [1967].
— Algernon Blackwood. Strange Stories. Heinemann, [1929].
— Peter Straub. The General's Wife. Donald M. Grant, 1982
— Kit Reed. Deaths of the Poets. Designed and Illustrated by Joe Reed. [5], 27, 1 pp. [Middletown:] At the sign of the Piratical Primrose, 1991. Second, revised edition, one of 150 copies. Gold wrappers, printed paper label.
An abecedarium of poets, including Aeschylus, Byron, Crane, Donne, Euripides, Fuller, Goethe, Homer, Akhenaton, Johnson, Keats, Lovelace, Molière, Nerval, Ovid, Pope, Quasimodo, Rilke, Sand, Tennyson, Urban, Villon, Wilde, Xenophon, Yeats, and Zoroaster. Originally published in an edition of ten copies in 1978.
This copy inscribed from Joe and Kit Reed to Brian and Margaret Aldiss.
— Alex Pheby. Mordew. Galley Beggar Press, [2020].
— (WOLFE, GENE) Michael Swanwick. Swan/Wolfe . . . lightly edited from a podcast interview on ReReading Wolfe. Cover illustration by Susan McAninley. Dragonstairs Press, 2020. Edition of 100 copies. Wrappers, hand sewn. This is an important book : Swanwick's insights on Wolfe, and the discussion of Wolfe's place in the field and in his heart.
— Kim Stanley Robinson. Three Californias. Tor Essentials, [2020]. Collects The Wild Shore (1984), The Gold Coast (1988), and Pacific Edge (1990).
— [R. S. Surtees]. Mr. Sponge's Sporting Tour. With illustrations by John Leech. Bradbury, Agnew, [n.d.]. Re-reading this hilarious classic of social climbing and foxhunting in early Victorian times ; the Leech illustrations are essential.
— Charles Lamb. The Essays of Elia [and:] Last Essays of Elia. With introductions by Augustine Birrell, illustrations by Charles E. Brock. Dent/Scribners, 1910, 1912
— Gene Wolfe. Soldier of Arete. Tor, [1989]. Inscribed by the author, "for Avram Davidson, who has taught me so much. Gene Wolfe 10/28/89". Also signed by Davidson (and heavily coffee-stained). [Gift of DS].
— Gene Wolfe. Soldier of the Mist. Tor, [1986].
— Adam Roberts. H G Wells. A Literary Life. Palgrave Macmillan [2019, i.e., Milton Keynes, Lightning Source, June 2020].
— Peter Dickinson. A Summer in the Twenties. Pantheon, [1981]. (Re-reading).
— Bradley Denton. Buddy Holly Is Alive and Well on Ganymede. Morrow, [1991]. AvoNova, [1992]. A great novel and a hopeful look at the possibilities of the world. (Re-reading).
— Anna Kavan. Machines in the Head. Selected Short Writing. [With 12 color plates of Kavan 's paintings]. Selected and with a foreword by Victoria Walker. Peter Owen, [2019]. This is a glimpse of a very intense writer at work (I opened to "A Visit " and "Julia and the Bazooka ").
— (LAMB, CHARLES) The Charles Lamb Day Book. Compiled by E. V. Lucas. Methuen, [1925].
— James McBryde. The Story of a Troll-Hunt. [Preface by M. R. James]. Cambridge: Printed at the University Press, 1904. Illustrated account of a trip to Denmark in 1899, published by James as a memorial to his friend James McBryde, who illustrated several of the tales in Ghost Stories of an Antiquary. [Gift of JC].
— A. J. Liebling. The Telephone Booth Indian. Doubleday, Doran, 1942.
— — — —
commonplace book
'Lawyers, I suppose, were children once.' — Charles Lamb, The Essays of Elia
'Always check the pamphlets'
Mark Valentine dives into 1965 in 'The Terrific-Strange': some student poets of 1965.
Wodehouse on Mint Juleps, from Summer Lightning (via Levi Stahl)

— — — —
other news
Lion City by Ng Yi-Sheng, Endless Bookshelf book of the year in 2018, was just awarded the Singapore Literature Prize in English fiction. Article in the Straits Times here.
'simply messing about in books'
Twenty years ago (in July 2000), I began working at James Cummins Bookseller : I have often been thinking of all the great books I have seen (bought, sold, touched, underbid) ; and the many friends I have made.