24 January 2018
' Pardon this intrusion '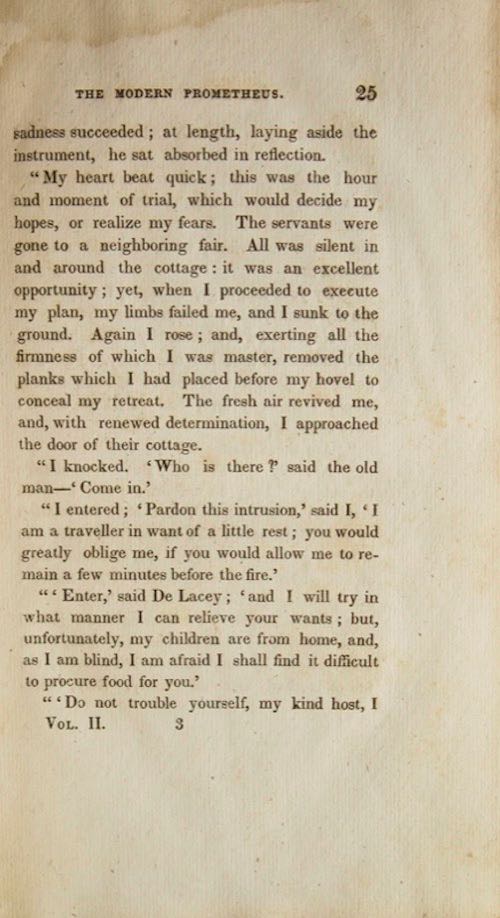 Mary Shelley. Frankenstein; or, The Modern Prometheus
Today is the eleventh anniversary of the launch of the Endless Bookshelf website, and it is publication day for A Conversation larger than the Universe. The exhibition at the Grolier Club opens tomorrow, 25 January, and your correspondent will be giving a public tour (or show & tell) from 1:00 to 2:00 p.m., as well as public exhibition tours on 30 January, 1 February, 22 February, 1 March, and 7 March (from 1:00 to 2:00 p.m. on each date). The exhibition is on view through Saturday 10 March 2018. Come look at the books and say hello.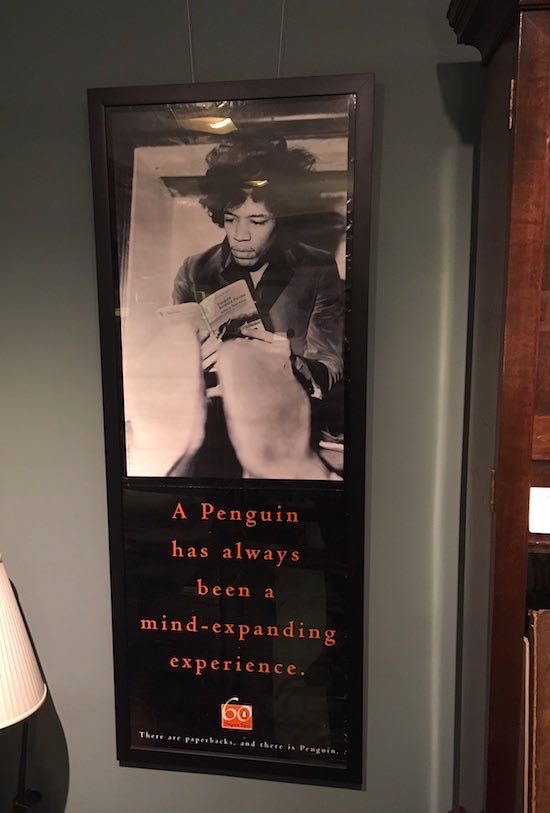 Jimi Hendrix reading Penguin Science Fiction, ed. Brian W. Aldiss.
Photo by Petra Niemeier, 1967. Penguin poster, ca. 1995.
January also marks the bicentennial of publication of Mary Shelley's Frankenstein. A copy of the first American edition (Philadelphia, 1833) is on view in the exhibition, with volume two open to the first words of the monster (see above).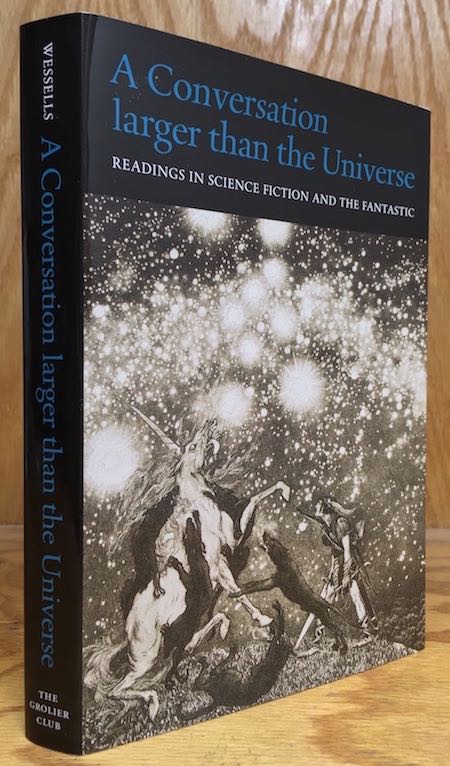 — Henry Wessells. A Conversation larger than the Universe. Readings in Science Fiction and the Fantastic 1762-2017. Foreword by John Crowley. The Grolier Club, 2018. Trade paperback, pictorial wrappers with french flaps. 288 pp. With more than 100 illustrations; index.
ISBN 978-1-60583-074-2. Price: $35.00. Distributed by Oak Knoll Press.
Chapters appeared in Wormwood, Foundation, and The New York Review of Science Fiction in advance of publication. Mark Valentine, editor of Wormwood, has published a two-part interview on the Wormwoodiana blog.
Publishers Weekly called the book "erudite and altogether fascinating . . . essential reading."
Details of the subscriber issue of A Conversation larger than the Universe, to be published by Temporary Culture, and related news of the book and exhibition are found here.
— — — —
What you remember is the smile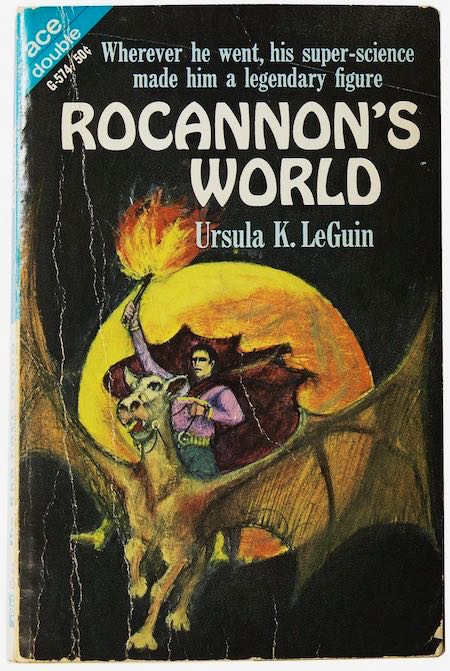 As I write this, word has just reached me of the death of Ursula K. Le Guin (1929-2018), a great writer and a giant in science fiction. I interviewed her once on the radio (she read from Searoad); and I met her once in person at a reading in New York City a decade later. Last year, I drove past her childhood home in Berkeley, thinking about how writers find their way to their readers.
And of course, Le Guin has already written the most apt note for the present moment, on the occasion of the death of Philip K. Dick (in March 1982) :
He knew where he was going, I guess, and he went like a man who smiles back over his shoulder as he goes. What you remember is the smile.
She knew where she was going. . . . What you remember is the smile.

— — — —

current reading

— Nick Harkaway. Gnomon. A Novel. Knopf, 2018.

— John Crowley. Little, Big [1981]. Harper Modern Classics paperback, [19th printing, 2016]. Re-reading.

— — — —

recent reading

— Ghosts and Scholars. Ghost Stories in the Tradition of M. R. James. Selected, with an Introduction and Notes, by Richard Dalby & Rosemary Pardoe. Foreword by Michael Cox. Crucible, 1987.
Amazing anthology, rich in suggestion, and with a great reading list. Mark Valentine wrote a brief and moving note to mark his death in 2017. I will be reading books suggested by Ghosts and Scholars for the next year, I think

— Tom Carson. Twisted Kicks [1981]. Entwhistle Books & And/Or Press paperback, [1982]. Re-reading.
From CBGB's to the end of the line in suburban Virginia. Maybe there are six top rock 'n' roll novels, now.

— Edmund Crispin. The Case of the Gilded Fly [1944]. London House & Maxwell, [1970].

— L. Timmel Duchamp. Alanya to Alanya. Book One of the Marq'ssan Cycle. Aqueduct Press, 2005.

— Adam Rothstein. Orthogonal Procedures. Arche Press, 2017.
Intense and well-crafted infrastructure and bureaucracy science fiction : your view of the office of Postmaster will never be the same. And what a surprising villain, too!

— The Sound of a Distant Machine. Autobiographical Notes of the Late A.J. Mierney. Edited by Gregory Gibson. Ten Pound Island, 2017.

— Sarah Schulman. People in Trouble [1990]. Plume paperback, [1991].
"It was the beginning of the end of the world but not everyone noticed right away."

— — — —

California International Antiquarian Book Fair

Your correspondent will be exhibiting at the 51st annual California International Antiquarian Book Fair, Pasadena Convention Center, 300 East Green Street, in Pasadena. The show runs from Friday to Sunday, 9 to 11 February 2018. Come say hello: booth 425 (James Cummins Bookseller). If you would like a pass, please let me know in advance.

ߡ ߡ ߡ ߡ

The Private Life of Books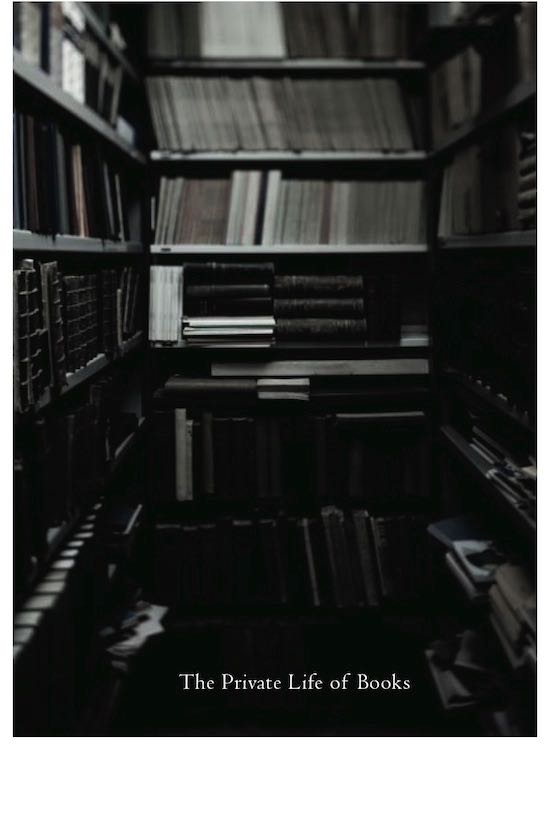 The Private Life of Books, poems by H. Wessells, duotone photographs by Paul Schütze.
Copies still available from Temporary Culture.
— — — —
Hope & Wreckage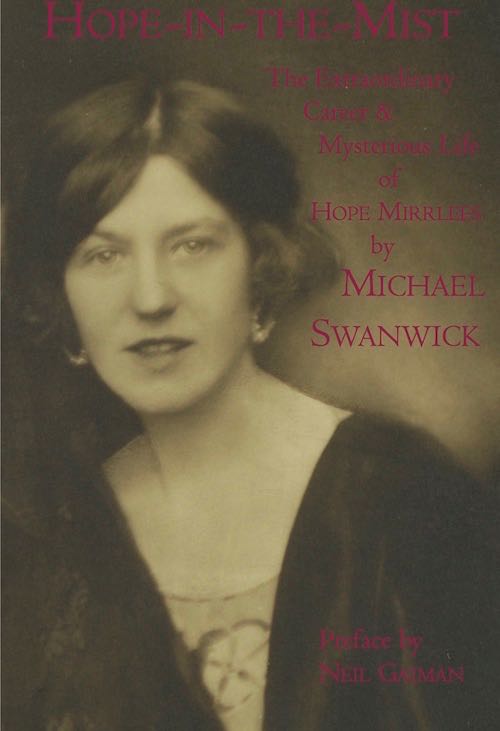 New editions of Michael Swanwick's legendary monographs Hope-in-the Mist. The Extraordinary Career & Mysterious Life of Hope Mirrlees (2009) and What Can Be Saved From the Wreckage (2007) are available in all the usual e-booke formats through Weightless Books.