special issue on re-reading : part three
time in the novels of Jon A. Jackson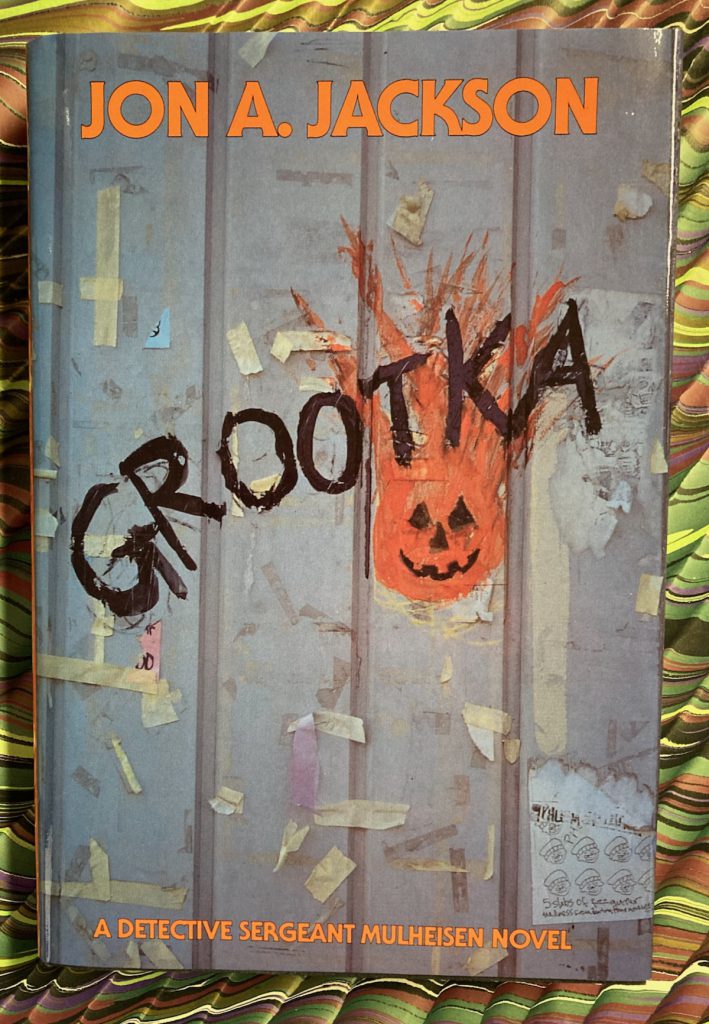 Jon A. Jackson
The Die Hard. Random House, [1977]
The Blind Pig. Random House, [1978]
Grootka. Foul Play Press/Countryman Press, [1990]
Hit on the House. Atlantic Monthly, [1993]
Deadman. Atlantic Monthly, [1994]
Dead Folk. Dennis McMillan, 1995
Dead Folks. Atlantic Monthly, [1996]
Go by Go. Dennis McMillan, 1998
Man with an Axe. Atlantic Monthly, [1998]
La Donna Detroit. Atlantic Monthly, [2000]
Badger Games. Atlantic Monthly, [2002]
No Man's Dog. Atlantic Monthly, [2004]
Readers of the 'shelf will recognize the name of novelist Jon A. Jackson, who wrote eleven novels featuring a Detroit detective known as 'Fang' Mulheisen, and Go by Go, a sharp novel of events in Butte, Montana, in 1917. I am pretty sure it was Dennis McMillan who first told me about Jackson, and I was intrigued, for I had read Red Harvest and knew that Hammett's Poisonville was Butte, and I had spent one summer and one winter in Detroit in 1979, which was right around the time Jackson began publishing the Mulheisen novels. I began picking up the books, and have read and re-read them over the years. I have not revisited Detroit, so I have vivid memories of the sounds and smells and camaraderie of the zinc foundry where I worked that summer, and only a residual memory of the geography. The city is a character — if not quite to to the degree that Innsmouth is a character in Lovecraft's story — or, more to the point, Detroit is an attitude that is felt throughout the novels. Detective Sergeant Mulheisen is nearing forty, a good detective despite the limitations of budget and pressure. He is smart and disinclined to move off the street into an administrative post. He is not the only recurring character in the Detroit novels: several characters take on lives and energies of their own, and Jackson had the sense to follow where they led him. Grootka, Mulheisen's some-time mentor and a tough, even brutal cop of the old model, is the focus of the third novel, which ends with his death, but Grootka was so protean a figure that several years later Jackson answered the question What happened to Jimmy Hoffa? in Man with an Axe, a jazzy novel of Grootka's notebooks and clues conveyed posthumously to Mulheisen. Joe Service, a troubleshooter for the Detroit mob from somewhere out west, and Helen Sedlacek, a mobster's daughter, enable Jackson to range far afield from the Motor City, sometimes with Mulheisen in pursuit.
Among the notions that have interested me are the sense and function of time in the books. These are not novels of unchanging characters in an almost eternal present (examples being the musical comedies without music of the Wodehouse's tales of Bertie Wooster, or Rex Stout's Nero Wolfe novels), nor are they quite the large work in twenty-two novels which is John D. MacDonald's Travis McGee series. It's a funny thing, the internal elapsed time in a work of fiction, even more so when one thinks about a succession of books: which clocks are ticking, those a reader discerns within each book, and those unseen ones in the  spaces between books. It is of course a mug's game to demand too much (any?) internal consistency within a fictional narrative, but the nature of attention is to observe and create patterns. The Mulheisen books describe a fairly tight sequence of murders, heists, and capers — much shorter than the nearly thirty-year  timeline of publication — during which Fang contemplates and rejects career changes, the face of the Detroit mob changes, and Joe Service remains a step ahead of the cops (mostly).
While Jackson brings computers into the series early on — the scam in Grootka which leads to murder is a computer program automating a shell game for access to money as information, a kid with a PC delivers critic messages to Mulheisen in Man with an Axe, and mobster Humphrey DiEbola finds his school sweetheart on a bulletin board — the world of Mulheisen and Joe Service is, however, an analogue one, where people walk and and talk and drive and learn things through unmediated experience.  Maybe that is one one the charms of the series for me. Mulheisen thinks about the colonial history of the Detroit, and the rumors and legends in the Detroit of his youth, so there is a tacit recognition that narratives of  human motivations and actions are meaningful.
The subjective experience of the reader is that all the action from The Die-Hard to La Donna Detroit occurs in just a few years, a reminder of the long continuity of human life before the ubiquity of smart phones. The last two are a little different. Badger Games brings home the aftermath of the Balkan wars into Joe Service's rural arcadia. No Man's Dog is definitely post-Patriot Act with elements of domestic terrorism and extralegal activities by disaffected government agents, and a clear sense that Mulheisen is an older cop in a changed world.
No great conclusions to offer, just a suggestion to pick up one of Jackson's books if you see it. Go by Go, his novel of a raw Pinkerton op named Goodwin Ryder, recreates the wide open atmosphere of Butte in 1917. It is a retrospective narration of some complexity and features a cameo of Sam Hammett.
[Note: the idea of paying attention to internal subjective timelines in works of fiction arose in a conversation with Brendan Byrne about time in Liz Hand's Cass Neary novels. Perhaps he (or I) will write that essay.]