a few pamphlets that have come across the desk of the Endless Bookshelf in recent months :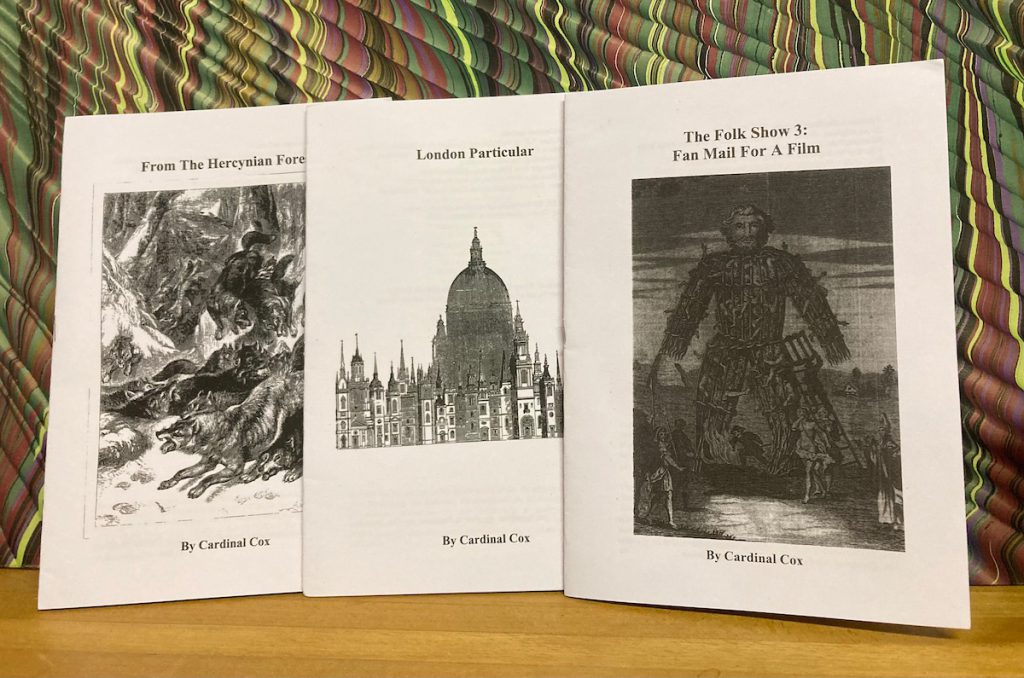 Old apple tree, old apple tree
Keep the secrets that you see
— Cardinal Cox. The Folk Show 3 : Fan Mail for a Film [Cover title]. [16] pp.  [Peterborough: Starburker Publication, 2023]. Edition of 100 copies, (to be given away at the 2023 Whittlesea Straw Bear festival*). Self-wrappers.
——. From the Hercynian Forest [Cover title]. [16] pp.  [Peterborough: Starburker Publication, 2019]. Edition of 100 copies. Self-wrappers.
——. London Particular [Cover title]. [16] pp.  [Peterborough: Starburker Publication, 2019]. Edition of 100 copies. Self-wrappers.
These three chapbooks of poems and vignettes of English folklore draw from deep wells, mixing gritty observation of daily life with literary allusion, wit, and punk pop culture tricksters. Cox, who invokes the name of John Clare more than any other living writer, I suspect, was poet-in-residence for the Dracula Society, and seems to share a fascination with The Wicker Man. These resulted in a good old fashioned 'zine exchange (I sent alonga couple of the productions of Temporary Culture).
* Plough Monday in January, "between Christmas and fen-skate party",  is the traditional date of the Straw Bear festival, one learns from an aside in From the Hercynian Forest. This reminds me of the excellent exhibition of modern British folk art at the Barbican in May 2005, and the accompanying book, Folk Archive. Contemporary Popular Art from the UK, by Jeremy Delter and Alan Kane (Book Works, 2005), which I lent to a friend or otherwise I would do more than wonder if I can bring back some photos from the dark age and a cheap plastic cell phone, such as this label (the photograph of the object described won't migrate) :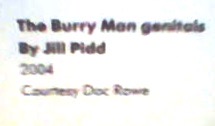 — — —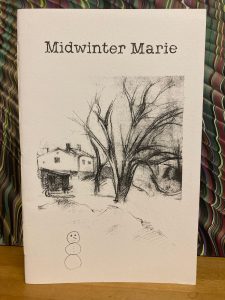 — [Bernadette Mayer]. Midwinter Marie. [16] pp. [James Walsh, 2023]. Second edition, one of 25 copies. Wrappers.
Selections by James Walsh from Midwinter Day (1982).
— — —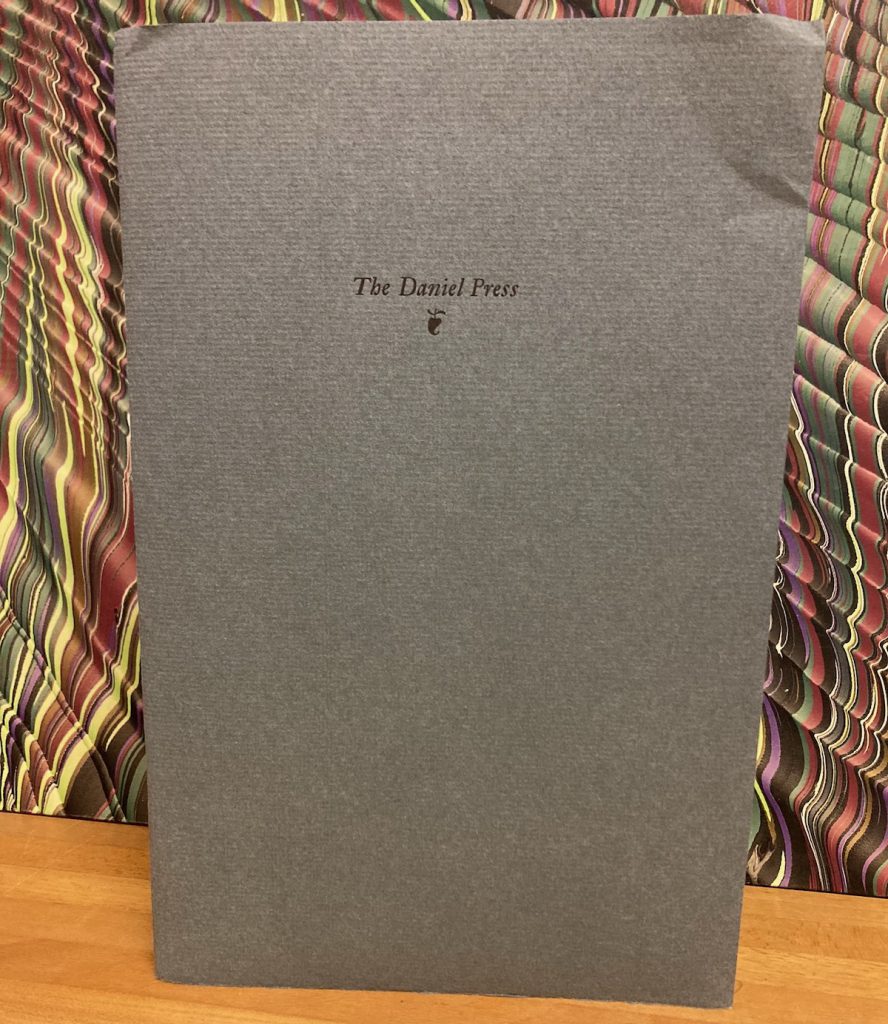 — Meghan Constantinou. The Daniel Press. Pioneer of the Private Press Movement. Illustrated. 26, [2] pp. The Grolier Club, 2021. Card covers, printed grey wrapper. Design by Kerry Kelly.
Catalogue of an exhibition of the Daniel Press, the print shop of  Charles Henry Olive Dance (1836-1919), who printed some 50 books (chiefly poetry) between 1874 and 1906, and revived an early type face (the catalogue is set in the Fell type). Daniel is described by Colin Franklin as "an independent figure, outside fashionable taste and movements". The books are generally small and handsome, and the press  "has had a rich afterlife in multiple sense of the term".
— — —
three black cats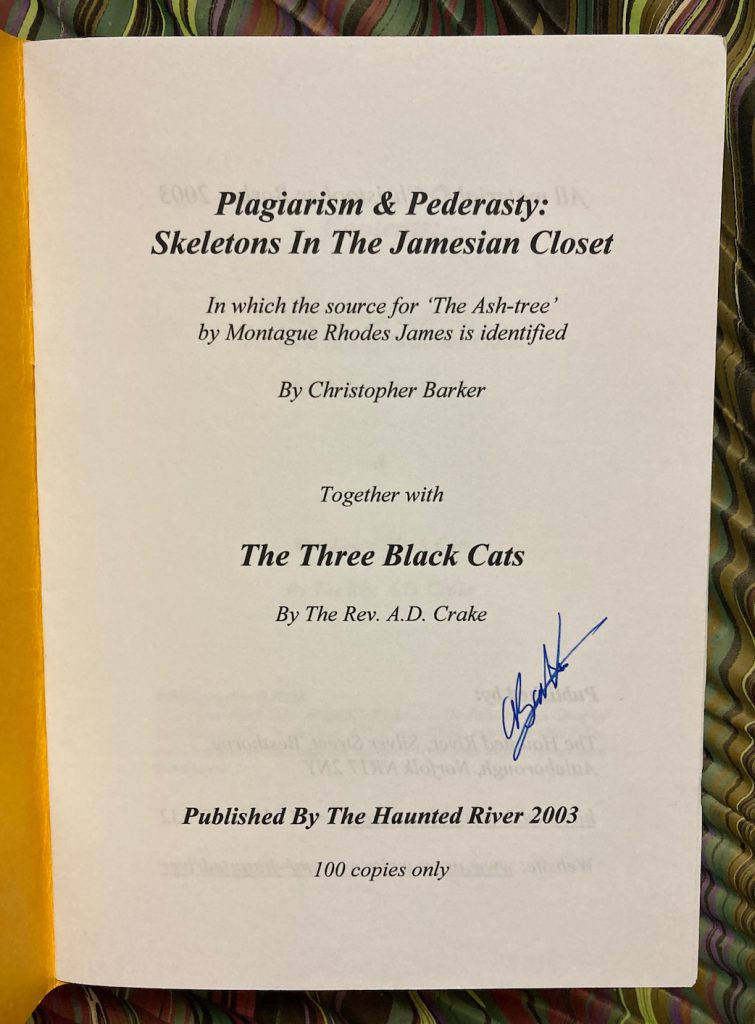 — Christopher Barker. Plagiarism & Pederasty : Skeletons in the Jamesian Closet. In which the source for 'The Ash-tree' by Montague Rhodes James is identified. By Christopher Barker. Together with The Three Black Cats. By the Rev. A.D. Croke. Illustration of a George Cruikshank plate. Unpaginated, [28] pp. The Haunted River, 2003. Edition of 100 copies. Printed wrappers.
"The Three Black Cats" is a short antiquarian tale of horror published in 1888 in a collection of stories by A.D. Croke. Barker notes very strong similarities between the nucleus of Croke's tale and "The Ash-tree", which appeared in Ghost Stories of an Antiquary (1904), and takes James to task for plagiarism and hypocrisy and more..
It is sometimes fruitful to knock two ideas together to see if something new arises. Not in this instance, however. I know nothing of Barker, but this little book seethes with such resentment and outrage at the "honeyed images of the man as presented by Jamesian scholars" that a moderately interesting insight drowns under a bubbling hostility.
— — —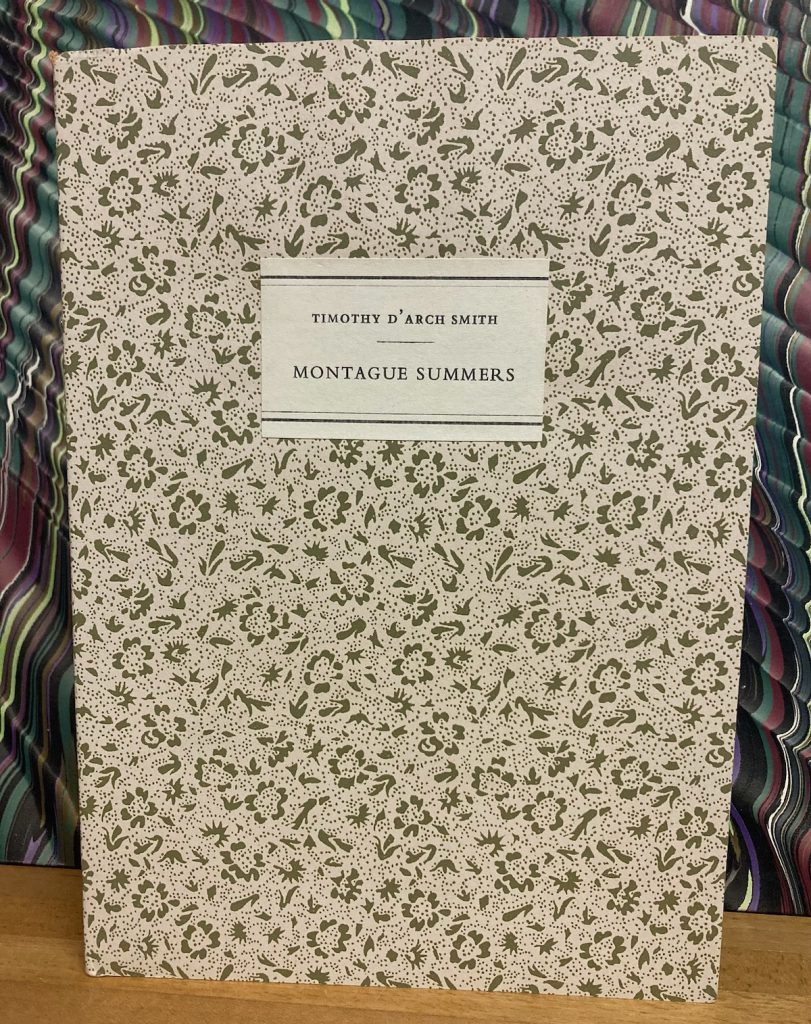 — Timothy d'Arch Smith. Montague Summers. A Talk. 25, [2] pp. The Tragara Press, 1984. One of 25 copies (edition of 110).
Talk presented to the Society on Montague Summers as bibliophile and aesthete.