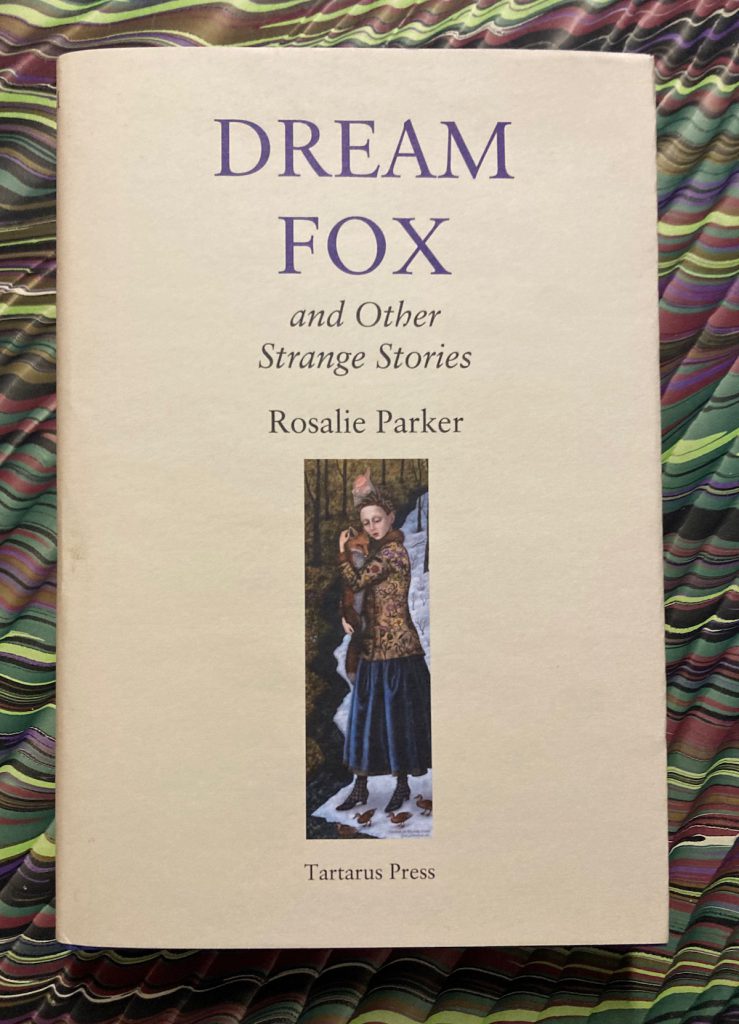 — Rosalie Parker. Dream Fox and Other Strange Stories. [vi], 239 pp.  Tartarus Press, [2023]. Pictorial boards, dust jacket.
A new collection of 18 stories from this talented author, presenting a variety of modes and settings, plus a fabulous book-within-a-book, "Mary Belgrove's Book of Unusual Experiences". The stories also display a remarkable range of voices and a change of register from one story to the next, the oppressive tone of "Home Comforts"is followed by the quiet austerity and sense of the inescapable at the heart of "The Decision". "Pebble" is a dark fable of modern slavery; it takes a sudden, darker turn that speaks of liberation.
The first story, "Beguiled", starts as a glimpse of an aristocratic young lady's privilege and confinement in Imperial Russia, with a flavor of some of the tales of Saki. The narrative moves with concision and perfect pitch to an icy conclusion and a devastating last line. The effect is breathtaking ! and all in eight pages of the most lucid prose.
The title story, "Dream Fox", a variation on the Reynard tales, is deeply subversive of the patriarchy and the county landholding class. It is the rebellious imagination of the adolescent girl that powers the transformation. The outcome is utterly that of "Kitty" by Paul Bowles.
"Mary Belgrove's Book of Unusual Experiences" is a collection of nine stories of ghosts and uncanny experiences in contemporary Britain, a book "chanced upon in  a remainder outlet or a charity shop, rather than a bona fide bookstore", published by a vanity press for "the crazy old woman who own all those millions in the National Lottery" and who wants to share her belief in the paranormal. The frame story is told in an introduction and the headnotes to each account. It is hilarious (is it a cameo self-portrait of the author?): in "The Dating Game", Mary Belgrove tells Scott, "Perhaps we need to recognise that in this case  'Alive' and 'Dead' may be relative terms." The experiences (each narrated in a distinct voice) are dislocating and defy reductive explanation.
A beautiful book and a notable collection.