Sunday 23 April 2023 is the centenary of the birth of Avram Davidson.
On this occasion, worthy of celebration wherever the readers of this website may find themselves, it is worth looking back at origins. I count myself fortunate to have discovered the work of Avram Davidson, when in late 1992 I first read a battered but intact copy of The Enquiries of Doctor Eszterhazy paperback. I was surprised, again and again. The rambling sentences and digressions impressed me, but most of all it was the way in which Davidson integrated obscure and bizarre knowledge into these stories: knowledge that in anyone else's hands would be dusty and uninteresting or an info-dump that strangled or squashed the flow of language. Davidson was genuinely learned, as even a single sentence taken at random will reveal. There is a healthy measure of irreverence to temper this erudition, too, so that a reader is never oppressed by the weight of information imparted. I know that I was re-reading the Enquiries in late April or early May 1993, for when I decided to order the two books then in print and called up George Scithers, publisher of the Owlswick Press (and Weird Tales), in King of Prussia*, Penna., he answered my inquiry with the statement, "Avram Davidson died last week."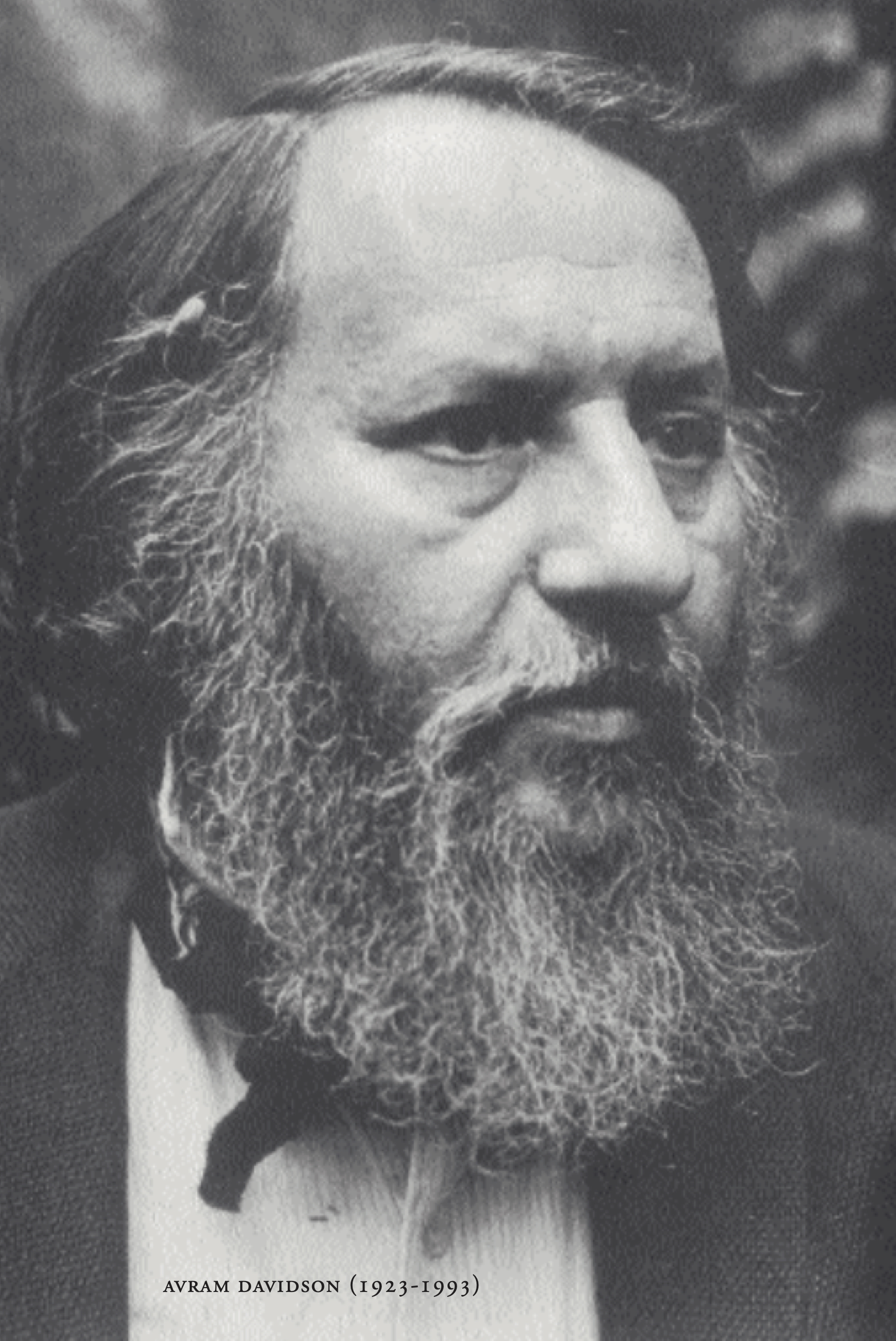 Over the next several months and years, the quest for other works by Davidson, at first to read them, but soon I began preparing lists in an attempt to understand the range of his work. I corresponded with or met folks in and out of science fiction, many of whom I still count as friends. The rest is history, some of it chronicled in back issues of The Nutmeg Point District Mail newsletter and in the archives of the Avram Davidson website. From small seeds and many friendships, the Avram Davidson Society (largely imaginary but important for all that) has fostered interest in the writings of Avram Davidson.
In recent months, I have been re-reading lots and lots of Avram Davidson with great pleasure, the Eszterhazy stories (a perennial favorite), but also "Lord of Central Park" and El Vilvoy de las Islas (if Naples is the most elegant book I have published with the imprint of the Nutmeg Point District Mail, El Vilvoy is the most important). And then there is The Avram Davidson Treasury (1998), the great triumph of Grania Davis and her efforts in the first wave of posthumous publications. And if the Treasury unaccountably omitted three essential stories, "Lord of Central Park", "The Dragon Skin Drum", and El Vilvoy de las Islas, well, all three appeared in collections within the next few years, in The Investigations of Avram Davidson and The Other Nineteenth Century. And Everybody Has Somebody in Heaven gathered together material relating to Avram Davidson as an American Jewish writer; the biographical essay by Eileen Gunn remains the most important survey of Davidson's life and work. These are solid foundations upon which all else has built.
And now, for the Avram Davidson Centenary year, there will be a century of stories, AD 100. 100 Years of Avram Davidson. 100 Unpublished or Uncollected Stories, a two volume collection assembled by Seth Davis and forthcoming in 2023 from  Or All the Seas with Oysters, the publishing arm of the Estate of Avram Davidson. Your correspondent had an early look at the table of contents and it is a fascinating assembly: early writings, some of which I have never seen, and stories published in a variety of periodicals and anthologies — within and without the genres— many of them ephemeral, fleeting, and extinct. Once upon a time, dear reader, it took fantastical amounts of luck and patience and effort and, above all, TIME to trace these stories, simply for the pleasure of reading them. Now, this pleasure will be yours, as you peruse two thick volumes. I look forward to doing so myself.
The preparation of AD100 is a colossal accomplishment and a landmark in the posthumous career of Avram Davidson as significant as publication of The Avram Davidson Treasury in 1998. Here's to the next twenty-five years!
On the occasion of the Centenary, I acknowledge, in memoriam, a short list friends and correspondents who were instrumental in promoting the legacy of Avram Davidson: Grania Davis, Guy Davenport, Reno W. Odlin, George Scithers, and David G. Hartwell.
* King of Prussia, named for an eighteenth-century crossroads tavern, is the wonderfully named town near where I spent much of my youth. I suspect Avram Davidson took a certain amount of pleasure in the unusual name of the town where his friend and long-time editorial champion George Scithers (1929-2010) lived for many years.
[This essay appeared in slightly different form as part of The Nutmeg Point District Mail, vol. XXI, no. 1, archived at http://avramdavidson.org/nutmeg48.htm.]