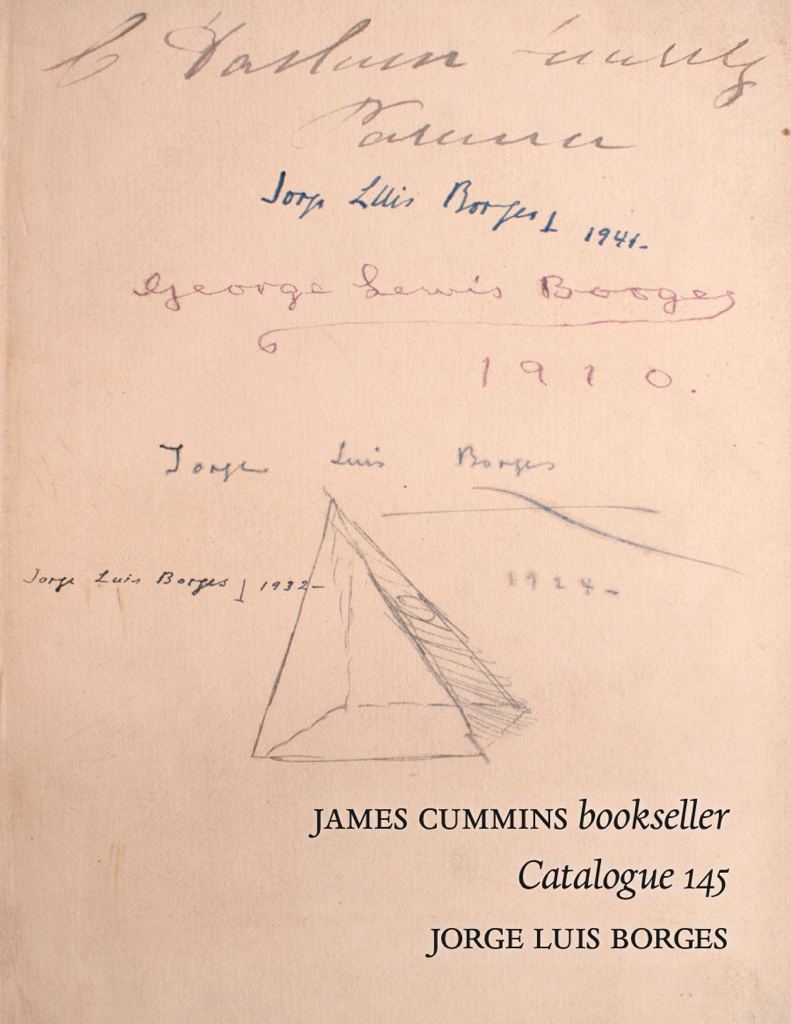 The work of Jorge Luis Borges has always been a touchstone for me: the concision and entanglement of his fictions and artifices and inquisitions are a source of great pleasure and inspiration. I am pleased to report that James Cummins Bookseller catalogue 145, Jorge Luis Borges, is ready, describing more than 400 items from the private collection of Gary Oleson, proprietor with Franny Ness of Waiting for Godot Books in Hadley, Massachusetts. Waiting for Godot were long- time specialists in twentieth century literature (among many other fields), including Latin American authors, and Oleson began buying Borges material in the late 1980s and early 1990s.
The collection includes books owned by Borges, manuscripts of essays and stories, autograph  notes, photographs, inscribed books, and a comprehensive group of books, periodical appearances, ephemera, and secondary literature. The cover illustrates a book by Capt. Marryat, signed by Borges at age 11, 25, 33, and 42, and with the ownership signature of his English-born great aunt, who taught him English
As with the writings of Borges, patterns and connections reveal themselves across the pages of the catalogue, which is published on the occasion of a Borges centenary, the hundredth anniversary of the publication of his first book of poems, Fervor de Buenos Aires (1923). [HWW]
Catalogue 145, Jorge Luis Borges is in two sections, an illustrated catalogue of 130 items, and a descriptive listing of 275 items. A printed catalogue is available, and many items will be on display at the New York Antiquarian Book Fair 27-30 April at the Park Avenue Armory, in the Cummins booth A1. Your correspondent will be there, come say hello.