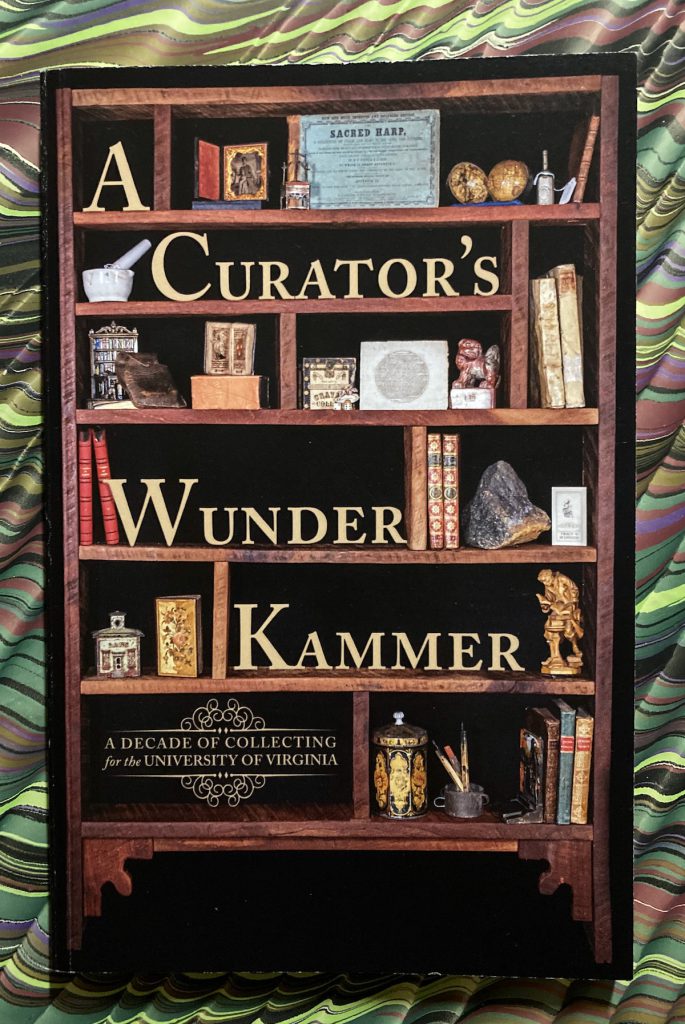 — David R. Whitesell. A Curator's Wunderkammer. A Decade of Collecting for the University of Virginia. Exhibition Catalog. [Charlottesville: University of Virginia Library], 2022. Illustrated throughout. [iv], 105 pp. Edition of 500 copies [in fact, 310]. $25.00.
David Whitesell's Wunderkammer exhibition is a retirement party in material form, a late career greatest hits selection of sixty-four books, manuscripts, and ephemera he bought for Special Collections at the University of Virginia Library during a decade at as curator at the Small Special Collections Library at the University of Virginia (previously he was at the American Antiquarian Society for many years). The exhibition runs through July but information seems meager on the UVa website, so I will treat this catalogue as my invitation to the party (complete with a transcript of all the speeches!) and write about it.
A Curator's Wunderkammer includes is divided into five broad categories: Jefferson, Virginia, & American History (23 items); English Literature (5 items); American Literature (7 items); Printing, Publishing & Book Arts (19 items); and Omnium Gatherum (10 items). Boundaries are usually a lot  fuzzier than people think, and here, too: many of the items in the Omnium Gatherum have an Americana flavor.  This is only a tiny selection from some 15,000 items Whitesell purchased, but they document the curator's energies and the range of materials that he has seen.  The items include a Jefferson manuscript and the diary of a young lady growing up in Virginia during the Civil War (this is after all, Jefferson's university);  the first novel by an American-born author; a rare Boston imprint of Meat out of the Eater and Day of Doom; the decorative wrapper for  a ream of paper from a Hartford Mill; a memoir of a Bavarian soldier in the first world war; a private manuscript anthology of the poet Chatterton; and a fragment of Washington Irving letter, just before his career took off with The Sketch Book.
Whitesell pays attention to poetry (he was editor of Roger Stoddard's  monumental  Bibliographical Description of Books and Pamphlets of American Verse Printed from 1610 through 1820). Notable here are a family copy of an early American utopia in verse, The United Worlds (1834), which conclusively identifies the author, and The Eucleia (ca. 1865), a nonce collection of the works of William Cook, mendicant poet and self-publisher in Salem, Mass., reflecting Whitesell's interest in "nineteenth-century non-canonical verse". And then there is the rare and remarkable and potent America and other poems by James Monroe Whitfield (Buffalo, 1853).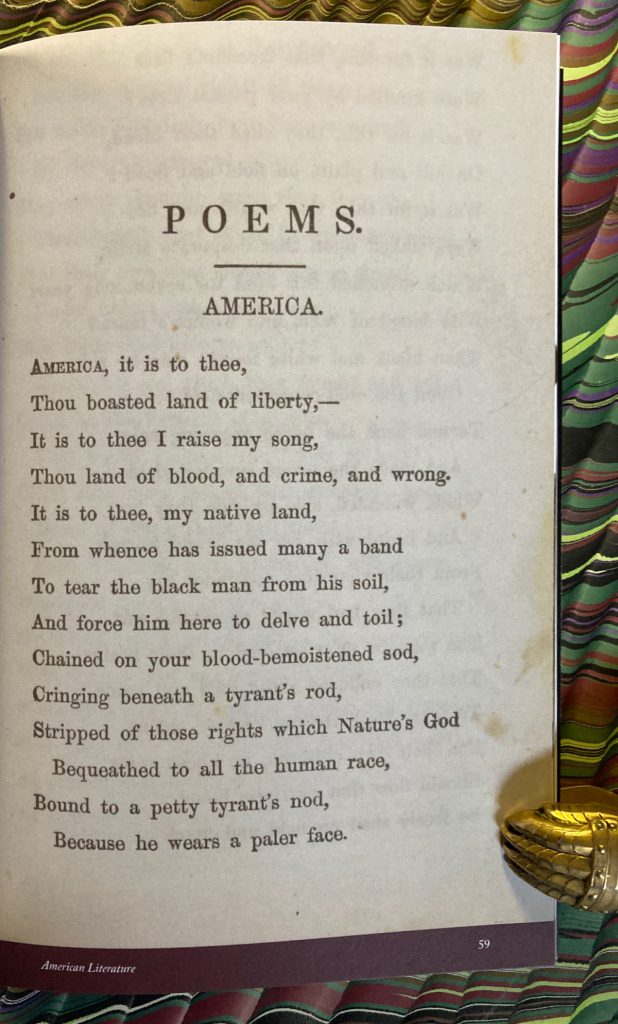 The last item in the catalogue is the manuscript of an essay, "La biblioteca total",  written by Jorge Luis Borges for Sur (August 1939), which is identified as a precursor of the story, "La biblioteca de Babel" (The Library of Babel), published two years later in El jardín de senderos que se bifurcan. No wonder he describes this as "the prize, and if I must choose, my favorite UVA acquisition".
In this catalogue Whitesell names the booksellers from whom he purchased materials (this aspect of the history of the object is usually omitted); and so this catalogue becomes a an account of relationships between the antiquarian trade and a knowledgeable institutional buyer. He writes discursively on his selection process and the constantly changing nature of the book trade. This is a fun catalogue.
[Note: Some copies were issued with an added presentation leaf (inscribed to the individual booksellers identified as sources).  The colophon states 500 copies printed, but due to paper shortages only 310 were in fact printed. If you want one, best to act soon. Details: https://at.virginia.edu/wunderkammer]