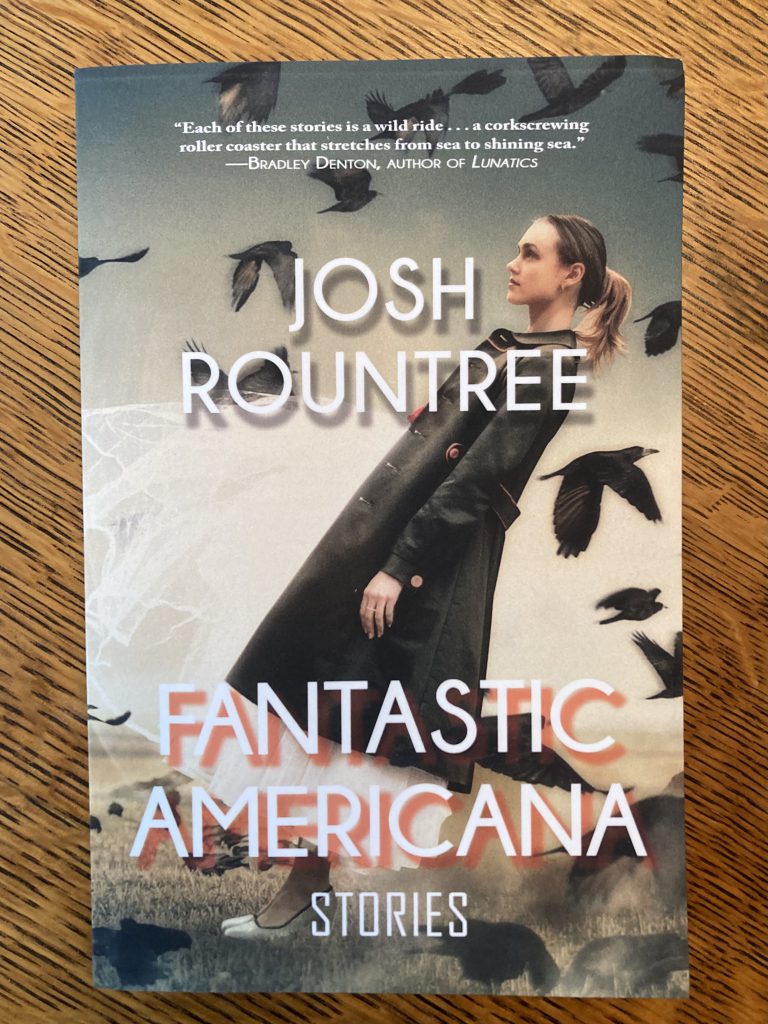 — Josh Rountree. Fantastic Americana. Stories. Fairwood Press, [2021].
Fantastic Americana gathers 21 stories, with "Her Soul, A Dark Forest" and "In the Teeth" original to this volume, the others published in magazines and anthologies between 2006 and 2021. The twin lines of this wide-ranging collection are Rountree's riffs on contemporary popular music and his dark, deep-rooted tales of Texas fantastika. There is also, as in Eugene Byrne and Kim Newman's Back in the USSA (1997), the pleasure of messing with history. These aims do not necessarily exclude each other.
"February Moon" is  the concise narrative of an immigrant mother who knows well that the dangers of the old world have come with her family across the ocean to backwoods Texas. She knows how to deal with the werewolves and the ineligible bachelors. "In the Thicket, with Wolves" starts with a single mother in a contemporary setting and moves into primal folkloric territory. "Rewind" and "Rattlesnake Song" suggest the world is larger than we think while playing with the dead media tropes of video store and movie theater. In "Her Soul, A Dark Forest" a young boy recounts the flight of his mother from a stifling situation into the mesquite, for him as for us there are no answers, we can only experience another order of reality at odds with our own.
Among the unspoken concerns of this collection is what an earlier age would have call the domestic manners of the American family. Rountree will sometimes, as in "February Moon", use a simple declarative sentence to suggest a monstrous situation that has nothing to do with shape-changers. The women know what's what, the best of the guys try to put it together. And the worst of the men deserve what unfolds.
Your correspondent reads ventures into critical fiction sympathetically and yet with clear eyes. In "Chasing America", where Paul Bunyan collides with Wild Bill Hickok, Steinbeck, Woody Guthrie, Kerouac, and the Kennedy assassination, the nature of American myth and myth-making is deftly illuminated. On the other hand, the juxtaposition of the Merry Pranksters and far future space war in "Intrepid Travelers" doesn't work thematically or structurally for this reader, and is less fruitful. A few of the stories didn't to compel this reader, but then there is "Escaping Salvation" where  unexpected supernatural phenomena define a post-collapse world and a new ecological order seems to hold sway.
The best stories are without question tales in which all these topics play with and against each other to make things happen. "Best Energies" plays with country music, Albert Einstein, and "old splinter teeth" — George Washington rendered immortal by control of the fountain of youth — and adds an independent Republic of Texas at odds with Washington, to create a fissile situation. "Fury Road" turns the songs of The Clash into a revolutionary toolbox, analogous to some of the transformations of popular culture in Michael Swanwick's "The Feats of Saint Janis" or Jack Womack's Elvissey. And "The Guadalupe Witch" is really something, a haunting river tale, the telling of which dismisses any epistemological ambiguities.
Fantastic Americana justifies its bold title. It's worth looking for.