' the admirable work of Nature '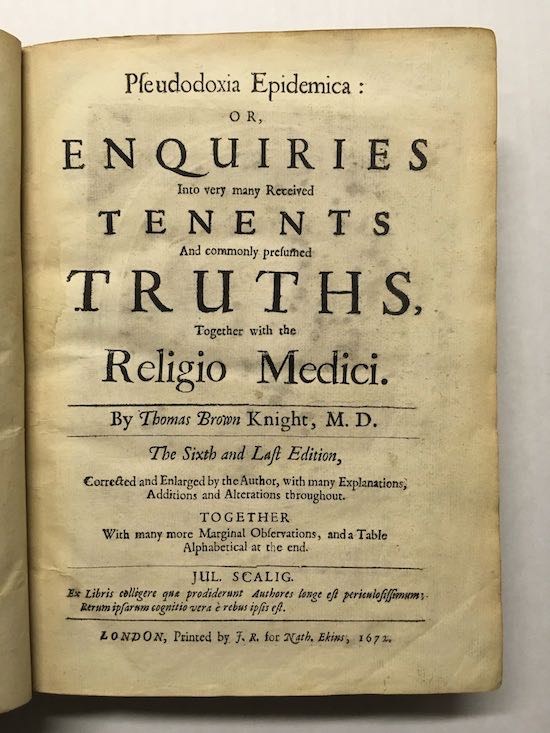 — Thomas Browne. Pseudodoxia Epidemica: Or, Enquiries into very many Received Tenents and commonly presumed Truths, Together with the Religio Medici . . . the Sixth and Last edition. London: J.R. for Nath. Ekins, 1672.
I am at work on a couple of books (a volume of selected letters of Avram Davidson for The Nutmeg Point District Mail; and a work of fiction) and an article or two, and will not be reading much current writing in the next several months. Instead, I will be reading Browne's VULGAR ERRORS in a good edition published during the author's lifetime (detail of the spine below). This copy comes from the library of the late Robert S. Pirie, a friend and a great collector. Reading is remembering as much as it is discovery and experiencing the present.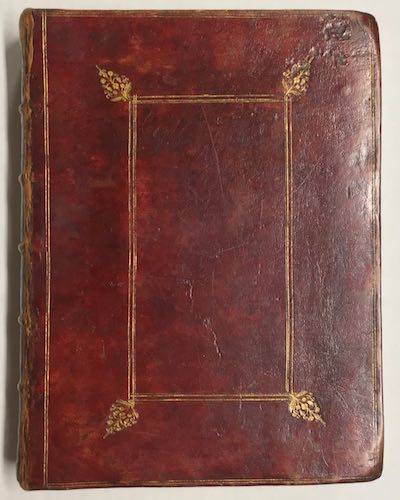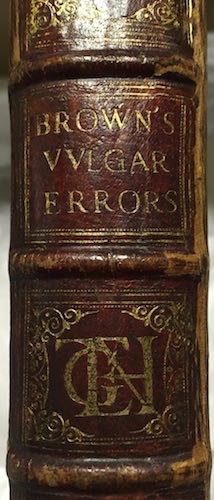 Practical considerations have never been the highest imperative in the your correspondent's reading choices (readers will recall that I had the pleasure of reading Tristram Shandy in the original nine volumes), but I draw the line at carrying a red morocco quarto on the daily commute. And so I have a box of Agatha Christie paperbacks (also from the library of Bob Pirie) that had been sitting in the attic for three years; now I have opened it and will be reading or re-reading some of these mysteries.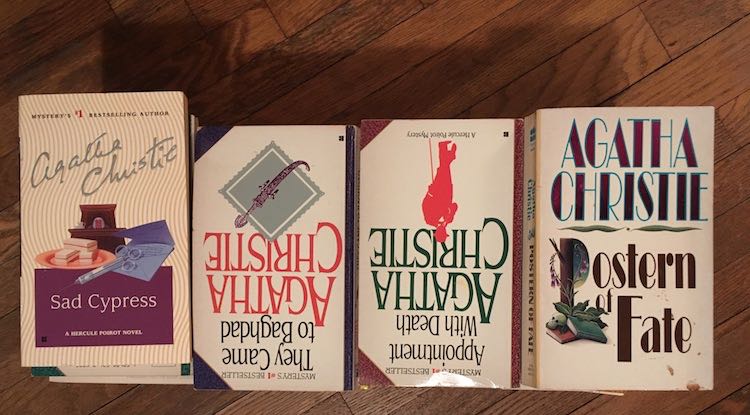 — — — —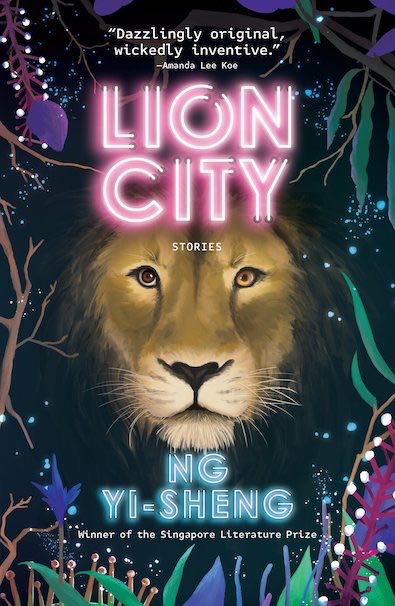 — Ng Yi-Sheng. Lion City. Stories. Epigram, [2018]. Remarkable collection of short fantastical tales of a world city from a young Singapore author: remarkable for the transgressive and transformative use of folklore and history; and for making new stories from old tropes and conceits. Within the span of a few pages, the title story plays with phildickian anxieties about simulation, the place of wildlife in the built environment, and makes the shape-changing story display some new dance steps. "A Day at Terminal Aleph" is a superior airport story and its chronicle of VIP travellers is anchored in observing people at work. Singapore gastronomy and local history are at the heart of such tales as "Food Paradise" and "The Crocodile Prince"; "Sin" is a dark, funny collision of demons and industrial pollution. For your correspondent, the other gem is "The Boy, the Swordfish, the Bleeding Island", which demonstrates the range of Ng Yi-Sheng's wit and imagination and innovation. Five hundred years of history, folklore, and literature are re-written in a bold anti-colonial counterfactual so persuasive I was ready to seek library holdings of the novels of Iris Fonseka, in which (among many delights) "Dr. Mary Godwin, a noted prodigy in the field of experimental surgery," is brought by hovercraft to the court of Sultan Nadim, emperor of China and the Malay archipelago. The tale concludes with another useful shift of perspective. The author is adventurous with form : the core of "The Boy &c." appears as an engaging scholarly article, while "Garden" is a concise adventure along multiple forking paths and recursive outcomes.
The best book I read in 2018.
other notable titles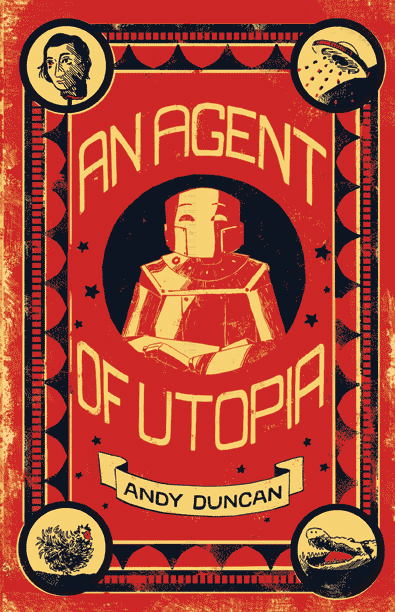 — Andy Duncan. An Agent of Utopia. New & Selected Stories. Small Beer Press, [2018].
Great stories by a great American writer. Duncan is a national treasure and an acute reader: his reading of More's Utopia and its Tudor context is sharper than you know. He is also a fine reader and performer of his work : I had the pleasure of seeing Andy read portions of the title story as a work in progress.
— — — —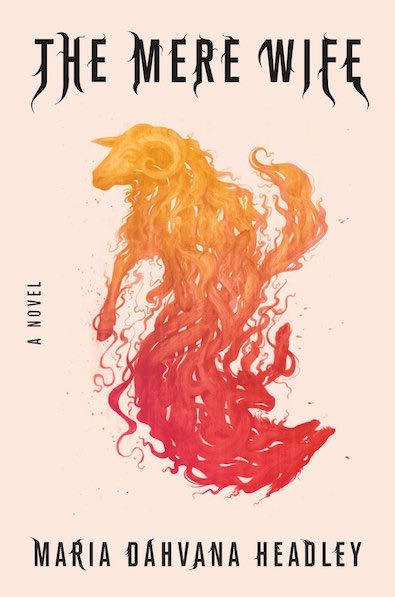 — Maria Dahvana Headley. The Mere Wife. MCD Farrar, Straus & Giroux, [2018].
Make it new : this is a re-invention of an old story, the oldest (Beowulf) ; and an assault on literary tradition. This is a transgressive book in which the prose sings itself to the reader, and a savage satire on the hollowness. American suburbia is built on buried bones. The evolution of the collective voice is nothing less than spectacular.

— — — —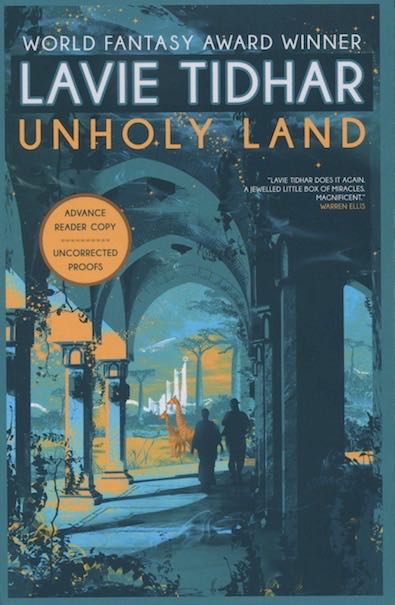 — Lavie Tidhar. Unholy Land. Tachyon, [2018].
Science fiction is that mode of literature in which the metaphor is to be taken literally. Lavie Tidhar's gripping thriller follows writer Lior Tirosh on a return visit to his native land, Palestina, a Jewish state established in east Africa at the turn of the twentieth century. All the writings by Tidhar that I have read are deeply intertextual, playing with the ideas of literature, science fiction tropes, and the identity of the writer. Unholy Land is explicitly Clutean in its intertextuality, employing terms and conceits introduced by John Clute in the Encyclopedia of Fantasy (1997). It is great fun, very tricky : a smile painted upon a skull. Tidhar's other characteristic is fearlessness and Unholy Land is a look into the dark heart of a nation founded upon exclusions and barriers.
— — — —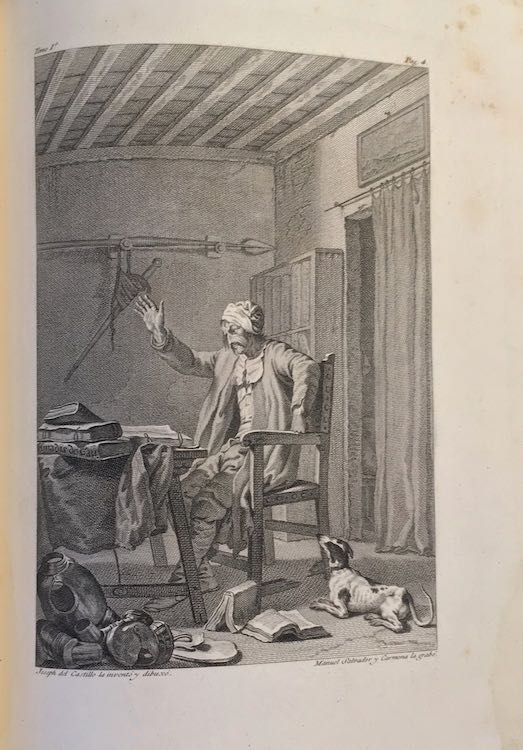 This portrait of Quixote as the great reader, from the 1780 Ibarra edition, is always a source of delight. Happy New Year from the Endless Bookshelf!
— — — —
recent reading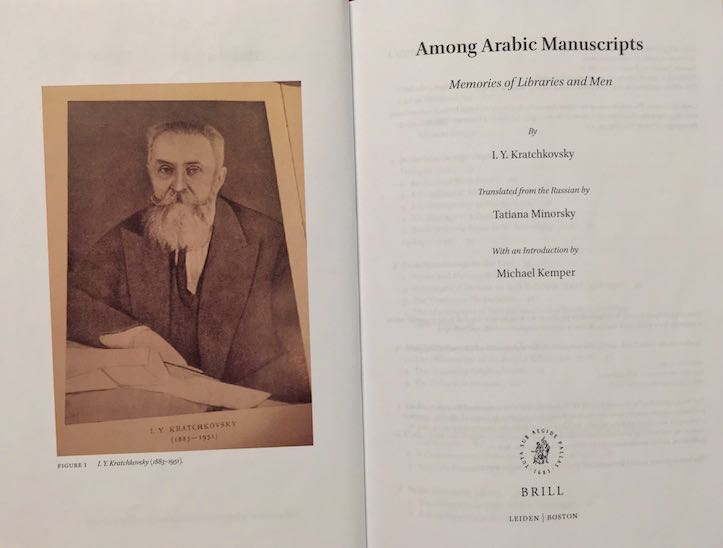 . . . They are all around me. During the sleepless nights in the hours of sickness when my mind is consumed with fever and has lost control over my thoughts, they crowd around me and timidly press closer. I seem to hear low rustling voices:
'You have not forgotten us?'
— I. Y. Kratchkovsky. Among Arabic Manuscripts. Memories of Libraries and Men. Translated from the Russian by Tatiana Minorsky. [1953]. With an introduction by Michael Kemper. Brill Classics in Islam, 8. Brill [Printed by Bookmasters], [2016].
Your correspondent was fascinated and appalled by this book — fascinated by the contents, appalled by the container. Among Arabic Manuscripts is a clear and enticing account of scholarship and intellectual inquiry by one of the great Russian Arabists. Kratchkovsky (whose surname is rendered as Krachkovskii in the introduction) describes the accretive process of working "without haste":
Systematic research usually produced only small particles of the mosaic picture, but lucky discoveries and strange accidents often shed a bright light on the road already covered or still lying ahead, and this reminded me of the Russian saying that "the game comes running up to the hunter". [. . .] My work was verily a mosaic, very slow and minute, but it was the only means of gaining a solid groundwork which would repay my labour by factual results and by a sense of inner satisfaction.
This new edition is textually accurate and legible but the production is wretched: it essentially a photocopy output on the cheapest paper, with a bad camera phone picture of the frontispiece portrait of the author from an earlier edition, the whole stuck into a coated paperboard case. What were they thinking when they designed this book? Did anyone in the publishing company look at the finished "product"? Reno Odlin coined the phrase "paperback in drag" but he was describing a printed book glued into a hardcover case.
I am awaiting a copy of the 1954 French edition: a drowning reader looking for a life preserver.

— — — —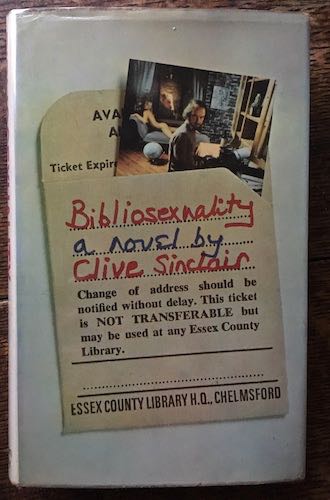 — Clive Sinclair. Bibliosexuality. A Novel. Alison & Busby, [1973].
"a disorder of the senses in which an unnatural relationship with a book is either strongly desired or obtained" : reader, this one didn't quite work.
— — — —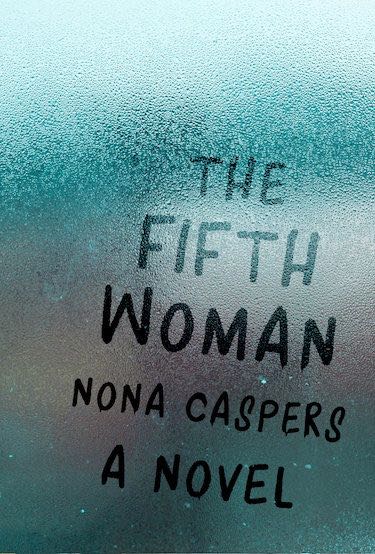 — Nona Caspers. The Fifth Woman. Sarabande, [2018].
Collection of linked stories and vignettes. Mourning and the continuity of daily life. This feels like it will linger in the head. I read her earlier collection, Heavier than Air (2006), which had a similar effect. [Gift of the author, via RB].
— — — —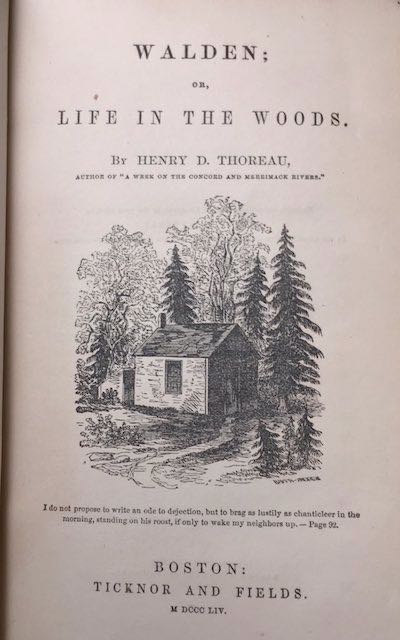 — Henry D. Thoreau. Walden; or, Life in the Woods. Ticknor & Fields, 1854.
— Anne Waldman. Trickster Feminism. Penguin Poets, [2018].
— Simon Hewett. A.J.A. Symons. A Bibliomane, His Books, and His Clubs. The Grolier Club, 2018.
A concise and well balanced account of A.J.A. Symons (1900-1941), bon vivant, book collector, and pioneering author of The Quest for Corvo. His brother, novelist Julian Symons, wrote an excellent biography, A.J.A. Symons. His Life and Speculations (1950). The exhibition, well worth seeing, is on view at the Grolier Club through 5 January 2019.
— John Crowley. Little, Big. [1981]. Re-reading.
— Jo Walton. An Informal History of the Hugos. A Personal Look back at the Hugo Awards, 1953-2000. Tor, [2018].
Snappy and opinionated essays by a smart reader ; lots of room for agreement and disagreement, and great reading lists, too! The essay on Tom Disch's On Wings of Song (1979) is exemplary.
— Warren Ellis. Normal. Farrar, Straus and Giroux, [2016].
— Michael Swanwick. The Third Frankenstein. Dragonstairs, 2018. Edition of 100 copies.
— — — —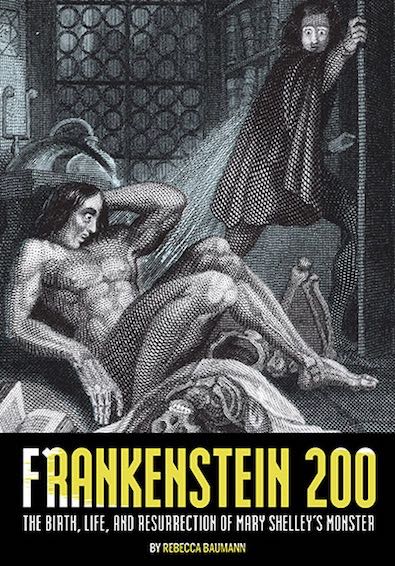 — Rebecca Baumann. Frankenstein 200. The Birth, Life, and Resurrection of Mary Shelley's Monster. Indiana University Press, The Lilly Library, [2018].
Illustrated catalogue of the Lilly Library exhibition, covering familiar ground in new ways, and with some great material on related topics, such as More Monsters, Outsiders and Others, and Weird Women. The chapter on Frankenstein in popular culture highlights Dick Gregory's Frankenstein (1970), largely unmentioned in other discussions of Frankenstein as post-colonial literature.